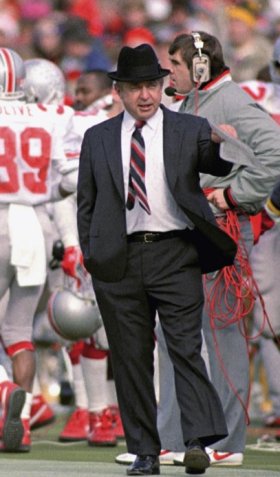 Sitting down to write on Fathers Day has me feeling bit reflective. And extremely thankful.
Like many of you, I had a father that was passionate about Woody Hayes and Ohio State football and he felt it a civic duty to ensure his son would also bleed scarlet and gray.
Though he passed when I was but 16, on a peaceful Sunday morning in April some 22 years ago, that was luckily enough time for him to teach me everything I needed to know about Buckeye football and it was our number one bond up until the day he died. 
Well, I guess that's actually a lie. It's still our number one bond after all these years.
I always reserve a tip of the cap or a hoist of a cold one after every big game victory especially those against Michigan. Having obviously accepted his passing a long time ago, there are still a few moments where his absence was paramount.
Having him there for the one and only national title of my lifetime would've been something. He had Woody. He had three titles under his belt by the time he was nine. He wasn't old enough to truly embrace those but he had '68 and '70 and he would've lost his mind if we were able to watch Ohio State take down Miami – a school he took pride in despising – together on that magical night.
Having him there for Tressel's magnificent run against the maize and blue would've ranked just as high on the list especially the '02 and '06 clashes with so much on the line.
It always bothered him that Ohio State wasn't enjoying elite level success when I was coming up. With annual national title aspirations completely unrealistic save the '79 season when I was just six, that put an even bigger emphasis on The Game.
Those Saturdays in late November are some of the best memories I have when it comes to my Dad.
He was the ringleader of a group that also had a hand in shaping my Buckeye soul. My uncle and my Dad's two buddies racked up perfect attendance when it came to fall Saturdays and I have remained close with them all these years mostly because of our shared love of Ohio State.
As usual, we held down the living room in '87 and although such a fate was unfathomable at the time, this was the last Ohio State victory over Michigan that we'd all watch together.
This was the last time with this group that I'd carry out my pregame chore of staging the framed 16x20 of Woody just in front of the coffee table so he could watch with us.
This was the last time with this group I'd take part in a mandated seat change to address the fact momentum had swung in favor of the Wolverines.
After seven consecutive three loss seasons, Ohio State entered Michigan week at just 5-4-1 on the heels of a three game winless streak. Famously, this is The Game in which Rick Bay, in one fell swoop, announced that Earle was being removed as Ohio State's head coach and that he himself was resigning his post as athletic director in protest.  
This created a perfect storm for guys like my Dad who respected Bruce but felt it was time for a change. Beating Michigan trumped everything but it was viewed as a bonus that a win wouldn't prevent a change at the top.
Looking back, I'm increasingly grateful that such a memorable version of The Game serves as the last we shared.
Despite still being a few weeks away from my 13th birthday, I remember being fully aware of the drama playing out during the week. The press strangely applauding Bay following his presser, the early chatter about who would be next in line, the shift in mindset of some fans that wanted Earle removed but struggled with how Jennings and company botched the timing making OSU look bad nationally and Bo's crazy comments supporting Bruce and suggesting Michigan hire him.
The game itself was just as memorable with the team sporting "Earle" headbands as Bruce patrolled the sidelines in his now famous suit and fedora.
The emotional high had little positive effect early as Ohio State fell into a 13-0 hole but things slowly started to fall into place.
Probably after a seat change though I can't say for sure, Carlos Snow hauled in a pass in the left flat and raced up the left sideline 70 yards to paydirt putting OSU in front 14-13 in the 3rd quarter. This I can verify – I was all over the fact Everett Ross (he of the original axe-part and a 1st half TD reception) sprung the play with a ridiculous downfield block and calling it out before the replay earned a nod of approval.
Tied at 20 midway through the final quarter, The Game had one final memorable twist as Greg Frey subbed for an injured Tom Tupa, for one play, and hit Vince Workman for a 19 yard gain on 3rd and long to keep the game winning field goal drive alive.
As Earle was carried off the field, we all came together to hoist a victorious cheers just after I completed my postgame task of firing up the Across The Field album on the turntable. What a day.
My Dad (and Ohio State) would go on a three game losing streak leading up to his untimely death but the memory of sharing the '87 thriller together is alive and well.
To all you dads out there, Happy Fathers Day.
Teach your children well.