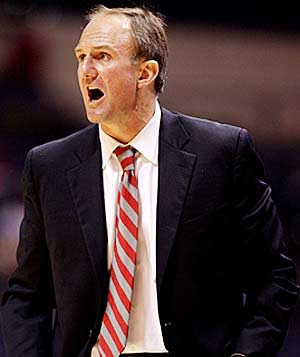 Ohio State is not a football school. I don't even know what a football school really is. There... I said it.
What the heck is a football school anyhow? Somewhere along the line, I was told someone put their pants on one leg at a time. I'm sure whatever that means, it probably applies to basketball players at a so-called football school. Then again, it may have been the same people that told me peas put hair on my chest, and I never really ate peas but still wound up with hair, so I'm not sure of the empirical results.
Nonetheless, I frankly don't care for labels. That goes for the rush to divide people by their party politics, whether they believe the moon-landing was fake and whether they watched Beverly Hills 90210 and listened to the New Kids on the Block post-adolescence (not that there's anything wrong with that). So when I hear someone call so-and-so a football school or basketball school, I get mystified. 
There are a lot of things I don't understand. I didn't understand the old twist-off caps on Coca-Cola bottles. I still don't understand why cheesy Freestyle music was so popular in the 80's. But I definitely don't comprehend what constitutes a football school.
Did Thad Matta and Ohio State spot Kansas have to spot five points on the scoreboard in the Final Four because they were from a football school? Didn't think so. In fact, KU spotted OSU a 13-point first-half lead. We won't acknowledge what happened thereafter. 
Whatever a football school is, Ohio State is not it. 
Oh, sure, Ohio feeds its young with NERF footballs rather than baby bottles. I think kindergartners probably learn the 22 positions on a football field before they learn the 26 letters of the alphabet. If Ohio boundaries were drawn in 1953 rather than 1803, I'm pretty sure it would come out looking like a spiral. We could fill many time capsules listing the achievements of the football program as only a select few teams can match what Ohio State has done on the gridiron over the years. But the basketball program need not take a backseat, especially for its own fans. 
Yesterday, ESPN put out a list of the top college basketball jobs in the country. Among them, Ohio State ranked No. 8 nationally. 
"Ohio State may not have the king-of-campus moniker of so many of its brethren on this list," the summation began, "but what it does have -- as Thad Matta has so successfully shown since taking over in 2004 -- is awfully desirable."
But everything needs a label. Even ESPN slapped one on with Elaine's Label Baby Junior. It concluded by saying, "(f)ootball school? Sure. But the natural advantages that extend to the OSU hoops program are simply too great to ignore."
OSU's history on the hardwood has admittedly been trendy. It's notably been flimsy with yo-yo-like qualities. But spottiness aside, one can't argue with the results, which is why ESPN put the coaching position in such high esteem.
In 1939, when the NCAA first instituted the tournament, do you think it was a pair of bluebloods in college basketball that participated in the championship? On the contrary. Kentucky, Duke, North Carolina, Kansas, UCLA and Indiana were nowhere to be found. It was Ohio State and Oregon. Score one for the football school(s). 
Eleven times, in fact, Ohio State has arrived at the Final Four having to hang its head in shame over the 'football' moniker. That's more than all but five schools, including Arizona, Connecticut, Louisville and every single Big Ten cohort. That's not to say OSU's basketball program hasn't had warts. Despite long reaching adulthood, it still gets the occasional pimple. 
The inconsistency has been curious for Ohio State. It's been among the top-10 all-time in the AP Poll for total ranking points, yet has finished near the bottom of the Big Ten standings far more than most fans would like. The lean years, sordid as they have been, have not been too few and far between. As such, the Buckeyes fall just outside the top-30 all-time in winning percentage despite the several seasons spent near the top of the mountain.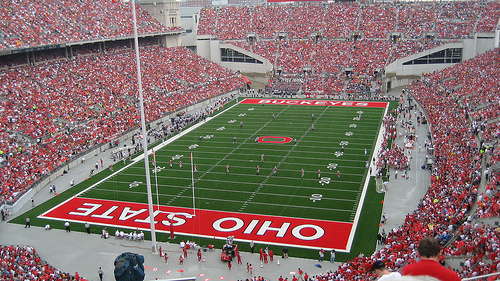 This stretch under Matta, though, has been the strongest in school history. It's also repositioned Ohio State as a basketball power.
Since Matta arrived, Ohio State leads the Big Ten with a 98-40 conference record; five B1G titles and three conference tournament titles. The 8-year rolling stretch under Matta has yielded an overall win percentage of .773. That 8-year cycle is the best in the history of the school, surpassing a .755 rate from 1956-63. Last year's cycle, concluding 2004-11, ranks fourth (.736).
Generally among labelmakers, Indiana and Michigan State are thought to be the kings of the Big Ten castle -- the "basketball schools," if you will. These are the programs that are supposed to make Ohio State look inferior, and remind us that it's just a "football" school.
The Hoosiers do own a modern-era best .607 Big Ten winning percentage since 1938 with 20 Big Ten Championships (second behind Purdue's conferece-leading 22 titles). The Spartans, though, are fifth in the all-time Big Ten winning percentage (.545) since joining the league in 1951 behind Indiana, Illinois (.574), Purdue (.568) and... Ohio State (.553). 
Since becoming a Big Ten member, the Spartans also trail the Buckeyes in titles 15-12. Ohio State has a total of 22 championships, prior to being vacated that is, which would be tied with Purdue. Officially, they have 20 titles. 
Ohio State's success extends outside of the Big Ten boundaries.
In 2009, Jeff Sagarin released a master ranking of college basketball schools all-time. His criteria ignored things like Final Fours, NCAA Tournament appearances, conference championships, etc. It was exclusively based on his Sagarin formula applied to all-time results dating back to 1938. Ohio State was ninth on that list. 
If anything, compiling a list of crowning achievements for the basketball program only validates the silly notion that being a football school or basketball school actually matters. When the sneakers are laced up, the  name on the jerseys don't matter. What does matter is the talent on the court. These designations don't really win games or recruits. 
Inasmuch as Ohio State is a 'football school,' the revenue generated by such designation works in their favor. Basketball programs at Texas, Florida and Ohio State are in much better shape than football programs at Duke, Kansas or Indiana. But it's not that those schools are "basketball" oriented as much as their bread-and-butter doesn't bring in the benjamins as much as the former. 
Ohio State is pulling in well over $100 million per year. That money has led to one of the nicer college basketball arenas in the nation, as well as a state-of-the-art practice facility that is now under construction. It's given them the resources to compensate Matta -- and any future successors -- as well as any blueblood could pay. 
But sometimes even its own fans sell it short.
Since the NCAA began tracking attendance in 1978, the Buckeyes have finished in the top-20 in attendance average in all but eight seasons. Ten times, in fact, Ohio State has finished in the top-10 nationally with a high ranking of No. 4 on several occasions in the past decade (behind perennial leaders Kentucky, Louisville and Syracuse).
No matter where you look, football is a more popular sport in America. Even at the University of Kentucky, where basketball lives a charmed existence, UK averages close to 60,000 for football -- nearly three times that of its regular attendance for basketball. Of course, there are fewer games and they're typically played on weekends, but nonetheless football is king wherever you go. It's just less so at some places. 
Football fans who only pay attention to basketball sometimes come across insecure while being quick to maintain their sport's superiority to basketball. Frankly, that's like winning 'Are You Smarter Than a Fifth Grader?" We all know football is more popular. Especially at Ohio State.
But it's also a disservice to a program that, by many measures, has asserted itself as top-10. Under Matta, it's become a destination school. 
It's time to drop the football moniker. Fans should celebrate that Ohio State is good at both sports rather than trying to divide and conquer among its own base. It doesn't have to be one or the other, it can be both.
I'm hereby denouncing the football school label. Permanently.