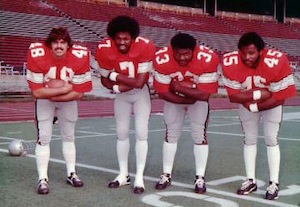 Ed: Thanks once again to Cornelius Green for chatting with me about his life on and off the football field. For those who might have missed the first two parts, you can read them here and here.
In Cornelius Green's senior season, the 1975 Ohio State football team returned key members of a formidable backfield: quarterback Green, the Heisman-winning running back Archie Griffin, wingback Brian Baschnagel, and fullback Pete Johnson. Together, the four ran for over 3,000 yards the previous year. They would do the same in 1975. 
The heavily-hyped season opener came against Michigan State, who had won the '74 contest in controversial fashion. Out for revenge, Ohio State blanked the Spartans, 21-0. The Buckeyes continued to add to the win column, including their first ever victory versus Penn State1 and a 41-20 rout of UCLA in Los Angeles.
Like most senior quarterbacks, Cornelius took ownership of the team. "That offense was mine," he said. Not only did he know all the plays and blocking schemes, but "Flam" was also the leading voice in the huddle. He didn't miss practice, even as Woody Hayes allowed Griffin to rest at the beginning of the week. 
As Green relayed, "no matter what, he'd make me practice. He'd say, 'Archie needs fresh legs. Corny, you need to work.'"
That effort was evident against the Bruins when he ran for 120 yards and two scores while going 6/9 for 98 yards through the air. After that game, Ohio State became the top-ranked team in the country. 
The Scarlet and Gray remained at #1, building a perfect 10-0 record as they headed into their annual grudge match against Michigan. Just like in Corny's first three Ohio State-Michigan games, a Big Ten title and Rose Bowl berth were at stake2.  
In the first quarter, the visiting Buckeyes went up 7-0 on a touchdown pass from Green to Johnson. Then, thanks in part to a few turnovers—including two interceptions—and a staunch Wolverine defense, Ohio State failed to pick up a first down for two quarters. Michigan took a 14-7 lead in the fourth quarter, but #7 marched his team down the field for the tying score. On that pivotal drive, the once stagnant offense gained 80 yards with a balanced attack of both pass plays and carries. 
Shortly thereafter, Ohio State retook posssession when Archie's brother, Ray Griffin, picked off UM quarterback Rick Leach. Another Pete Johnson touchdown gave the Buckeyes the lead again with just over two minutes left in the game. That's how it would end, with Ohio State emerging victorious, 21-14. 
For the fourth year in a row, the Buckeyes earned a trip to Pasadena. Their struggles on offense that day in Ann Arbor, though, foreshadowed what was to come on January 1, 1976. 
In a rematch with UCLA on New Year's Day, #1 Ohio State was the clear-cut favorite. Yet, a national championship would elude them once again. Losing 23-10, Cornelius Green's last game in Scarlet and Gray was nothing short of a disappointment. He threw two interceptions and admitted that neither he, Archie, Pete, nor the offensive line had a great day.
Corny revealed, "whenever you lose, you feel you let Buckeye nation down, all across the country." For both him and for the fans, it was a heartbreaking finale to his collegiate career. 
Still, his accomplishments at Ohio State should not be overlooked. His 31-3-1 record as a starter, devoid of any losses to Michigan, puts him behind only Art Schlichter in total wins as an OSU signal caller3. Green became the first Buckeye quarterback to both pass and run for over 2,000 yards, and he also held the school record for most rushing yards (2,066) by a QB until the now vacated 2011 Sugar Bowl when Terrelle Pryor set a new one with 2,164 yards. 
His 146-yard performance on the ground against Wisconsin in 1974, however, remains a single-game record among Ohio State quarterbacks. 
Cornelius does not consider that his crowning achievement during his playing days, though. Instead, his proudest honor came when his teammates selected him, by a margin of one vote4, as the season's MVP in 1975. He was also chosen as the Big Ten's MVP, and for both, Green beat out his best friend Archie, who had been the recipient of the awards two years running. Archie would have to settle for taking home his second Heisman Trophy.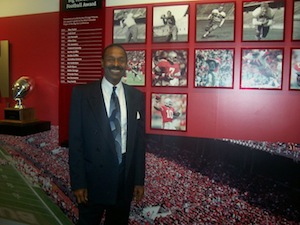 Green was inducted into Ohio State's Varsity "O" Hall of Fame in 1998, but it wasn't until 2005 when he would appear on the OSU sideline again. He served as the honorary captain for the Homecoming game versus, fittingly, Michigan State. Right before he was to be introduced at halftime, an experience he called "too powerful", the Buckeyes blocked a field goal attempt and turned a 17-7 deficit into a more manageable 17-14 one and ultimately prevailed 35-24. Largely viewed as the turning point of their season, Ohio State would win 19 straight games until the ill-fated 2007 BCS title game against Florida. 
Much like the ending of Corny's senior season 31 years before that, Ohio State laid an egg and blew their shot at a national championship. 
In 1976, Cornelius was drafted by the Dallas Cowboys, who made him switch to wide receiver. But the NFL is a difficult place to learn a new position, and he soon found himself with the Seattle Seahawks. His NFL career was short-lived, though, and he went on to the Canadian Football League for a brief stint. Not long after that, Green was back in Columbus, where he took the field for the Metros, the city's semi-pro team5.
Moving on from football is difficult for most former players, and Green was no exception. He acknowledged, "I was a little lost for a year or two" because he didn't know what he wanted to be other than a football player. Cornelius landed his first real job with Xerox, and it was there that the flamboyant man with the colorful wardrobe became a more conservative dresser.
Green would return to his native D.C. and has lived there ever since. He and his wife have raised their two kids in the nation's capital: son Jason, 25, and daughter Cydney, 17.
For years, he worked with Parks and Recreation, but then the economy started going downhill. That's when he was hired on at St. Albans School, an all-boys school for grades 4-12 which boasts well-known alumni like former Vice President Al Gore and former football player Jonathan Ogden.
As a faculty member, Cornelius wears a variety of hats. He's in charge of study hall, subs for teachers in the classroom, and coaches different levels of football, basketball, and baseball. More importantly, it's a good fit. He attested, "I enjoy going to work, I enjoy being there, and I come home happy. I have never said that about any job I ever had."
Woody Hayes preached a "paying forward" philosophy to his players. While at Ohio State, Green visited cancer patients numerous times at the behest of his coach. Now, Cornelius continues to give back to kids, albeit in a different way—by teaching them. 
It may not be a national championship or NFL glory, but in his own words, "this has been a dream come true."
1 It was also the first time Woody Hayes and Joe Paterno faced off. 
2 That year, however, the loser was allowed to participate in another bowl game. Michigan played Oklahoma in the Orange Bowl and lost 14-6. 
3 Schlichter, over four years, had 36 wins. In three seasons, Pryor matched Green with 31 wins, and while individual stats aren't wiped from the records, some of those games have been. 
4 He voted for Archie, and Archie voted for him.
5 On May 12, 2012, Green was inducted into the Minor Pro Football Hall of Fame.