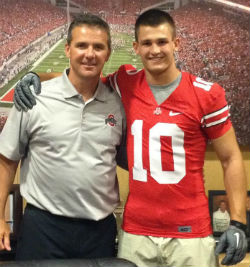 Ohio State is not having the best success thus far when it comes to 2013 linebackers, but fear not recruiting fans, as the 2014 crop at the position is very talented and many of those top prospects are already high on the Buckeyes.
One of those players is Michael Ferns of Saint Clairsville High School in Ohio. Ferns already has an offer from the Buckeyes and took his second trip of the spring up to Columbus on Tuesday.
Ferns first came to OSU right before the spring game and got more of a broad overview at what the program had to offer. This time, with an offer in hand, he was looking for a more specific and personal view of the university and he certainly got all that he asked for.
We caught up with Ferns to hear about his visit to Ohio State, what other visits he has planned this summer, the latest in his recruitment, and more. Join us after the jump for more on star linebacker Michael Ferns of the class of 2014.
How did your visit to Ohio State go?
It went great. I was able to get really close with the staff and see what Ohio State is really all about. It was really an exciting experience.
What did you do while on your visit?
When I got there Coach Fickell met me and brought me around to see the coaches, including Coach Meyer. I talked to Coach Meyer for a while and then they took me to see one of the doctors at the medical center because I want to study pre-med in college. I got to hear what the process would be if I take that track which was great. Afterwards, I took my family around to see all of the facilities and academics at the school. I had more family with me this visit compared to last so I wanted to make sure they saw everything.
How did this visit compare to your last visit?
This time I got to see a more personal side of the program and it just wasn't all about football. The staff was great and just getting to talk to them one on one and seeing what they had to offer was amazing. I will definitely be making another visit to Ohio State either at the end of the summer or for a game in the fall.
Where does Ohio State stand on your list?
They are definitely up there. I still haven't seen all of the schools that have offered and really can't give a list of top schools, but I would definitely say Ohio State will be up there.
What offers do you currently have?
I currently have 21 offers. The latest come from Cincinnati and Indiana and they are added to Ohio State, Boston College, Penn State, Bowling Green, Duke, Illinois, Kent State, Marshall, Maryland, Michigan, Michigan State, Notre Dame, Ohio, Oklahoma, Stanford, Virginia, Wake Forest, West Virginia and Wisconsin.
What other visits do you have planned this summer?
I will be going to Penn State and Michigan the next two weekends. I'm going to also try to get to Michigan State when we head up to Michigan. I will then go to Notre Dame, Wisconsin, and I think get down to Virginia and Duke. The last week in July we have a one week break from football so I will go out to California to see Stanford and UCLA and also make a little vacation out of the trip.
When do you think you'll make a college decision?
I'll probably make a decision sometime after my junior season ends. 
Do you think you'll end up staying in the Midwest to play your college football?
I think so. I'm definitely keeping my options open and am not counting any schools out because of location, but I'm thinking I'd like to stay closer to home.
HIGHLIGHTS: