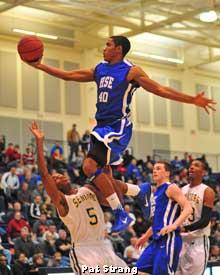 With the summer quickly approaching, the national signing period coming to a close, and each program's recruiting class nearly rounded out, I thought I would break down the recruiting classes in Big Ten and their potential impacts on the upcoming season.
The Big Ten in particular had a great 2012 recruiting year and several programs had top classes nationally. Without doubt, the conference looks to remain at the top of the power rankings for at least the foreseeable future.
There were several key recruiting battles within the B1G that will definitely add to the drama this upcoming season.
A look back at some highlights from the top B1G recruiting stories:
Indianapolis SF Jeremy Hollowell (consensus top-50 prospect) grew up a huge Buckeye fan and dreamed of playing for Ohio State. However, after offering Hollowell early on, the offer seemed to become non-committable, as Thad Matta began looking elsewhere and focused his attention on using his open scholarship to recruit now UCLA commit Tony Parker. Hollowell eventually picked Indiana and is set to contribute as a freshman. The Buckeyes could have used Hollowell, but there was no way to know that the team would face a couple transfers and the loss of Sullinger leaving several open scholarships. Having Hollowell could have been useful looking back seeing there are multiple open scholarships available for 2012. 
Hollowell will definitely play with a chip on his shoulder when the Hoosiers play the Buckeyes.
Top-100 center Adam Woodbury chose Iowa over several suitors including Ohio State and North Carolina and will be the focal point for the program for the next few years. Getting a top recruit to stay home over major programs was a huge statement for Fran McCaffery and the Hawkeyes.
Consensus Top-20 prospect Gary Harris' recruitment was propbably the most followed among Big Ten fans, since the conference's programs with the biggest basketball followings were all after him . Harris narrowed his list down to Indiana, Purdue, Michigan State, Notre Dame and Kentucky while the entire state of Indiana closely followed his every move. Indiana and Purdue fans believed he was a lock for their respective schools but in the end Harris made his decision:
"I'm going to State."
Tom Izzo locked down potentially the top recruit in the conference and added a major scorer for the Spartans next year. In reality, Indiana is over signed for this coming year without Harris and a current member of the squad will either have to give up their scholarship or a current commit will have to go to prep school. Missing Harris is even more detrimental to the Boilermakers, who desperately need a scorer to replace Robbie Hummel.
So anyway, let's take a look at each class and their potential impact on each team next season.
These classes are in order of class ranking based on potential impact, with each prospect ranked by Scout's star system (stars in parentheses, further noted if a recruit is highly ranked overall).
| | | |
| --- | --- | --- |
| 1 | Indiana | |
Indiana is a consensus top 3 team going into the 2012-13 season. Biggest needs for 2012: PG and a PF to help Cody Zeller down low.
Commits: PG Yogi Ferrell (4*, #3 overall PG), SF Jeremy Hollowell (4*, #7 SF), PF Hanner Mosquera-Perea (4*, #10 PF), SG Ron Patterson (3*), C Peter Jurkin (3*)
Analysis: Indiana gets their immediate impact PG in Yogi Ferrell (5-10/175) which should allow current G Jordy Hulls to play off the ball. Ferrell is listed anywhere from 5-9 to 6-1 but in reality could be about 5-8. Ferrell, a McDonald's All-American, should be able to be a top freshman in the conference but will definitely have his work cut out for him when facing Michigan's Trey Burke and Defensive Player of the Year Aaron Craft.
PF Hanner Mosquera-Perea (6-8/220) is a freak athlete and could definitely help Cody Zeller clean up the glass.
He is very raw and many Indiana fans believe he will be a project. He also was the center piece to a few dramatic stories when Baylor coaches threatened to deport him back to Colombia and received improper benefits from A-Hope (story seemed to dissappear).
Hollowell (6-7/190) has been compared to current Hoosier Christian Watford and will definitely take some playing time away from current Hoosier SF Will Sheehey and others.
Class Impact: A. This has been the class Hoosier fans have been waiting for. The class plugs up major holes especially at PG and establishes a nice core for the future. The rebuilding process is complete and the Hoosiers will be contending from here on out. If this class sticks together, IU should be in a nice position for the next few years.
| | | |
| --- | --- | --- |
| 2 | Michigan State | |
State returns nearly the entire team, only losing conference Player of the Year Draymond Green and Travis Wood. Losing Green seems drastic but the Spartans will definitely start the season out in the top-15. They return a lot of veterans and young talent. Biggest needs for 2012: shooting guard-MSU shot 35% from beyond the arc last season.
Commits: SG Gary Harris (5*, #4 SG), PF Kenny Kaminski (4*, #21 PF), C Matt Costello (4*, #23 C), SF Denzel Valentine (3*)
Analysis: The Spartans get their shooting guard in 5-star McDonald's AA and Indiana Mr. Basketball, Gary Harris. Harris beat out IU commit Yogi Ferrell for those honors. He will make an immediate impact for MSU and will definitely help them from beyond the arc. He will contend for Big Ten Freshman of the Year honors and should score in the double digits his first season. He also is a high character guy and unlikely to get in legal trouble (see: Nix, Derrick and Wood, Brandon). Kaminski and Costello add depth to the front court which is already established with PF/C Adrien Payne and PF/C Nix.
Class Impact: A. Anytime you get a big time recruit like Gary Harris, it helps your team. Harris could potentially be a one-and-done guy, but the Spartans are playing for 2012-13, not years from now.
| | | |
| --- | --- | --- |
| 3 | Purdue | |
Purdue has a very nice class that definitely establishes a nice core for the future. Biggest need:  A Robbie Hummel replacement and size.
Commits: C AJ Hammons (4*, #20 C), PG Ronnie Johnson (4*, #13 PG), PF Jay Simpson (4*, PF #20), SG Raphael Davis (4*, SG #18)
Analysis: The Boilermakers have gotten four good prospects in this year's class. The class may not have an instant impact freshman (i.e. Jared Sullinger, Anthony Davis from UK, etc.) but Purdue is built for the future. These guys are all four year guys (most likely) and can definitely make similar impact to Hummel, JaJuan Johnson and E'Twuan Moore by the time they are upper classmen. I expect each of these freshman to get significant playing time and have Purdue back in the national spotlight by this class' junior season.
Class Impact: B+. The future is bright for Purdue but I do not see any drastic or immediate impact this year. They are building a nice young core and will be at the top of the conference a few years down the line. That's if the OSU's and MSU's don't pull in the big fish.
| | | |
| --- | --- | --- |
| 4 | Michigan | |
Trey Burke returning to school was the best basketball news Michigan fans had since backing into a B1G title split with OSU and MSU. Michigan will also be a pre-season top 15 squad. Biggest needs for 2012: A big man. Michigan got dominated on the glass all season due to lack of size.
Commits: C Mitch McGary (4*, #10 C), SF Glenn Robinson Jr. (4*, #8 SF), SF Nick Stauskus (3*), PG Spike Albrecht (NR1)
Analysis: Michigan gets their big man in Mitch McGary who at one point was ranked as a top-10 prospect and a 2013 NBA Lottery Pick. He has since dropped off as recruiting analysts concluded that he is just not what they thought. However, he will drastically improve the Wolverine front court and will battle with the Big Ten's best. Glenn Robinson (6-7/205) drastically jumped up in the rankings after a great 2012 H.S. campaign and will help bolster Michigan on the wings.
Class Impact: B. McGary definitely helps and Glenn Robinson adds depth but this class does not have the same star power as IU and MSU. Only time will tell what impact the class has.
| | | |
| --- | --- | --- |
| 5 | Iowa | |
Surprised? Iowa needed a solid recruiting class more than anyone and Fran McCaffery may have reeled it in. Biggest needs for 2012: everything.
Commits: C Adam Woodbury (4*, #14 C), PG Mike Gessell (4*, #15 PG), C Kyle Meyer (3*), Patrick Ingram (2*), Anthony Clemons (2*)
Analysis: Adam Woodbury (6-11/220), once a Buckeye prospect, will make a big impact on the Iowa program by staying in-state. Woodbury was recruited by major programs across the country including UNC, Florida and Wisconsin. He actually ended up choosing Iowa after many thought he was a Buckeye lock and will definitely be a household name in Iowa City for the next four years especially after choosing to stay home. Mike Gessell (6-1/175) can shoot the lights out from three and penetrates the lane well. Iowa has established a nice core for years to come.
Class Impact: B. Iowa will definitely be more competitive in the conference after showing signs of improvement last season and the addition of this solid class. The strength of the conference in 2012 will, ultimately, be to much for Iowa next year, but look for them to finish in the top half with a nice boost from the '12ers. The Hawkeyes are finally getting it together.
| | | |
| --- | --- | --- |
| 6 | Wisconsin | |
Wisconsin has two commits coming in and Dekker is instant impact. Biggest need: replacement for Jordan Taylor and a second scoring threat.
Commits: SF Sam Dekker (5*, #4 SF), SG Zak Showalter (3*)
Analysis: Who cares? Bo Ryan's system will work exactly the same no matter who he has on his squad. Only this coming year, he may need to hold the ball for 33 seconds per possession as opposed to 28 to limit opponents scoring chances. Sam Dekker (6-7/190) will be their star down the line and will eventually be their scorer. Dekker can shoot the rock just like all Wisconsin players and is not afraid to go to the hoop.
Class Impact: B. Ryan has found his next lanky farm boy buzz cut to shoot 50% from 3 and frustrate opposing Big Ten fans for the next four years.
| | | |
| --- | --- | --- |
| 7 | Ohio State | |
Maybe I am being generous for this class, but the onl major needs for this year's Buckeyes is an outside threat. Yes, a replacement for Jared Sullinger would be nice and a top SG prospect would have been the norm, but this was not that type of recruiting year for coach Matta. Things did not work out perfectly and Thad will have to use extra scholarships on transfers and the 2013 class. It will all work out in the end. It's Thad. Biggest Need: 3-point shooter and Sullinger replacement.
Commits: SG Amedeo Della Valle (3*, #29 SG) (11W interview)
Analysis: Della Valle (6-5/180) is pretty unknown to the recruiting world. If he can come in and hit a few 3's per game, it will be golden. Ohio State desperately needed a consistent SG last season and Della Valle could potentially be that guy. If not, he adds depth to the back-court and will most likely be a four year contributor. He can definitely give Aaron Craft and Shannon Scott a break when needed as he can handle the ball as well.
Class Impact: C. The impact can't be exponential unless Della Valle is a big time 3-point shooter.
| | | |
| --- | --- | --- |
| 8 | Minnesota | |
There is not much to say about this class except that I'm sure opposing fans will have nicknames for these recruits down the line.
Commits: PF Charles Buggs (3*), SG Wally Ellenson (3*)
Analysis: Tubby Smith reeled in another blah class that should keep the Golden Gophers at mediocre for the next few years. The only difference is there won't be as much hype about Minnesota supposedly being good coming into the season. They have two decent prospects who should be contributors down the line.
Class Impact: C-. Yeah, I have nothing else to say.
| | | |
| --- | --- | --- |
| 9 | Northwestern | |
Northwestern added two small forwards and a center that I'm sure have higher SAT scores than most Big Ten honor students. Biggest need: Uh, John Shurna graduated..
Commits: Kale Abrahamson (3), Sanjay Lumpkin (3*), Alex Olah (2*)
Analysis: Last year's conference scoring champion, John Shurna, will be extremely hard to replace and his scoring will most likely have to be made up by committee. Though as always, Northwestern will find a way to compete and miss out on the tournament at the end of the year. Last year was their chance and there is nothing significant in this class the moves them over the hill.
Class Impact: C-
| | | |
| --- | --- | --- |
| 10 | Nebraska | |
Nebraska basketball had a rough welcome to the Big Ten last season winning only 4 conference games. At times, they showed signs of improvement and flashes of competitiveness. However, the Cornhuskers were often beaten to a pulp by the Big Ten's best. They did get a sneak attack win vs. Indiana at home.
Commits: SG Shavon Shields (3*), PG Benny Parker (NR), PG Deverell Biggs (NR), C Sergej Vucetic (NR)
Analysis: None. Wait.. nope.
Class Impact: D
| | | |
| --- | --- | --- |
| 11 | Penn State | |
There is nothing magical about this class that will boost them from last season. Biggest need: just about everything
Commits: PF Brandon Taylor (3), SF Akosa Maduegbunam (NR), Donovan Jack (NR)
Analysis: Poor PSU basketball, the poor stay about the same which means there is nothing to talk about but how Penn State will most likely have no immediate impact from this class.
Class impact: D
| | | |
| --- | --- | --- |
| 12 | Illinois | |
This may be the last time Illinois is at the bottom of the Big Ten recruit ranking as long as John Groce is the head coach. Buckeye fans know coach Groce well and it is unfortunate that Thad Matta and Groce will have to recruit against each other. Groce is a great recruiter and has many relationships in the Chicago and Indianapolis areas. I expect Illinois to pull in some top recruits in years to come. Biggest need: replacing Meyers Leonard and finding a consistent scorer.
Commits: PG Mike Latulip (NR)
Analysis: There is not much to analyze as Groce did not have the time or the staff to put together a class for Illinois. He was hired shortly after the NCAA tournament and most prospects had already committed to their respective schools. Give Illinois a few years to rebuild with Groce's system, as they already are off to a great start with their 2013 class.
Class Impact: F
It's going to be another great year of college basketball in the Big Ten. The conference's collective class does not have a guaranteed show stopper (refer to: Anthony Davis) but many teams filled in voids nicely and have made way for the future. The competition will definitely be strong based on the perceived impacts of the 2012 class.