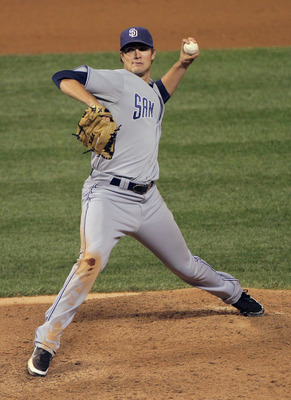 Good Tuesday to you, sports fans. Welcome to a second installment of the new incarnation of Around the Oval, a weekly recap/perspective on the non-revenue sports at Ohio State. 
This week, I considered leading off Around the Oval in similar fashion to ESPN's Around the Horn. However, I realized there are several problems with this approach; first and foremost, I don't have Tony Reali's skills as a television host, nor do I have the little mute button he uses to shush up Bill Plaschke during one of his incoherent rants. Secondly, even if I did possess such a powerful tool, only Ramzy is capable of having conversations as multiple aliases at once. I actually wonder if anyone has seen he, Don Imus and Skip Bayless in a room together?
The conspiracy theorist in me is petrified at the implications. 
Perhaps the only man bigger than Ramzy or Skip (at least in Skip's mind) is former Florida Gator Tim Tebow. The iconic backup quarterback -- think about that description for a second -- has inadvertently turned social media into his own personal publicity playground. While he wears his religious beliefs on his sleeve (literally, in fact), his followers have spun-off the phrase, "what would Tebow do?"
Tebow-mania hit the road this week and landed down in Circleville, Ohio. The 'circus in Circleville' was not the marketing for that event, though. At the smallish Ohio Christian University, Tebow spoke about topics including his faith, his football and his former coach. Tebow panders to a crowd real nice. He had some bullish things to say about the Buckeyes and Urban.
"As hard as it is for me to actually say this, I have to say I actually am a fan of THE Ohio State University," he said, getting a loud cheer from the crowd. "If I was a betting man, I'd probably have to put some money on Ohio State is probably going to win a national championship under Coach Meyer."
If you wish to see video of the brief, raucous entrance and gushing remarks, the video can be seen here. The man knows how to dish it out. He giveth almost as good as he receiveth from ESPN.
Though Tebow is larger-than-life, he's getting a run for his money out in San Diego -- by a former Buckeye. 
Former Ohio State starting pitcher Cory Luebke has hit the ground running in his first full season as a starter for the Padres. Luebke, who went 9-1 with a 2.07 ERA in 2007 for the Buckeyes, is 3-1 with a 2.64 ERA, 23 strikeouts and just eight walks thus far for San Diego. Luebke was drafted in the supplemental first round of the 2007 draft -- No. 63 overall.
Luebke broke in with the Padres in 2010 by getting his feet wet with 17 September innings. Last year, he pitched in 46 games for San Diego including 17 as a starter, posting an impressive 3.29 ERA and a healthy 3-to-1 strikeout-walk ratio. The Padres committed to putting him in their rotation, and he's responded well thus far with several impressive performances including an 8-inning win against Roy Halladay last week. 
Although Luebke has been among the top prospects in the San Diego organization, he's fairly old by prospect standards. The 6-4, 205-pound lefty from Coldwater, Ohio, is now 27 years old. Luebke was rated as high as No. 6 for San Diego by Baseball America in their 2010 preseason rankings. He was drafted by the Pirates and Rangers respectively in 2004 and 2006 but did not sign. 
seventh time not a charm
The Ohio State men's tennis team won six consecutive Big Ten tournaments. Like all good things, that had to come to an end.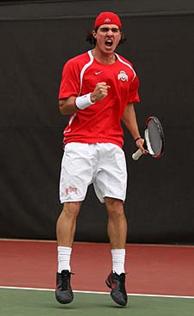 Ohio State (31-3, 10-0 Big Ten) was upset Sunday in the Big Ten Championship in Evanston, Ill., to No. 3-seed Illinois. The 4-3 loss was a reversal of fortune for the Buckeyes, who incredibly had defeated Illinois in five of the previous six championships. 
One of the Buckeyes' stars, as usual, was Chase Buchanan. Buchanan finished 27-6 for the Buckeyes this season, including a perfect 10-0 in the Big Ten and an impressive 11-4 against nationally-ranked opponents. 
Despite the loss, Ohio State is expected to earn an at-large bid into the NCAA Tournament. The selection show can be seen live on the NCAA webpage at 5:30 this afternoon. Ohio State lost last year in the national semifinal 4-2 to Virginia. Southern California has won the championship each of the past three seasons.
The women's team, meanwhile, fared no better this past week at the B1G Tournament in Columbus.
After beating Penn State 4-2 in the opening round on Thursday, the Buckeyes fell in a clean sweep to top-seed Northwestern, 4-0. Ohio State finished 10-16 on the season.
volley for consolation points
Like the tennis team, the volleyball team was unable to secure a tournament title this past week. Unlike the tennis team, however, the conference title will have to suffice.
After Ohio State won a sixth-consecutive MIVA conference title two weeks ago, the defending national champions were knocked off Saturday night in Columbus by Lewis in the MIVA Championship game.
With the loss, Ohio State finished the regular season 21-9 and also missed out on the lone at-large bid for the NCAA Tournament. Shawn Sangrey led the Buckeyes with 31 kills in the five sets this weekend. 
Side note: anyone find it a relief they don't have a stat called "kills" in fencing? 
soft toss
It's been tough sledding recently for the Buckeyes of the diamond. It was more hard luck for the softball team, especially.
After Ohio State (28-20, 7-10 overall) won 6-2 against Northwestern Saturday in Evanston, the Buckeyes dropped a doubleheader on Sunday, 3-1 and 8-5. The pair of losses mark the fourth consecutive series Ohio State has dropped in the Big Ten. 
Senior shortstop Alicia Herron and freshman outfielder Taylor Watkins have been the bright spots for Ohio State this season. Herron is hitting a team-high .381 with 12 homers -- more than double the next closest hitter. Herron, in fact, is tied with Northwestern's Marisa Bast for the conference lead in homers. Watkins, meanwhile, has a .354 average. 
With six games remaining, Ohio State has been all but eliminated from the Big Ten championship race. The baseball team, on the other hand, has a crucial set of games coming up this weekend.
This weekend, the Buckeyes have a three-game set coming with Northwestern (5-13 Big Ten). Because Ohio State dropped a pair of one-run games this week to Penn State, OSU needs at minimum four wins in the last six games against Northwestern and Indiana to have a shot at the Big Ten Tournament. Though the Buckeyes have the same number of wins as the teams ranked 4-7 in the conference standings, because Ohio State is three games back in the loss column, it can't afford to lose more than once or twice. Most likely, Ohio State must take five out of their last six Big Ten games and hope for some help. 
buckeye bits
* Congrats are in order to Ohio State lacrosse star, Logan Schuss. Schuss, a junior attackman from Ladner, B.C. was named the ECAC Player of the Year on Monday. Schuss led OSU this season with 55 points, including a team-high 38 goals. He is thirteenth nationally in scoring per game. The Ohio State women's lacrosse team will commence the ALC Tournament on Thursday as the 4-seed against Vanderbilt at the University of Florida. OSU finished just 1-4 in league play, but won a convoluted tiebreaker over Vanderbilt and Johns Hopkins.
* The Big Ten golf championships concluded this week with varying levels of success for the Buckeye teams. Led by freshman Grant Weaver with a rounds of 75, 75, 75 and 77 (302), OSU finished ninth with a team 1,220 score. The women, meanwhile, finished third in the event with an 898 over three days -- 13 shots behind B1G Champion Michigan State. Rachel Rohanna shot a 218 (+2) for the Buckeyes. 
* Ohio State remained No. 2 in this week's Sears Directors' Cup update. The Buckeyes finished the winter standings with 807.75 points, a mere 222 points behind perennial champ Stanford. I smell a comeback brewing!