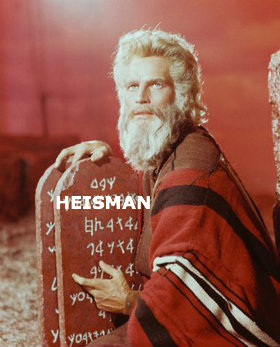 The 2012 Buckeyes won't get a chance to play in a bowl game (which would have undoubtedly been the national championship game), but we may take solace in the fact that a Buckeye will certainly claim this year's Heisman. 
Following the step-by-step methodology set out by The Heisman Pundit and his 10 Heismandments, I've divined which Buckeye will walk away with the surprisingly heavy statue. 
Again, this is a science people. An exact science. And I'm a scientist. 
The 10 Heismandments 
1. The winner must be a quarterback, a running back, or a multi-threat athlete.
Taking a look at the current roster, this commandment narrows down our list to the following: Rod Smith, Carlos Hyde, Jordan Hall, Bri'onte Dunn and Warren Ball for running backs; Kenny G, Cardale Jones, Braxton, Justin Siems and Ross Oltrik for the quarterbacks; and I'll throw in Stoneburner and Philly Brown as potential "multi-threat athletes" just for the fun of it. 
Sorry to all the defensive players who might be here as against-the-odds, Suh-like vote recipients, but they simply didn't even make the first cut. 
Out of Contention: All defensive players, specifically John Simon, Big Hank, Brad Roby, Ryan Damn Shazier. 
2. Juniors and seniors have the overwhelming advantage in the Heisman race and, as a general rule, will win over an underclassman.  But a sophomore from a traditional power who puts up extraordinary single-season numbers can't be discounted.
This means that all freshmen are out of contention, while sophomores still left in the pool have the odds against them. However, Urban has had luck in the past with sophomores winning the Heisman, so I'll keep second-years in. 
This commandment leaves a list of: Rod Smith, Carlos Hyde, Jordan Hall, Kenny G, Braxton, Justin Siems, Ross Oltrik, Stoney, and Philly Brown. 
Out of Contention: Bri'onte Dunn, Warren Ball, Cardale Jones
3. The winner must put up good numbers in big games on TV.
Ohio State has a lot of big games on national TV this year: 9.29 Michigan State, 10.6 Nebraska, 10.27 Penn St, 11.17 Wisconsin, and 11.24 Michigan. Not to mention 9.15 Cal, which will certainly draw a large audience from across the country, even if it isn't a huge rivalry game. 
It's difficult to enforce this commandment when they haven't played any game yet, so I'll make the executive decision to use last year's numbers. Essentially, those without the potential to start are out, leaving: Rod Smith, Carlos Hyde, Jordan Hall, Kenny G, Braxton, Stoney, and Philly Brown.
Out of Contention: Ross Oltrik, Justin Siems 
4. The winner must have some prior name recognition.
I'm interpreting this commandment pretty liberally, but I think one can make a case for Carlos Hyde (big game against Nebraska), Jordan Hall (big games against da U and this in the Gator Bowl), Braxton (obviously), and Stoney (for his alarmingly high catches to TD ratio last year). 
Out of Contention: Rod Smith, Kenny G, and Philly Brown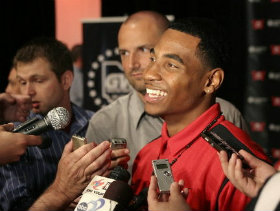 5. The winner must be one or more of the following three: a. The top player on a national title contender. b. A player who puts up good numbers for a traditional power that has a good record. c. A player who puts up superlative single-season or career numbers on a good team, or numbers that are way out ahead of his Heisman competitors.
A. The top player out of the remaining contenders will be Braxton. B. Ohio State is both a traditional power and will have a good record next year. I imagine that Hyde, Hall, Braxton, and Stoney will all put up good numbers. C. It's possible that none of these players will put up superlative numbers, but the contenders remain the same: Carlos Hyde, Jordan Hall, Braxton, and Stoney. Braxton gets bonus points here. 
Out of Contention: None. 
6. The winner cannot be considered an obvious product of his team's system. Basically, this means that voters are unimpressed by huge stats put up by an individual in offensive systems conducive for huge numbers.
This requirement eliminates players like Colt Brennan, Graham Harrell, or Case Keenum (sorry air raiders), who put up HUGE numbers within a particular offensive system. In some ways, offensive coordinating genius can actually hamper players' pursuit of the Heisman. It'll be interesting to see if Chip Kelly or Dana Holgorsen's players ever win. 
However, we know that a traditional power like Ohio State or Florida will still be in contention, even with offensive mastery, so the contenders survive another round: Hyde, Hall, Braxton, and Stoney. 
Out of Contention: None. 
7. If you are a quarterback, running back or multi-purpose athlete at one of the following schools, you have a good chance to win if you have a very good statistical season, are an upperclassmen and your team wins at least 9 games: Notre Dame, USC, Texas, Oklahoma, Nebraska, Ohio State, Michigan, Miami, Florida and Florida State.
This commandment lists out the "traditional powers" mentioned in other requirements. Ohio State obviously makes the cut, so all contenders remain again: Hyde, Hall, Braxton, and Stoney. 
Out of Contention: None yet again. 
8. Statistical benchmarks exist for each position to help voters gauge a player's 'Heisman worthiness'. A back on a traditional power or national title contender, must gain at least 1,600 yards. In either case, the back must score at least 15 touchdowns. A passing quarterback on a traditional power or national title contender needs to throw for at least 3,000 yards and have a 3-to-1 touchdown-to-interception ratio or better, with minimum 25 TD passes and an efficiency rating of 140.0 or more. A running quarterback on a traditional power or a national title contender must reach the 1,000-yard mark rushing in spectacular fashion and also be a decent passer.A multi-purpose athlete can only win by producing spectacular plays on special teams, specifically kick and punt returns.
Woah, this commandment is intense. This means Hyde and Hall must get 1,600 yards each and 15 touchdowns, Brax must get 3,000-ish yards and/or 1,000 yards rushing with a 3-to-1 TD-INT ratio, and Stoney must produce on special teams.
I think Hall has a great year in a pivot role, putting up solid numbers receiving and rushing, but not 1,600 yards. It's unlikely that Hyde puts up those numbers either considering Herman must spread carries around, but hey, you never know. I'd say the odds are against him here simply because of precedent in Meyer's offenses and the number of great backs on the roster.
Sadly, while I see Stoney having a great year I don't think it'll have Heisman-level stats in kick and punt returns. Life just ain't fair.
Out of Contention: Hall and Stoney. 
9. There will never be another two-time Heisman winner.
Way to go Archie! This commandment will only matter in 2013 when Braxton is ineligible for his second Heisman. 
Out of Contention: None. 
10. The winner must be likeable.
I mean look at these two - they're both likeable! Neither has ever had a horrible interview and both are team leaders. 
The Verdict
CONGRATULATIONS, BRAXTON MILLER, THE WINNER OF THE 2012 HEISMAN TROPHY. 
Braxton will undoubtedly throw for 3,253 yards and 33 touchdowns, while rushing for 942 yards. Further, he will lead Ohio State to a completely dominant win over Michigan. 
Also congratulations to Carlos Hyde, who finished in second place in the national ballots. While Carlos is a Grade-A back, he just didn't have enough carries or name recognition this year. Remember though - there's always 2013 (especially because Braxton can't win a second one).
It's all aboard the Hype Train - we're leaving Platform 9 and 3/4 for Heismanland.