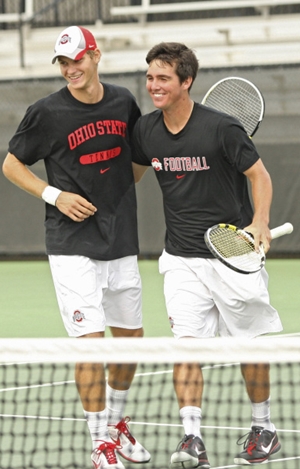 Welcome back, sports fans, to another edition of Around the Oval. I hope your Memorial Day weekend was both enjoyable and, well, memorable. 
It's been a scorching couple of week for Ohio State athletics, and not because of any elevation in temperature. Wherever you look, OSU is being burned in the media or literally set afire by rival football recruits.
Sometimes, these things make Buckeye fans want to simply go all Justin Bieber on the world, and settle things Paparazzi style. The teen pop sensation is accused of assaulting a paparazzo who reportedly got a little too close for comfort to he and his wizard girlfriend, Selena Gomez. 
Fortunately, there are eleven warriors next season that will have their shot at Logan Tulley-Tillman (not to be confused with 11W). The fight against the media will likely continue as long as there's unrest in the Middle East.
Not all is unpeaceful Around the Oval, however. While the season wrapped-up unsuccessfully around the basepaths for the OSU baseball team, the men's tennis team fared quite a bit better. 
Last week, Ohio State made it to the regional finals as the No. 5-overall seed before falling 4-2 to UCLA. The Buckeyes were hoping for a second consecutive trip to the national semifinals. They've advanced to the quarterfinals five straight seasons.
The loss to the No. 4-Bruins was a bit of a disappointment to the Buckeyes. The doubles pair of Chase Buchanan and Blaz Rola, ranked No. 1 all season with a 30-3 overall record, were usually good for a point. However, the stellar pair was defeated 8-6 by Alex Brigham and Adrien Puget. The Buckeyes' hopes of heading to Athens, Ga. were dashed on account of being upset in two doubles matches.
Buchanan and Rola, though, got the last laugh.
doubles the pleasure
While the OSU men's tennis team could not participate in the 2012 Division I men's tennis championships as a squad, they were able to live vicariously through Buchanan and Rola. The two of them delivered in a big way.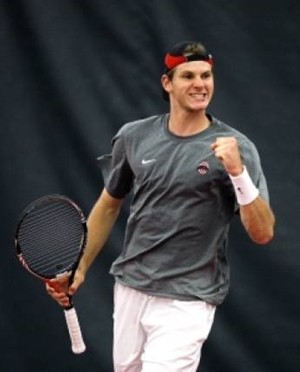 Buchanan and Rola won the doubles national chamionship yesterday with a 7-6(4), 6-3 win over Raony Carvalho and Gonzalo Escobar of Texas Tech. The victory gave the pair a 36-4 record, 18-1 on the season against ranked opponents, and also a place in the NCAA recordbooks by becoming the first tandem to win the NCAA championship, USTA/ITA National Indoor Championship and D'Novo/ITA All-America Championship in the same season.
Buchnan, a senior from New Albany, Ohio, finished his career with an impressive 108-24 singles record and an additional 112 doubles victories -- sixth all-time at Ohio State. His 44 doubles wins in 2012 was an all-time record at OSU.
The sophomore Rola wasn't done, however.
In addition to winning the doubles title, Rola also made it all the way to the singles national semifinal before falling 6-2, 1-6, 6-7(1) to Eric Quigley of Kentucky. Prior to losing two sets to Quigley in the semifinals, Rola had won all eight sets in the previous four rounds. Rola nearly pulled out the third set, which would have sent him off to the title match, but lost a heartbreaking tiebreaker to Quigley.
For the season, Rola finished with a team-high 32-6 record, including 14-5 against nationally ranked opponents. 
Ohio State returns most of its 251 singles matches participants back for next season. Buchanan and Steven Williams are the only two departing seniors. 
there's always next year
The Ohio State men's baseball team had to know its prospects for the B1G Tournament Championship were dim this week in Columbus after backdooring its way into the field by being swept at Indiana. While there were moments of optimism for the Buckeyes, the season ended in predictable fashion.
After surviving an elimination game Friday afternoon against Big Ten rookie Nebraska, 6-2, the Buckeyes saw a 2-0 fifth inning lead against Michigan State evaporate later that day before falling to an identical 6-2 score. 
Six walks and a pair of errors haunted Ohio State, who beat Penn State 12-5 and lost to Purdue 5-4 on Thursday. Against the eventual tournament champion Boilermakers, the Buckeyes held a 3-2 lead into the seventh inning before squandering the game. 
Last weekend, Ohio State had a shot at clinching the tournament's sixth and final spot with a pair of wins. After a loss by Minnesota last Friday, the Buckeyes merely needed one win over Indiana in Bloomington to secure its place at Huntington Park. Amazingly, the Buckeyes were swept. Fortunately for OSU, Minnesota dropped a pair to Illinoi, leaving Ohio State winners of a three-team tiebreaker due to a better record against the other five qualifiers.
Ohio State's season has come to a close, but there is a reason for some optimism for 2012-13. 
Led by junior Brad Hallberg and sophomore Josh Dezse, the Buckeyes will return their top nine hitters for next season. Though Ohio State is searching for power, a thing it lacked dearly this season having only one player with more than five homers, they had three guys with an on-base average over .400 for the year. Hallberg was the leading batter with a .311 average. The team .270 average ranked just 187 out of 291 teams this year in NCAA Division I.
The story is the same with OSU's pitching. 
Next year, the Buckeyes have starters accounting for 59 of the 60 starts returning. OSU's earned run average, 4.25, was a modest 128 nationally. Dezse, who served as the team's closer, and fellow sophomore starter Jaron Long were the bright spots for the staff this year. Dezse finished with a 2.86 ERA, though with a modest 19-15 strikeout/walk ratio. Long, meanwhile, went 6-2 with a team-best 2.66 ERA and 63 strikeouts to just 13 walks in 101 innings. 
The jury is still out on second-year head coach Greg Beals. After being hired from Ball State -- a head-scratcher for some -- Beals has failed thus far to make a splash in recruiting or on the diamond. Recruiting was where former skipper Bob Todd often drew the most criticism. Next year might be a make-or-break season for the Buckeyes. 
Buckeye Bits
* Congratulations are in order to the OSU rowing team. The First Varsity Four captured a gold medal this weekend in West Windsor, N.J. en route to a fifth-place finish as a team. The Second Varsity Eight placed second as Ohio State finished with 67 points. 
* Men's track and field members Demoyle Bogle (110m hurdles) and Matt DeChant (shot) will heading off to the men's outdoor national championships next month in Des Moines, Iowa. Joining them will be the 4x400m relay team of Antonio Blanks, Korbin Smith, Marvel Brooks and Thomas Murdaugh. Bogle's qualifying time of 13.81 seconds was the fourth-fastest on record at Ohio State.