Good morning Buckeye faithful and welcome to your Tuesday Skull Session.
There's just something about having Monday off to start the week that makes you want to have the entire week off. That being said, I hope everyone had a peaceful or rowdy Memorial Day, depending on how you like to spend it.
Additionally, I hope you were able to find some time to appreciate and support the brave men and women who are serving in our armed forces and those who have given their lives to protect our freedom.
This long weekend also produced a brief moment of excitement for me as OSU students received ticket information for buying football tickets next season. Finally, I will have the honor of buying tickets before everyone else. Deal with it, underclassmen. 
June 4th will be when the first student tickets go on sale. And to think I thought I was going to have money to spend that week. Oh well.
AMERICA AS SEEN BY PHIL STEELE. Phil Steele's College Football Blog released its annual 2012 preseason All-American teams. Steele lists four All-American teams.
Three Buckeyes were named to the list in the form of Jonathan Hankins, Jake Stoneburner, and John Simon. Hankins is the only Ohio State player represented on Steele's first team. Stoneburner and Simon are listed on the second team.
The Big Ten conference is represented by 14 players spread across the teams. Some notables are Wisconsin's Montee Ball (1st team), Wisconsin's Ricky Wagner (1st team), Michigan's Taylor Lewan (3rd team), Michigan State's William Gholston (3rd team), and Purdue's Kawann Short (3rd team). 
The SEC lead all conferences in players selected with 38 selections. No other conference had more than 18 players selected to the teams.
THEY ARE THE CHAMPIONS. A pair of Buckeyes and an OSU team were able to bring home NCAA titles to Columbus.
Chase Buchanan and Blaz Rola were able to bring home an NCAA Men's Doubles Championship in tennis. The top-rated duo was able to defeat Texas Tech for the title. Their most recent victory yesterday means they have become the first duo to win all three major collegiate championships (i.e., D'Novo/ITA All-America Championships, USTA/ITA National Indoor Championships and NCAA Championships).
The Ohio State Women's First Varsity Four rowing team won its first ever national title. With a time of 7:13.09, the Buckeyes were able to edge out Virginia by 2.09 seconds to take home first place. The 1V4 team was guided by coxswain Alexandra Sawatzki and featured Taylore Urban, Katie King, Stephanie Johnson, and Emily Ralph. #4 OSU finished fifth overall in the 2012 NCAA Division I Championships Sunday on Lake Mercer in West Windsor, N.J.
Congratulations to the champs on their success.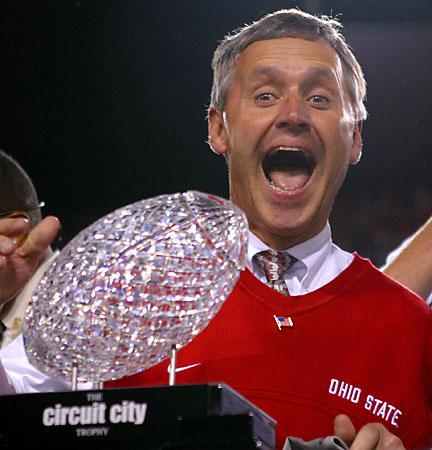 JIM WHO? Around this time last year, Buckeye nation was beginning the mourning process as Jim Tressel resigned as head coach of Ohio State. This was the inception of one of the worst seasons in OSU history.
As Rob Oller of the Columbus Dispatch writes, time has certainly healed all wounds of the Tressel situation. No one is going to forget the magic that Tressel provided in his tenure at Ohio State. The man coached OSU to a national title and left Michigan fans feeling confused and angry after every matchup between the two schools.
No matter how you as an individual felt about the Tressel situation, I believe it's safe to say that fans are happy with the direction the team is moving in. Urban Meyer, the coach who beat Tressel in the national title game in 2007, is now running the show and things will only continue to get better.
What happened to Tressel only occured one year ago, and yet it feels like forever since the announcement was made. As Oller discusses, Tressel will never be forgotten, but Meyer has helped stop the bleeding for many OSU fans. For a team that seemed beat down and hopeless last year, things have rebounded quite nicely here in Columbus.
L-A-X. Yesterday, college lacrosse played its national title game at Gillete Stadium in Foxborough, Massachussettes.
Loyola, a Baltimore-area school with roughly 4,000 students, was able to defeat lacrosse powerhouse Maryland. Loyola cruised to a 9-3 victory in front of 30,816 fans.
The victory was Loyola's first ever lacrosse championship and the first title game they have played in since 1990 when they lost to Syracuse. The loss is extra painful for Maryland who also lost last year's lacrosse national title to Virginia.
LOS LINKS. The perfect pass by Taylor Martinez... The NCBWA poll... Jessica Dorrell's former position at Arkansas now available... Promising Big Ten coaching assistants... Kentucky Men's Basketball earns high GPA.