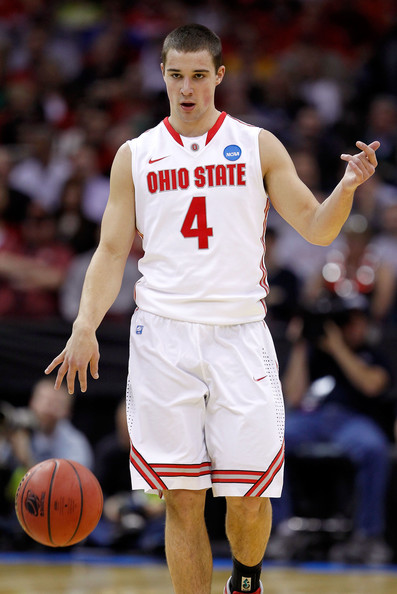 With Thad Matta entering his ninth season, I thought it would be a good time to take a look at the last eight years of basketball recruiting, weighing in on Ohio State's eight most impactful and influential recruits on the Buckeye program. I also listed the biggest duds.
In Thad's eight seasons, a total of thirty-two recruits have committed to Ohio State. Of the thirty-two, Thad has reeled in a total of eight "five-star" commits, twelve "four-star", nine "three-star" guys, and four Junior College players. In the years since Thad took over the Buckeyes, OSU's recruiting has been among the best in the nation, often getting comparisons to the recruiting efforts of the big few programs (UNC, UK, Kansas, etc.).
Many have come through Columbus, helped out the team, moved on to the next level and/or received their degrees from Ohio State. Many didn't work out, couldn't cut the college life, and moved on.
Let's start by counting down the top eight recruits based on their impacts and influence on the program.
8. Aaron craft (2010)
The former Tennessee commit did not originally get too many looks from Ohio State (although being from Findlay, OH) but no one plays harder for the Buckeyes than Craft. On top of playing hard, Craft has helped manufacture an excellent image for the basketball program with his stellar academic record, community service and leadership. He has, more or less, become the face of the program and will continue to do so for the next two years.
Nobody outworks Craft, nobody hustles as hard as he does, and nobody is as lovable as he is (unless you're an opponent, then you hate Craft). Craft is the Big Ten's best defender and other teams are frustrated with him. Luckily, Bruce Pearl messed up and the Buckeyes were lucky enough to land this guy. Craft's impact on the program is infinite and only trending upward.
7. Mike Conley Jr. (2006)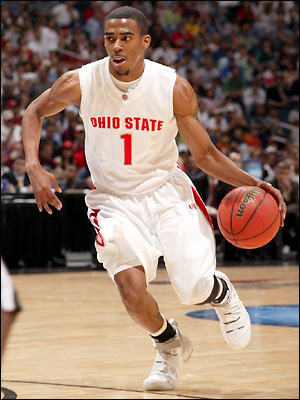 Conley came into his own in the 2007 NCAA Tournament, helping lead the Buckeyes to the national title game and emerging from Greg Oden's shadow. Not only was Conley part of the Thad-5, he was also from Indiana and was the top point guard in the class. By locking down Conley, Thad was able to show that the Buckeyes were going to be a recruiting force in the conference, opening up the borders between Ohio and Indiana for top recruits. Conley had the most assists in a season ever at OSU, as well.
Conley went on to become the fourth overall pick in the NBA draft and is widely considered one of the best Buckeyes in the pros (up for debate). His success on the Memphis Grizzlies also adds to his impact on the program.
6. Jon Diebler (2007)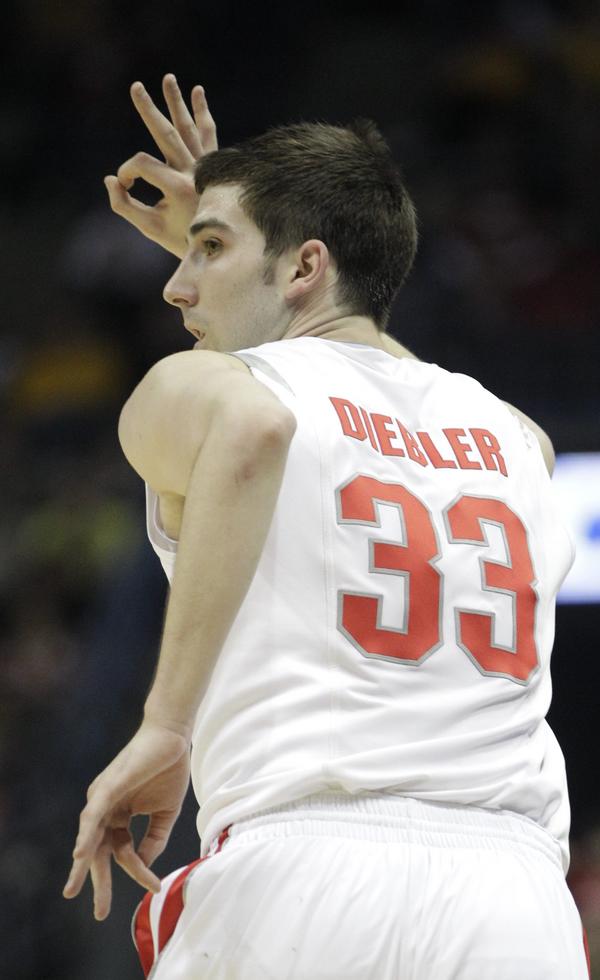 There was not a more heralded Ohio high school scorer than Jon Diebler, who is the all-time Ohio scoring champion at 3,208 points. Diebler's influence over the Buckeyes during his four year tenure at Ohio State was much greater than often realized. Diebler was recruited to spread the floor and score. It took him some time to adjust at the next level, but he accomplished what he was recruited to do.
Diebler owns Ohio State's all-time three point record, the Big Ten's record for most three-pointers in a game, and most three pointers in a season. He also started 115 total games in his OSU career. Evidence is there and Diebler's impact was tremendous. He was definitely missed this past season, despite reaching the Final Four.
5. Will Buford (2008)
Think of Cedar Point Amusement Park. Then think of one of the many roller coasters at the park. Well, you're now thinking about Will Buford's Buckeye career as well. In reality, Buford is one of the best players in the Matta era. A former 5-star recruit and McDonalds All American, Buford was among the most highly recruited shooting guards in the nation.
A Toledo native, Buford decided to stay close to home and spent four years in Columbus where he ended his career tied third on the all-time Ohio State leading scorer list. Buford was a key member of all four teams he played on in his OSU tenure and could be an everyday player at the next level. Buford had an amazing career in the scarlet and gray and his tenure made tremendous impact on the program.
4. David Lighty (2006)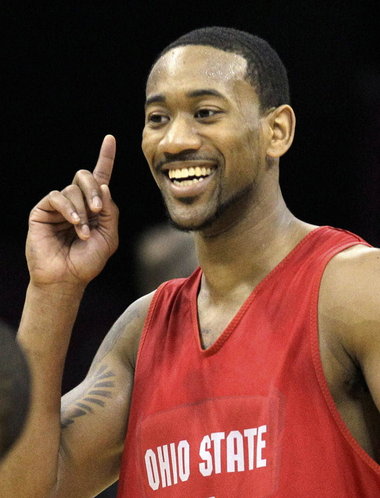 In my eyes, no one is a truer Buckeye than David Lighty. Lighty, who spent five years at Ohio State, was part of the 2006 class labeled the Thad-5 and was probably the least heralded. No one knew that he would have such a tremendous impact on the OSU program.
Lighty played in and won more games than any Buckeye in history but also played in the most games in NCAA history (157). It was often joked that Lighty should have his jersey retired in the Schottenstein rafters, but I was one to believe that they should. Lighty battled back from injuries, displayed the best leadership abilities, and locked down every opponent on defense. His impact will not be forgotten.
3. Evan Turner (2007)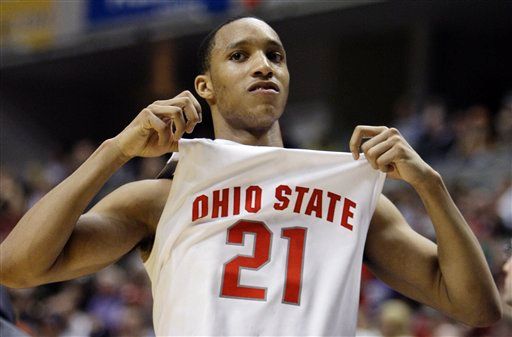 Although not as highly touted as some of the others in Thad's repertoire, Evan Turner is probably the best overall player during his Ohio State tenure. Turner, from Chicago, was a consensus top-60 recruit and arrived in Columbus as an extremely raw freshman. No one had better work ethic than Turner who transformed into the best player in the country by his Junior year beating out John Wall for National Player of the Year honors.
At times, Turner carried the Buckeyes on his back. Coincidentally, Turner broke his back his Junior season, returning just a few weeks later. He averaged 20.4 points, 9.2 rebounds, and 6 assists a game as a Junior, one of the best overall seasons in OSU history. Turner's name could be hanging in the rafters a few years down the line. Turner also set the precedent for future recruits as many young prospects look to replicate Turner's success at Ohio State.
2. Greg Oden (2006)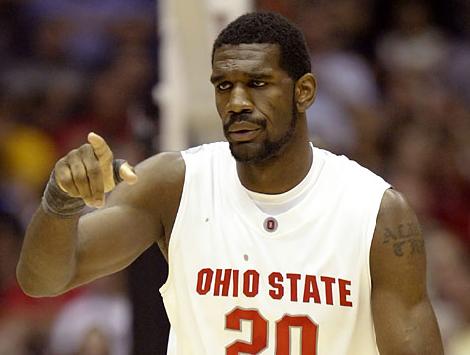 There is not a more recognizable recruit in Ohio State history than Greg Oden. Oden was the #1 overall player in the class and instantly became the best player in college basketball. Oden was the prime example of how Thad could go into other states (specifically Indiana, again) and take the top talent.
Oden, the centerpiece of the Thad-5, dominated the paint for a bit more than half a season but really helped an emerging powerhouse reach the top. Oden helped the Buckeyes to a #1 ranking and an overall #1 seed in the NCAA tournament before being drafted as the #1 overall pick. From a PR standpoint, Oden helped Ohio State basketball into the spotlight along side with the school's football program. That's something you don't see very often in Columbus.
1. Jared Sullinger (2010)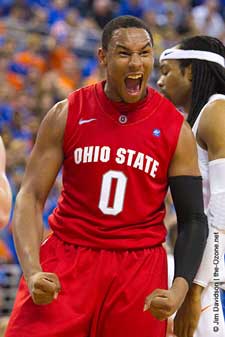 Having Sullinger committed so Ohio State so early in his basketball career helped the program out drastically. Those that argue that Oden should top Sullinger do not see the behind the scenes impact that Sullinger had on OSU recruiting. With Sullinger as the centerpiece of the '10 class four years before enrolling, Thad had plenty of time to put great players around him and that's what he did. Thad was able to lure in recruits using Sullinger as his main recruiting tool and it was effective as ever. Thad locked down several of Sullinger's AAU teammates including Aaron Craft, Deshaun Thomas, and others (we won't name those who transferred). Sullinger even had direct affect on the classes in front and behind his as everyone wanted to play with a star like Sully.
Simply put, no one had a bigger impact on OSU recruiting and the program like Jared Sullinger. Sullinger may not be a top pick in the NBA Draft but he will go in the first round and will definitely carry the Buckeye name with him wherever he goes. Imagine the  state of the program if Sullinger had gone to a Michigan State, North Carolina, or Duke instead of staying in his hometown to be a hero. Things would be quite different.
---
Just Missed the Cut: Deshaun Thomas (trending upward), Mark Titus (seriously, his PR has done wonders for the program)
The Duds (High expectations, no results)
4. Anthony "Noopy" Crater (2008)
Anthony Crater was a consensus top point guard and was set to take over a Conley-esque role upon his arrival. Crater contributed as a freshman but did not like his minutes. He eventually transferred to South Florida and was kicked off the team there.
3. Daequan Cook (2006)
Although Daequan Cook eventually was taken late in first round of the NBA draft, Cook never seemed to want to be in Columbus and would have most likely entered the draft from high school if he had the opportunity. Cook, a big time recruit, came off the bench and never really made a substantial impact on the Ohio State program.
2. Kosta Koufos (2007)
Kosta Koufos did lead the Buckeyes to an NIT championship (bleh, the NIT) averaging 14.4 points and 6.7 rebounds per game, however, he seemed like he never wanted to be a Buckeye either. Titus mentioned in his book that he was a ball hog and no one on the team seemed to like him.
1. BJ Mullens (2008)
BJ Mullens was the consensus #1 overall recruit but never seemed to fulfill the expectations set forth. Before enrolling at OSU, Mullens was projected to be a top pick in the following year's NBA draft and that may be all he cared about. Mullens did not even start for the Buckeyes and bolted for the NBA as soon as the season ended, despite his poor season.
Let the debate begin!