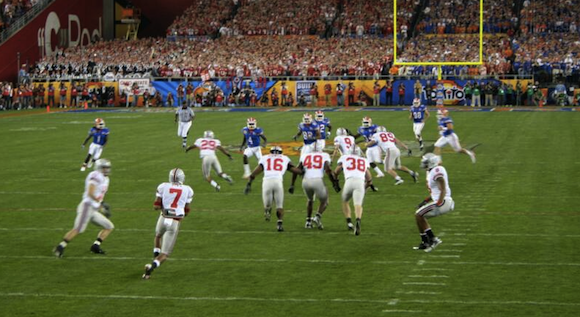 To the informed observer - yes, that would be you - the photograph above is as haunting of a football image as you can imagine.
Ohio State is the undefeated Big Ten champion, carrying a wire-to-wire #1 ranking and having vanquished two second-ranked challengers with one more left to defeat in order to claim its second BCS title in five seasons. Ted Ginn Jr has just fielded a kick which he will return for a touchdown for the seventh time in his three-year career.
At this moment, all is well. You waited almost eight weeks following the win over #2 Michigan to get to this instant. At this moment in January of 2007 you believed you were four hours from experiencing the capstone on an undefeated season that began to materialize back in November of 2005.
This photograph is haunting not only because of how those devastating four hours transpired, but because of the damage those four hours levied not only to the entirety of the Buckeyes' 2006 season but to the overall Ohio State football brand. The collapse against Florida scarred every single memory from that year.
The irony wasn't lost on anyone then, nor is it any less obscure right now: Ohio State's adversary came from within. Urban Meyer's incursion on Ohio State's entitlement wasn't quite the same 1969-Schembechleresque type of inside job, but Meyer was still a native son with strong Buckeye bloodlines.
The architect of the Buckeyes' destruction in Glendale (with apologies to Troy Smith's In-N-Out Burger soliloquies and all of those gravy boats of entitlement and beef tallow on the banquet circuit which were merely checked luggage on this Hindenburg) is now back in the barn after a 25-year sabbatical from the Ohio State sideline.
Meyer coming to Ohio State doesn't change that night in Glendale, but it does significantly alter how the business of Ohio State football is conducted.
Making meaningful changes to a program that achieved the level of success Jim Tressel enjoyed over the last decade would normally be greeted with some degree of skepticism. After all, Tressel went 106-22* and ended his tenure with a sixth* consecutive conference title.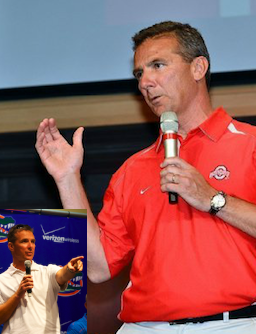 You won't find another streak like that anywhere in school history. Preserving Tressel's approach to guiding the program - his documented compliance challenges aside - would virtually guarantee that a similar run couldn't occur in the future.
As we painfully learned in 2011, Tresselball without Tressel is nothing we ever want to experience again.
This is where Meyer's track record, Ohio roots and historically-transparent methods all collide. We got a glimpse into the future with his immediate impact on the recruiting trail, resuscitating the beleaguered program with a strong finish to the incoming 2012 class that still seems impossible.
Spring football took on an entirely different direction from its largely mundane past: The competition was more livelier. The conditioning program was more rigorous. The largely-manufactured optimism was replaced by comments about the receiving corps being substandard and the offensive line being in unacceptable physical condition.
Suddenly, Ohio State's own self-assessment overlapped with that of its most ardent observers, instead of delivering meandering coachspeak insulated from scrutiny on account of a 106-22* record.
Meyer's Spring was very still formulaic, but this was an entirely new and different formula. It's been proven to work, too; just refer back to that haunting photo at the top if you need a reminder of its efficacy.
take me to your leader
Last week's Town Hall meeting served as much more than just an open display of outreach and fanfare for Ohio State's current inhabitants.
"It basically capped off and ended an 18-month transitional span," said Jared Kamrass, who served as the event's student emcee.
The junior Political Science and Strategic Communications major was appointed to the university's athletic council in June of 2010 and is now finishing the second year of that two-year term. He was recently appointed to another two-year term and will continue to serve in the same capacity, which exposes him to the inner workings of, among other things, the Buckeye football program.
The council consists of Kamrass, another undergraduate student, one graduate student and one advanced-degree candidate, all of whom are heavily-involved in the decision-making around the NCAA. So when Kamrass suggests last week's Town Hall capped an 18-month span, it's consistent with his tenure on the council.
"I've served on the council for two years," said Kamrass, "and I'm on my third football coach."
The underlying allegations of Tatgate surfaced in December 2010, six months after Kamrass began serving what eventually became his first of two terms.
"Those 18 months included the initial allegations, Coach Tressel's exit from the program, the 'lost year' during which the program was in limbo, our hiring process, the release of the NCAA's sanctions and now this Town Hall," said Kamrass.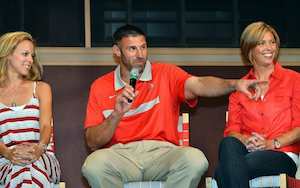 "Beyond his initial press conference and the basketball game where his staff was presented, the Town Hall was the first opportunity for students to meet him in an informal setting."
While the event was branded as "The Urban Meyer Student Town Hall Meeting" it was anything but the Urban Meyer show. The event is simply one of the distinctly Meyeresque methods he has developed and made portable throughout his coaching career.
In this first edition at Ohio State it took on greater significance because technically, Meyer's predecessor isn't Tressel. It's Luke Fickell, who now reports to Meyer.
"People are so grateful to Coach Fickell for his stewardship during what was obviously a terribly difficult situation," said Kamrass. "Coach Meyer had no working relationship with Coach Fickell when he arrived here, and he acknowledged how important he was to maintaining continuity."
"Coach Meyer hasn't made Coach Fickell any less visible; on the contrary - he's deliberately worked to give him a larger platform in the community. It's a true partnership."
A partnership that should pay dividends for both the program as well as both men on a personal level.
"Coach Fickell was the head coach for most of the players on this roster," said Kamrass. "Coach Meyer realizes he cannot just abruptly relegate Coach Fickell to a position role. He needs Luke as much as Luke needs him."
Fickell has not made it a secret that he has head coaching aspirations and said as such when he was introduced last summer as Tressel's interim replacement. Meyer needs Fickell for program continuity; Fickell needs Meyer for the same reason as well as for his own career.
At the same time, Meyer has made no secret that he cannot continue down the same path that jeopardized his health at Florida. He won't be in his office 80 hours a week, and a stabilizing force like Fickell who has lived the role is a significant asset to Meyer holding up his end of the bargain with his family.
"They have such different personalities," said Kamrass. "They're equally hard-working and have the same values. It's obvious they get along great, even though their relationship basically started as a shotgun marriage, it's worked out even better than (the university athletic council) had hoped."
"When the day arrives that Coach Fickell is offered a head coaching position, he will part with Meyer on very good terms."
something new; something borrowed
When Tressel arrived in 2001 he retained Jim Heacock from John Cooper's staff. There was some familiarity between them from their days at I-AA Youngstown State and Illinois State, respectively.
Similarly, Meyer knew Stan Drayton, who came to Ohio State from Florida prior to last season. Fickell and Mike Vrabel were unknown commodities to him, but they both possessed three important attributes that directly resulted in their retention: Coaching ability, recruiting appetite and Ohio roots.
"Coach Vrabel absolutely loves the role he has now," said Kamrass. "It's not secret to anyone that he and Luke are best friends. They're both Ohio State guys. They're home."
The rest of the staff may be new to Ohio State, but with only one exception they all have those three vital attributes possessed by Vrabel and Fickell.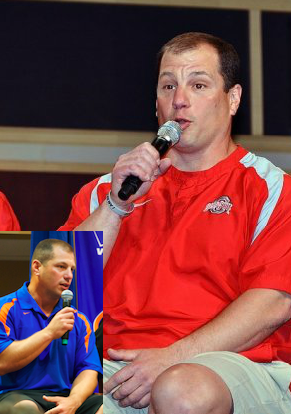 "Tim Hinton earned his master's degree from Ohio State during Meyer's final year as a Buckeye assistant," said Kamrass.
"Kerry Coombs is a Cincinnati legend. Mickey Marotti attended Ohio State and was a grad assistant. Every single coach on the staff except for Everett Withers has roots here. They're all recruiters. They're all great coaches. They almost all have Ohio roots."
Those who follow recruiting closely will note that while Ohio roots may hold importance for the coaching staff, the players being pursued have a decidedly-national flavor not seen since the Cooper era. This is a marked departure from how Tressel's staff operated.
"I don't think you'll see a 'pipeline' type of school for Ohio State recruiting," said Kamrass. The days of taking a Glenville kid every single year are over. Coach Meyer will bring in kids from Omaha, Providence, San Francisco - it doesn't matter. If he's the most talented kid, he will be pursued regardless of geography."
That doesn't mean Ohio will be neglected or ignored during that all-important second season.
"The lifeblood of Ohio State football is Ohio high school football, and Coach Meyer not only understands that - embraces that," said Kamrass. "Look at the recruiting map in the (Woody Hayes Athletic Center) and there's still much more focus on the Ohio map than the national map."
buckeyes, everywhere
"All things being equal - the coaches will pursue the Ohio kid," said Kamrass.
That philosophy isn't terribly different from Tressel's, though he was known to keep more than a couple 'casual recruiters' on his staff, most notably Jim Bollman and Heacock.
"The biggest difference is that Mark Pantoni is doing a lot more homework and due dilligence to find the kids from outside Ohio than what was done before," said Kamrass. "They're still going to find the bulk of their kids from Ohio high schools."
"The staff understands high school powerhouses and appreciates the relationship, but they're going after the best players," said Kamrass. "There's no point to having a talented kid on the roster if he cannot stay eligible. I don't think you'll see as many academic risks as you did in the past."
The aforementioned Glenville pipeline was very inconsistent in this regard: For every Troy Smith and Ginn Jr-type of success there seemed to be at least three fellow high school alumni who couldn't survive as college students. It's widely-known that Tressel himself went to admissions to make a case for Ray Small, who was flamed out of school in predictable fashion.
Despite the academic risks Tressel took, APR was never higher at Ohio State than it was in his final season. Meyer has no plans to jeopardize the standard; as with on-the-field strategy he has a different philosophy for the classroom.
"Both men have very different ways of breeding success," said Kamrass. "Tressel was far more laid back. Players were more accountable to themselves than the coaching staff. They kept track of their own progress."
"With Coach Meyer it's all about intensity," said Kamrass. "Players are still accountable to themselves, but they're accountable to the coaches too. The intensity is not just on the field during practice. It's the same mentality."
Everything is 100%. The same intensity you see during practice at the Woody carries into the classroom now."
And to the informed observer - yes, that would be you - this intensity uptick has been welcomed by program holdovers as warmly as you would have imagined.