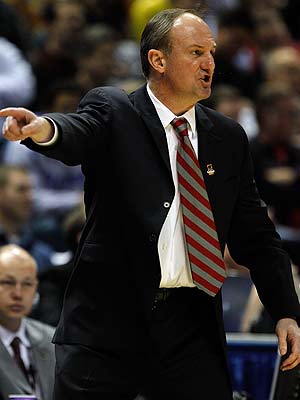 I often get questions about basketball recruiting and the most common one recently has been, "Did the coaching staff actually try to recruit for the 2012 class?"
Since taking over at Ohio State, Thad Matta has been an excellent recruiter, pulling in national prospects and shelling out NBA draft picks like it's his job. Well in reality, it is his job.
In this day and age, the best teams in the country land the top recruits, let them play for a year or two, and hope that using scholarships on these upper-echelon recruits leads to championships (i.e. Kentucky since Calipari took over). For  Matta, it has been hit or miss once the prospects are signed and suited up in Scarlet and Gray. But, he keeps pressing on.
With the 2012 class, there seemed to be plenty of targets, but a lot of misses with commitments.
Many factors weigh into each class and those factors differ from year to year. 
In 2006, Matta used scholarships on the "Thad-5" which included three one-and-done, five-star first round picks in Greg Oden (#1 overall), Mike Conley (#4), and Daequan Cook (#21) and a loss in the National Championship. In 2007, Matta hauled in another Five-Star in Kosta Koufos (#23 in '08 draft) and in 2008, Thad brought in Byron (BJ) Mullens who left after one year and went 24th overall (also locked down Five-Star Will Buford). 
Koufos and Mullens did not bring the same success as the "Thad-5" and showed the casualties involved when bringing in an NBA-ready recruit.
2009 was an entirely different story and the Buckeyes were without one freshman going into the season. Luckily, the Buckeyes were lead by the National Player of the Year in Evan Turner and did not have to worry much about the holes left by those early departures from the previous classes.
2010 gave us five-star Jared Sullinger who will be leaving after a second season (and Deshaun Thomas) and 2011 was filled with future contributors, but clearly no "one-and-done" style players. At least we aren't so sure at this point, with the entire class going into their sophomore year for next years campaign. The staff had a lot of freedom with the '11 class with plenty of open scholarships to fill and relationships built early on.
It is now common knowledge that Matta and the OSU basketball program is at the top for desirability for top prospects across the country. The Buckeyes will continue to see interest from national caliber players that often are tagged as "one-and-dones" because Matta has shown that he can help get a player to the next level. He has the track record and the experience.
However, why is the 2012 class not filled with five-stars or even four-stars? OSU Basketball fans seems to be wondering if the Buckeyes even attempted to fill a class this year. There was much uncertainty about scholarship numbers, who to target, and who to offer scholarships to that made the recruiting year way more difficult than in the past. 
In a perfect world, Matta would have known that he would have four open scholarship spots to work with in 2012 and much like with the 2011 class, he could've openly offered a plethora of talent and taken a handful of commitments. He would have known that Jared Sullinger was heading to the pros, Deshaun Thomas would return to school, and Jordan Sibert and JD Weatherspoon would transfer.
Unfortunately, there was no way for the staff to predict the eventual outcome and the potential open roster spots and the recruiting season seemed to be more difficult then in the past.
The Buckeyes had offers out to a handful of prospects with some heavily interested in OSU, but at a point had to be extremely picky who to accept commitments from with the unknown scholarship availability. The staff's focus on adding a big man made this recruiting season a unique one.
Let's take a look at a few of those top prospects OSU could've had in the class of 2012.
Tony Parker | 6-9/260 | FIVE STAR1
COMMITTED TO: UCLA
Tony Parker, perhaps the staff's #1 target and an instant replacement for Jared Sullinger, visited Ohio State and attended a football game at the 'Shoe. He came away impressed. He stated that he had a great relationship with coach Jeff Boals and that Ohio State was in a good position for his services. He appreciated that Matta had churned out a lengthy list of successful big men starting with David West (back at Xavier), Greg Oden, and Sullinger.
He mentioned that he spoke with Boals about five times per month and told Rivals:
"Ohio State is a great school, it has a great atmosphere. They have a really have a great basketball program. It is really a win-win situation"
As time went on, more and more schools became interested in Parker's services and he managed to create a short-list of UCLA, Ohio State, Duke, Georgia, and Kansas. Soon after, it seemed that OSU was all but out of the running. Things did not turn out well for the Buckeyes as Los Angeles sold Parker and chose UCLA during the longest press conference in decision history.
Jeremy Hollowell | 6-7/180 | FOUR STAR2
COMMITTED TO: Indiana
Despite being from Indianapolis, Jeremy Hollowell grew up a Buckeye fan and dreamed of playing his college basketball in Columbus. Ohio State offered Hollowell early on, but seemed to spend their time pursuing other options, as opposed to staying in-touch with Hollowell. He got the message after not hearing from Buckeye coaches and began pursuing other options.
The draw to stay in-state was too powerful and Hollowell made a decision to stay closer to home. Looking back, especially with open scholarships, OSU could have used Hollowell to add depth at the wings.
ADAM WOODBURY | 6-11/200 | FOUR STAR1
COMMITTED TO: Iowa
Another one of Thad's top big man prospects, Adam Woodbury, received a lot of attention from the OSU staff. During the winter, Woodbury mentioned that he was considering Ohio State and Wisconsin before receiving a big offer from North Carolina.
As time progressed, Fran McCaffery entered the picture and staying at home became more and more appealing for Woodbury. Coach Matta was also focusing a large portion of his recruiting attention to Tony Parker, who seemed to be an OSU lock at the time.
Eventually, Woodbury pulled the trigger and will be the focal point of the Iowa program for the foreseeable future.
DAJUAN COLEMAN | 6-9/250 | FIVE STAR1
COMMITTED TO: Syracuse
DaJuan Coleman may have been a long shot from the start, but never failed to mention Ohio State in his shortlist of schools.
Even Jared Sullinger was involved in the recruitment of Coleman, as Sullinger attempted to get Coleman to commit to the Buckeyes potentially filling in for him after he took his talents to the pros.
Coleman spoke with Adam Zagoria late last summer about his recruitment and even mentioned that OSU was on level playing ground as Syracuse (the favorite):
"They're definitely equal now that I did a little more research and stuff like that. Ohio State, I like how they use their big man and develop big men so that's one thing about them."
In the end, there was too much pressure to stay close to home and support the local Orange.
Let's look at the low-interest prospects from this class.
Rodney Purvis | 6-4/190 | Five Star3
COMMITTED TO: North Carolina State
When Rodney Purvis decommited from Louisville, most coaches in the country reached out to him to see if they could garner his interest.
Surprisingly, Purvis listed Ohio State on his new short list with NC State and Memphis and it seemed like the Buckeyes had a legitimate shot at the star guard. In the end, just like most of the Buckeye targets, staying close to home was the deciding factor:
"I came to the conclusion that there is no place like home."
 Purvis will join a star studded class boosting NC State back onto the national scene.
Danuel House | 6-6/200 | FOUR STAR2
COMMITTED TO: Houston
House, very similar Will Buford (size/shooting ability), was told that he could easily replace Buford and gel well into the team's current mold.Thad has a knack for national recruiting, especially in years where Ohio doesn't have a plethora of talent. Danuel House was a major shooting guard prospect out of Sugar Land, TX and had major interest in Ohio State. House even created a short list with the Buckeyes up high.
Once again, geography was costly for the Buckeyes and House decided to stay in-state.
Other notables not included: Pennsylvania PF Amile Jefferson1 (Five-Star, commited to Duke), Georgia SF Evan Nolte1 (Four-Star, committed to Virginia), Ohio PF Kenny Kaminski2 (Four-Star, committed to MSU), Florida C Joel James2 (Four-Star, committed to UNC), Nevada SG Amedeo Della Valle (Three-star, committed to Ohio State)
Yet again, the Buckeyes had the interest of several top prospects in the nation. It seemed that the geographical factor really weighed in heavily with this class and the uncertainty about scholarship numbers really had the coaching staff playing it safe..Or were they? Could this all be in the plan? It seems that the staff missed out on their top big man targets and decided not to use any effort towards other positions (except for the late commitment of Della Valle).
Perhaps the staff is happy with next year's team and wants to focus on transfers and the '13 class. That seems to be the conclusion. 
It can be expected that the coaching staff puts a lot of weight into recruiting for 2013 and we will once again see a loaded class.
1 High mutual interest between Ohio State and the prospect.
2 Interest from one party (i.e. prospect interested in OSU, but OSU not interested in prospect).
3 No official offer but staff would have accepted a commitment.