Given the choice of seeing a college football game in person or on television - and I've been fortunate to have the choice often - I'll go to the game every time.
There is no adequate substitute for being in the stadium. It isn't a guarantee, but sometimes the game is too good for the rigid confines a television screen: Keith Byars could run out of his shoe. Big Daddy could blow up the Washington Huskies' vaunted offensive line. Eddie could go for 314.
Less often but equally memorable, a devastating injury takes your breath away. In any circumstance, being there means it's impossible to look away. You cannot simply change the channel.
The Big Ten home opener 12 seasons ago was against 1-4 Penn State. Despite their record - which included a 24-6 mortification courtesy of Toledo - the Nittany Lions were still one of those no-substitute-for-being-there tickets.
Making that ticket slightly less-attractive was the unwelcoming Columbus weather that morning: Downpour accompanied daylight and refused to yield for the balance of the pregame. Regular ambient tailgating noise was dominated by the sound of rainfall.
As a result, our treasured and normally open-air September festivities heading up to the noon kickoff were instead held beneath tailgating tents, large umbrellas or five dollar red-hooded ponchos. It was a minuscule price to pay for the experience of a precious College Football Saturday.
The game itself - a 45-6 laugher for the Buckeyes - crept back into my consciousness last week upon reading the news that Adam Taliaferro, now a successful attorney practicing not far from where he grew up in New Jersey had just been elected to the Penn State Board of Trustees.
Taliaferro led all balloting, garnering more votes than were cast in the same election last year. Sure, there's heightened interest in the PSU BoT these days, but it's not as though he was the only candidate for the choosing.
And yes, he has name recognition, but not simply because he's one of thousands of men to have played for Joe Paterno. It's because he made his name synonymous with resilience, which is exactly what his beleaguered alma mater is actively seeking.
The cruelest element of weather-related game delays is that those who brave the elements are usually the last to find out about them. The people on their couches learned first that lightning was going to postpone kickoff.
We found out about the delay only after we arrived, dripping, at our seats; cowering inside of our five dollar red-hooded ponchos listening to the drops slapping on our hoods.
Once the delay was lifted the Buckeyes went to work quickly, scoring two touchdowns inside of the first nine minutes. At one point there was a tremendous thunderclap which the crowd curiously received with a roaring cheer. YEEEEAHHH! GO CLOUDS!
The rain completely stopped and the sky had cleared by the third quarter when it was 24-6 Buckeyes. Ohio State had the ball and scrimmage was right in front of me on the northeast hash as the Buckeyes drove down to score again.
For at least one play I would have the best seat in the Shoe.
That play was a pitch-sweep right, to Jerry Westbrooks - and the white shirts read it perfectly. Ohio State's third-stringer had his legs taken out by #43, the right corner.
I wasn't familiar with that number, and Penn State makes it more difficult to do so by deliberately keeping its jerseys nameless. My game program had long been destroyed by rainfall. It now resembled a pile of oatmeal beneath the bench.
Westbrooks and everyone else picked themselves up off the turf to return to the huddle. Everyone else except for #43, who stayed on the ground with his right arm awkwardly flapping briefly before going still.
Later he would say that immediately following the whistle he thought he had broken his arm because it was strangely dangling at his side. Then he quickly concluded that he had a stinger, since his arm did not hurt.
Suddenly dawned on him that nothing hurt. He could not move. His teammates told him to get up, but his body didn't instinctively respond.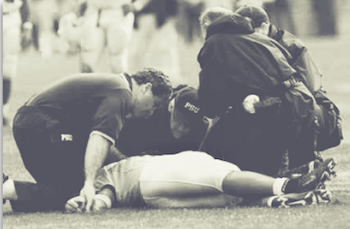 Number 43 was the freshman Taliaferro, who had been playing what could be best-described as spot-duty up until that point in his first semester at college. The Nittany Lions were rebuilding his side of the ball in their first year without a now-notorious retired defensive coordinator.
This created the opportunity for him to see the field as a freshman, and early in the season he was already exploiting it. Tom Bradley, a defensive back who had played for Paterno during the 1970s before joining the staff as a graduate assistant was now in his first year as DC following 19 years as an assistant.
He informed the freshman on the eve of the Ohio State game to prepare for playing time. Taliaferro then did what any good son would do and excitedly called his parents Addie and Andre to tell them the news.
Upon hearing that their son was going to play against Ohio State, they decided not to attend the game: For all the times they had seen him play football in person, they had never watched him play on television. They decided to take in that experience rather than head to the Horseshoe.
The blue coats from the Penn State sideline gathered around #43 lying on the ground. Soon they were joined by staff from the Ohio State sideline. Players began removing their helmets and dropping to a knee as it became evident that this wasn't an ordinary injury.
Only a couple of hours earlier, rain was pouring out of the skies and tens of thousands were screaming in delight as thunder shook the stadium. Now the rain had gone, the skies were clear and there was no screaming.
There was just a single set of clean, white football pants lying motionless on wet green grass.
I was close enough to the field that day to hear all of the cheers, shouts and hits - the normal sounds of any football game. As he laid there, oddly half-twisted onto his left side I didn't hear any screaming or cheering. I heard exactly what he was feeling: Nothing, and it was frightening.
Given the choice of seeing a college football game in person or on television, I'll go to the game every time. There's just no substitute for being there. That September Saturday I didn't anticipate having a front-row seat to a tragedy.
There are no commercial breaks during extended timeouts when you're in attendance; just a lot of waiting. That wait is a lot worse during injury timeouts. There's no channel to change. A whole lot of people are uncomfortably quiet for far too long.
Then you see the ambulance slowly make its way out to an unpaved place where no vehicles should ever be, especially that kind of vehicle. Ambulances look normal racing down the highway. They make sense parked in front of the emergency department.
Ambulances don't make any sense on a football field amidst 98,000 empty gazes. None of us could change the channel. Like #43, none of us could move.
The Taliaferros were trapped in front of the screen watching their son play on TV for both the first and last time, listening to the somber tones of Brent Musberger delicately improvising his narrative against the backdrop of their son's still-undiagnosed injuries.
Concussions have recently taken football's spotlight away from spinal injuries, but a dozen years ago - even now, actually - the fan's first instinct when a player goes down is to look for movement. Even the slightest hint of muscle control tends to bring a calm over the spectators. If he can just move a little he's going to be okay.
Part of the reason head injuries are making news these days is because their effects linger for years. We don't fully understand their implications. They seem to get worse with time, at least sometimes.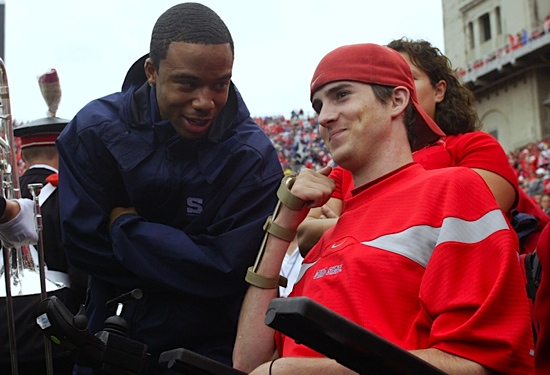 Injuries to the vertebrae don't clinically present nearly the same way. Unlike the brain, the spine rarely keeps any secrets. A bleak future is often determined immediately.
Taliaferro didn't move, even after the gurney he was strapped to exited the stadium. After a delay that lasted longer than the one caused by lightning to start the afternoon, #43 left the football field as a player for the final time. It was the sixth game of his freshman year.
The Buckeyes finished that drive a couple of plays later with a touchdown that was cheered meekly, if not with a palpable sense of guilt. Ohio State would go on to hand Paterno the worst loss of his career (the following season they would hand him the historic victory that would vault him past Bear Bryant in career wins).
Taliaferro was given a 3% chance of ever walking again. He stayed at the Ohio State University Medical Center and then was airlifted to Thomas Jefferson University Hospital in Philadelphia, not going home until Thanksgiving nearly two months after the game.
Ten months later, he led his team out of the tunnel - skipping, actually - for Penn State's 2001 home opener. His return to the Horseshoe - on foot - prior to the 2002 meeting produced some of the loudest and most genuinely boisterous cheering for an opponent in Ohio Stadium history.
Taliaferro graduated both undergrad and law school and is the standardbearer for coming back from spinal injuries to players who have suffered similar crippling setbacks like Ohio State's Tyson Gentry and Rutgers' Eric LeGrand. There are no limits to who should be inspired by the well-documented return of his gait.
Now Taliaferro is one of his alma mater's trustees, chartered with making decisions that can affect his school for decades. Change the pronoun on the cheer: He is Penn State.
I've been fortunate enough to attend about 200 college football games, conservatively estimating seven games a season since 1980 when my father simultaneously introduced me to the vitality of season tickets and Big Ten football.
A handful will always stand out: Byars running out of his shoe. Big Daddy going full-wrecking ball. Eddie summoning his name to be chanted repeatedly. Ken Dorsey eating turf in the desert. Beanie ruthlessly paving Ann Arbor with sun-and-blue-colored blood.
That soaking wet Penn State game 12 years ago is in that handful of prominent memories; less because of the game and more because of its improbable aftermath.
Kids routinely project themselves as the burgeoning hero up at bat in the bottom of the ninth with two outs, or taking the last shot in a championship game, or dropping back to pass with the title on the line down by five.
Any of those fantasies serve as a nice platform for backyard big-game gallantry. Any kid will take those odds for a shot at pretend-immortality.
No kid ever fantasizes about coming back from paralysis or overcoming physical devastation. No one wants those odds. They're best kept to the rigid confines of a television screen on someone else's' shoulders, not inescapably in front of your face.
Taliaferro's life as he knew it came to a screeching halt that afternoon. His resounding triumph over paralysis makes it impossible to look away.