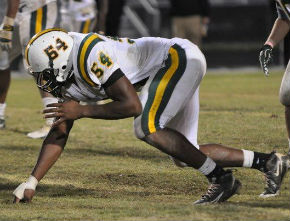 Take one look at Da'Shawn Hand and it wouldn't take a rocket scientist to figure out that he is a special football player. In fact, at 6-5/250 you might even mistake him for a rising college senior or NFL player after watching him go through a football work out. Be told that he is just a sophomore and has two years of high school football  left, and your mind becomes boggled.
Hand, from Woodbridge High School in Virginia, is already rated as a five star prospect and the nation's top overall player. After racking up 84 tackles and 21 sacks during his sophomore season, it's easy to see why nearly 30 of the country's top college football programs are flocking to the Mid Atlantic region in pursuit of the super star defensive lineman. Programs that have offered include Ohio State, Alabama, Arkansas, Clemson, Florida, Florida State, Miami, Michigan, Oklahoma, Penn State, South Carolina, Stanford, Virginia Tech, and many others.
What's even more impressive than his on field accolades and offer list is the way he handles himself off the field. Being that he is just in his second year of high school, it would be easy to see all of the early attention getting into Da'Shawn's head and giving him a bit of an ego. That is as far from the case as it possibly could be, as Hand was one of the most impressive prospects I have ever spoken to, regardless of age, and handled himself and the interview with the upmost class and respect.
When it comes to Ohio State, they are certainly one of the programs in the thick of things for Hand's services and y extended an offer to the sophomore star early in the process. Hand is fond of the Buckeyes too, building a solid early relationship with the coaching staff and taking notice to the Buckeyes coming out to Virginia to check on him.
We caught up with Da'Shawn to hear the latest on his recruitment, more about his thoughts on Ohio State, what visits he has planned ahead, and more. Join us after the jump to hear more from the nation's number one player in the class of 2014, Da'Shawn Hand.
It's early for you, but how are things going in your recruitment?
Things are going well for me. I just picked up another offer from Maryland this week, so that brings me up to about 27 or 28 offers.
Are there any schools that haven't offered that you'd like to get an offer from?
Yes, I'd like to get an offer from LSU, Wisconsin, Oregon, Texas, and Nebraska.
What position are schools recruiting you for?
All the schools that have recruited me are offering me as a defensive end. 
Would you be OK if a school asked you to play defensive tackle?
Yeah, that wouldn't be a problem.
Ohio State is one of the schools that has offered. How did you receive word of that offer?
Coach [Zach] Smith had been recruiting me and one day my coach gave me a number to call from Ohio State. I spoke to Coach Smith on the phone and that's when he told me I had the offer.
Have you spoken to any other coaches besides Coach Smith?
Not really. I want to get on the phone with Coach Meyer as soon as I can and I'll probably try to do that soon. There are rules about when he can contact players in my class on the phone and things like that.
OSU recently visited you at your school. How did that go?
Coach Smith came by the school and watched us work out. I wasn't really able to talk to him to much due to NCAA rules, but I said hi and whatever else I was able to say.
What are your feelings about Ohio State right now?
I love Ohio State. It's a great school and they have great history and a solid football background. I want to get out there to visit so that I can learn more about the school and get to know the coaching staff.
When do you think you'll make the visit to Columbus?
I'm not sure yet. I don't have any visits planned at all right now. I'm just trying to enjoy my sophomore year and take things slow.
Have you taken any visits yet? Are there maybe visits you will take during the summer?
I have taken an unofficial visit to Virginia Tech and am planning on getting back there for their camp this summer, as it's so close to home. I also think I'll be at the Alabama camp this summer and maybe a few others, but don't have anything else scheduled right now.
When do you expect to make a college decision?
I am thinking I'll make a decision later, maybe some time in my senior year.
Are any of the schools recruiting you standing out right now?
All schools are even right now. Every school has something special or unique about them, so I just want to take visits and see what is special about each school. I want to major in engineering so I am looking at the engineering program at all the schools that are recruiting me as well.
You live in Virginia right now, but schools across the country are recruiting you. Are you opposed to moving away from home?
I'm definitely not opposed to it. I'm from Philly originally so there's no home school or home state advantage, or anything of the sort.
What are your strengths on the field? What are some things you need to work on?
First off, I need to improve on everything. There is not a player out there that is too good and there's never an area of your game that is too strong where you can't improve upon it. As for things I do well, I feel like I have good technique, can influence a defense, have the will to win, and have a nose for finding the football.