Good morning Buckeye faithful and welcome to your Tuesday Skull Session.
What a weekend it was for Ohio State football. A huge showing at the spring game, a non-stop party leading up to the game and after, and oh yeah, the game itself.
Seeing such a fantastic showing from fans and a great atmosphere around campus only makes me yearn for football season to be back. I consider this weekend to be only a drop of excitement in the bucket that will be the 2012-2013 regular season.
Something that I noticed which was great, though, was seeing some of the players still hanging around campus to support the spring game. Mike Adams and J.B. Shugarts were regular sightings for me all weekend. It's nice to see they both still have a connection to the campus and the program.
So no matter how you enjoyed this weekend and all the joy that it brought, remember that there is so much more to come as we begin counting down the days until football is officially back.
Let's get rolling:
BUCKEYE BROWNIES. As delicious as the title sounds, this article has nothing to do with food. But if you care about the Buckeyes in the NFL Draft, stay tuned. 
In a recent mock draft, Clifton Brown of SportingNews has the Cleveland Browns selecting Mike Adams with their 22nd pick in the NFL Draft. The Browns currently have two first-round selections after a trade with the Atlanta Falcons last season.
Mike Adams is certainly a first-round talent. He's big, athletic, and has played on some pretty impressive Buckeye teams. However, I just don't see the connection between the Browns and Adams. Especially since Adams recently failed a drug test at the NFL combine and also was suspended five games during his senior season for off-the-field issues at OSU.
I think Adams will be a fairly decent player at the next level but his "character" issues are certainly not making him look first-round worthy to a lot of NFL teams. It would be great for the Browns to pick up Adams, but I believe there is better talent in the first round to better meet their needs.
Adams will still be drafted relatively high, but I just don't see the fit in Cleveland.
ADVICE FROM GATORS. The Florida sports blog BourbonMeyer.com recently wrote an article about what Buckeye fans should expect from Urban Meyer as head coach.
The first point that the article brought up is that Meyer will try to connect his team and the fans to inspire enthusiasm about the team. We've already seen a little bit of this with the student practice that he organized. There is also another event scheduled in which Meyer will field questions from students in a town-hall meeting format. The message here is that Meyer is trying to make his presence felt in the community.
Another interesting point that the article brought up is that Meyer isn't afraid to switch players out of their natural position to fill a need. The article mentions how Joe Haden originally committed to Florida as a wide receiver but was moved to cornerback because the team was already content with their depth at wide out. It'll be interesting to see how he uses this technique with future Ohio State recruits. 
Additionally, the article mentions how Meyer's offense never relied heavily on the tailback as a feature position. In fact, the article points out that Meyer's best two "running backs" were Tim Tebow and Percy Harvin. This is good news for Braxton Miller who is always ready to run.
The article is a great read and points out a variety of things which you should be on the look out as Urban transitions to his new home.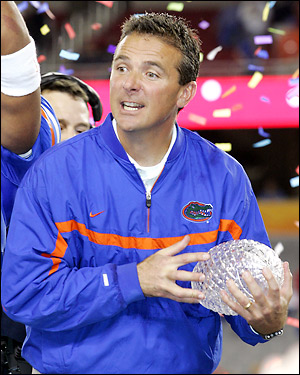 LONDON BOUND. Three Buckeyes are on their way to the summer Olympic Games in London. 
All three Buckeyes are members 2011-2012 champion fencing team. Their names are Zain Shaito, Mona Shaito, and Margarita Tschomakova.
Zain and Mona Shaito, who are brother and sister, will be represnting Lebanon in the upcoming games. Margarita Tschomakova will be representing Bulgaria as all three compete for Olympic gold.
The last Buckeyes to represent Ohio State in fencing at the Olympic games were OSU alumni Hannah Thompson and Jason Rogers. Both represented the United States in Beijing in 2008, with each winning a silver medal for their roles on sabre teams.
PARKER TO UCLA. Tony Parker, one of high school basketball's highly rated recruits, has chosen UCLA over Ohio State.
ESPN has Parker ranked as the #7 center in the country and #26 overall player for the class of 2012. Parker's commitment certainly solidifies UCLA as the top recruiting class in the country as of now. Parker chose between UCLA, Ohio State, Duke, Georgia, Kansas, and Memphis for his final list of schools.
It would've certainly been nice to have someone step in and replace the departing Jared Sullinger but sadly Thad Matta came up short here.
LOS LINKS. Buckeye Lax player picks up an award... The spring game ushers in a new era... A report card from the spring game... Virginia Tech fires their mens basketball coach... Arkansas brings back a football coach.