Good morning Buckeye faithful and welcome to your Tuesday Skull Session.
Spring time is in full effect, and with that comes the annual spring game which always creeps up out of nowhere. One second the Buckeyes are in the heart of basketball season, and in the blink of an eye football is back.
Seeing Urban Meyer running the show as well as how much all the young talent from last season has developed will get everyone back into football spirit months before the games mean something.
The spring game certainly has some great headlines leading up to it and I expect to see a great showing from fans to kick off the Urban Meyer era.
While the spring game is what's on everyone's mind, I would like to take a second to say congratulations to Samantha Prahalis who was drafted sixth overall in the WNBA draft yesterday.
Prahalis will be joining WNBA legend Diana Taurasi with the Phoenix Mercury for her first WNBA season. It's always great to see great Ohio State talent get their shot at the next level, and while I'm still not a fan of the WNBA singular team names (e.g. The Storm, Lynx, Shock, Liberty, Mercury), I only wish Prahalis the best of luck in the next phase of her career with the Mercury.
AGENT SMITH. Last year was a disappointing season for Ohio State wide receivers. Devin Smith and Corey Brown lead the team with 14 receptions each, while tight end Jake Stoneburner also pulled in 14 catches. Joe Bauserman's anti-spiral throws and Braxton Miller's inexperience certainly didn't help, but Smith isn't thinking about last season because he has his focus set on a breakout 2012-2013 campaign.
CantonRep.com's Todd Porter writes that Smith is setting a goal this year to haul in 60 receptions. Porter writes that Meyer sees a lot of potential in the former Massilon product as he begins implementing his new offensive scheme for the Buckeyes. While Meyer certainly sees potential in Smith, he's also not afraid to point out his faults.
"With him being an ex-receivers coach, he's tougher on us," Smith said. "He wants us to be good. Receivers are a big part of this offense. He's pushing us to be the best."
I fully believe that Smith will be a much better receiver in this offense. As Porter points out, Smith even played in the spread offense at Massilon and was known for using his speed as his go to weapon on the field.
But even if Smith is improved, more experienced, and in an offense which suits him, it's going to come down to how improved Braxton Miller's accuracy and decision-making skills are in Meyers' first year on OSU's sidelines. However, in Smith's opinion, he believes big things are on the horizon.
"I just want to turn on the jets and go," Smith said. "I think we're going to put up a lot of points. His (Meyer's) goal is to score 100 points in a game. We want to blow teams out."
WEATHERSPOON JOINS SIBERT. Jordan Sibert turned some heads not long ago by announcing he would not be returning for his junior season, electing to attend Dayton for his final two years of school.
Yesterday, J.D. Weatherspoon joined Sibert, deciding it was in his best interest to transfer elsewhere. Weatherspoon has not announced where he intends to transfer but has started looking.
The seldom used walk-on forward played two seasons at Ohio State on team that went deep into the NCAA tournament in both of his years here. Weatherspoon hasn't announced why he wanted to leave, but the lack of playing time he's received at OSU is something that can't be overlooked.
Wherever he ends up, the team will be getting a decently sized shooting guard with a nice shooting touch. It's disappointing losing Weatherspoon because you get the impression that maybe he could've found a role and contributed at some point. Knowing Thad Matta's creativity, he'll find someone worthy to fill that spot.
The Buckeyes' men's basketball roster currently sits at 10 players now with only one recruit committed so far.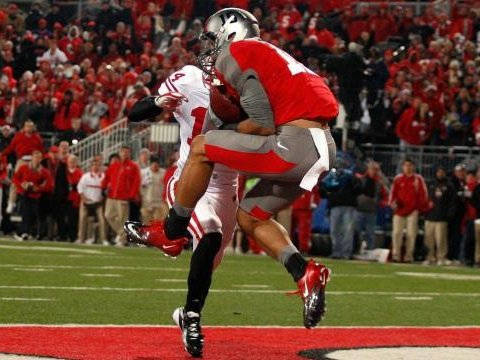 ROONEY RETIRES. When you think of great coaches at The Ohio State University, you may have overlooked the name Tom Rooney.
Rooney, Ohio State's rugby coach, has spent 20 years on the sidelines as head coach and officially called it a coaching career yesterday.
Rooney originally started out at Ohio as a wrestler but picked up the sport in 1978 and was an incredibly talented player until his career was sidelined by injuries. He soon started coaching and helped educate 21 rugby All Americans and guided the Buckeyes to six trips to the national round of 16.
Ron Bower, a former rugby All American for Ohio State, will take over the program. While he may not be Woody Hayes, Rooney certainly did a lot of good for Ohio State rugby and he will be missed.
SPRING GAME HYPE. According to Ohiostatebuckeyes.com, more than 40,000 tickets have been sold thus far for Ohio State's spring game which will take place this Saturday.
It should be one of the better spring games seen in some time, as there are many headlines already heading into the game. So if you're going to the game, you just like to party, or both, make sure to look into 11W's Spring Banger. It'll be a great time and benefits go towards The Mid-Ohio Foodbank.
Drinking? Philanthropy? Everyone wins.
LOS LINKS. Pulitzer prize for Penn State scandal article... Two Western Kentucky players shot... Buckeye baseball, anyone?... Mbakwe to return to Minnesota next year... Perspective on OSU's wide receivers.