Top of the morning, friends of the Dubya and welcome to a new day. 
I'm personally grateful for a fresh sunrise after yesterday's roller coaster. Sequestered in meetings for the balance of the afternoon, I was first greeted with the elation inducing news that Bill Hancock had strong words against the existing BCS setup and others close to the situation feeling something along the lines of a four team playoff is essentially a foregone conclusion. 
Then, not 20 minutes later, I accidentally pocket dialed Alex - who shockingly wasn't already on the phone with some five star recruit - and he informed me our beloved Yankees suffered a major blow in the form of Michael Pineda's impending labral surgery that will cost him 12 months. 
I know most of you hate the Yankees despite the fact they play by the rules and have an ownership group that uses its financial power to its advantage - just as you would want your favorite team's owner to do - but to trade your top prospect for a pitcher than blows his shoulder in spring training? Painful news for two of your scribes.  
Anyhoo, it's going to be 67 degrees today in the capital city and 70-75 two days next week which means golfing season is right around the corner. In a much deserved break from being a whirling dervish of football awesome, Urban Meyer will also be hitting the links as he takes part in the Chick-fil-A Bowl Challenge charity golf tournament this Sunday through Tuesday at the Reynolds Plantation resort on Lake Oconee located just outside the ATL. 
UFM will play in a scramble with former Buckeye Jeff Logan in an event that features the likes of the Ole Ball Coach, Roy Williams, Googs, Frank Beamer, Derek Dooley, Sterling Sharpe and Terrell Buckley (remember with Jim Rome was good?) among others. Here's to Urbz spraying a hot worm burner off an unsuspecting Nick Saban kneecap, all in the name of charity. 
ROAD TRIP! In a move that should help a staggeringly awful football program attract fans of both the Gophers and their opponents, Minnesota lawmakers have passed a bill allowing the sale of beer to all fans at Gopher football games effective this fall. 
Minnesota will become the first B1G school to serve reebs (Kalifornia!) and the president of a Gophers booster club couldn't be more ecstatic:
"This is absolutely fabulous. It makes it that much more of a festive experience. It will set us apart. We'll be the only Big Ten stadium that will actually have a beer garden of that nature. ... This will give people a chance to mingle and have some good football chatter right there in the beer tent. ... It was surprising that Wisconsin didn't do this years ago. The beer tents, the music is a Wisconsin thing. But we're the ringleaders." 
The only bad thing about this news? Ohio State doesn't take on the Gophers in Minneapolis until at least 2015. 
AT LEAST TREE IS PLENTIFUL. Some current and former Oregon Ducks players are salty after discovering OregonAuthentic.com, a site setup by the university's athletic department to auction off game worn uniforms, cleats, artifacts and the like from all their major sports. 
With multiple uniforms for many sports thanks to the Nike pipeline, the head of the school's marketing and public relations told the Oregonian auctioned items could combine to fetch over $100k. Naturally, this drew the ire of guys like LaMichael James after he saw one of his game worn jersey's listed for $700. As of this writing it was up to $825. James wondered aloud via twitter how much he'd get from the transaction and former OL Mark Asper wasn't exactly behind the cause:
"It's just like another scheme, another wrinkle where the university, the football program and Nike are gonna make tons of money off me and my buddies."
Oregon is far from alone in deciding to go the auction route to further profit off their student-athletes as Michigan, Auburn and yes, Ohio State have conducted similar auctions in the past. Currently, the only items on OSU's auction page are official team bench chairs from the Final Four - FYI in case you've got $150 to spare.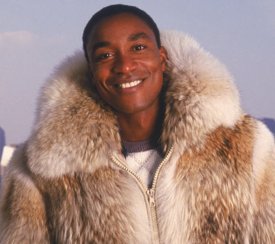 THE SCHOTT GOES UNDER THE KNIFE. With the swing of a sledgehammer, a $13 million renovation of the men's and women's practice facilities got underway yesterday in Value City Arena. 
Temporarily relocating the strength and conditioning area (before it finds a permanent home in August 2013) will allow for expansion of team locker rooms,   meeting rooms and player lounges to be completed before the start of 2012 preseason practice. 
Ohio State first attempted to secure funds for the updates in 2007 but a stank economy slowed down funding efforts. In the meantime, Baptist notes five B1G schools (Indiana, Iowa, Nebraska, Michigan and Purdue) have unveiled updated or new facilities with Sparty upgrading its locker rooms. Still no word on if Penn State plans to upgrade Bryce Jordan by converting it into a homeless shelter to ensure more than 4,000 fans for conference games. 
The recruiting game never ends. 
FIU CHANNELS THEIR INNER BO RYAN. Nobody can accuse Florida International's athletics department of having a lick of common sense following the hire of Isiah Thomas but their idiocy took another step forward in the last few days as the school's executive director of sports and entertainment, Pete Garcia, reportedly refused to grant forward Dominique Ferguson a release from his scholarship. 
According to Ferguson, he then met with university President Mark Rosenberg and again struck out in his quest for release. As a result, Ferguson, who spurned offers from schools like Duke, Arizona and Kentucky to play for Isiah, has declared for the NBA Draft. 
Now, I think we're all shaking our head at why anyone with a pulse would want to play for Thomas but that doesn't excuse FIU's completely ridiculous stance. Good luck to that podunk school at ever securing a legitimately talented blue chip in the future. Well, unless maybe they hire the equally intelligent Dennis Rodman to run their program. 
BAXTER? BARK TWICE IF YOU'RE IN MILWAUKEE. PRO-TIP: If you're never going to make the Dance, don't be a jerk... LSU's D-Coord bags a $1.1 mil contract... Bench farts rule... World Trade Center construction progress... Bo Pelini gets another year and more coin... Clutch pickup lines (potentially NSFW)... Tress returns to Columbus... Church prepares to break the sound barrier... Mt Rushmore before and after... Sportspickle's look at legendary athlete names.