Good morning and welcome to your first OMG The Offense Did Something skull session. 
On the ninth of 15 planned spring practices, the Buckeyes looked sharp enough today for Coach Meyer to gush:
That was AIA. That's our best practice of the spring, one of the best practices I've seen. The intensity level was an A. Competitiveness was an A. Coaching was an A by our assistant coaches...If you want to see a ball practice, that was a ball practice.
Doug Lesmerises has your comprehensive recap of the day with the key takeaways being:
The offense reportedly converted 70-80% of continuous 3rd and 5 simulations, finally showing a consistent ability to beat the Bullets before the D finally stiffened. 
Braxton hit Hyde for a 75 yard TD strike after scrambling to find space and Meyer gave both love when summarizing the day. 
Johnny Simon continues to dominate the line of scrimmage though Doug notes he was also dropping into coverage at times but such a move only weakens the defense. 
Hall and Stoneburner continue to get props in the playmaker department and T.Y. Williams continued a resurgent spring hauling in a fade for a TD. With his length, Buckeye fans should pray to the god of lanky dudes that Williams can transfer his spring success to the fall after channeling his inner Taurian Dropington a season ago. 
SAY IT AIN'T I-SO. Don't think I'm any different than you in that I can't wait to see an evolved Ohio State offense under the direction of the progressive minded Urban Meyer but I also have to admit that while it's most likely due to my middle-age, I'm going to miss the days of having a legit feature back and punching teams in the mouth, if that is truly a thing of the past in Columbus. 
The venerable Rob Oller opines that the with the NFL evolving in a passing league in part because bigger and stronger defenders have hampered the effectiveness and staying power of running backs and high schools employing more spread to exploit basic talent mismatches in space, colleges have less feature backs to choose from during the recruiting process. 
The result is the transformation of a position from that of a predominantly rushing focused player to that of a multi-dimensional athlete that keeps the defense increasingly honest. 
I won't argue the logic though some anomalies still exist but I also wouldn't rue the day Ohio State picked up fleet bulldozer in the mold of an Eddie or Beanie (minus all the nicks) and methodically broke the spirit of opposing defenses. 
A NEVER ENDING THIRST FOR POWER. It pains me to link to a man I saw proudly sporting a Tommy Bahama shirt with extensive palm tree embroidery last summer at the B1G media days but Dennis Dodd has a nice summary of how the NCAA could be on the cusp of seizing absolute power in approving sponsorship partners for all bowls. 
Currently, a bowl subcommittee comprised various members representing the 11 FBS conferences deals with such decisions with thoughts from the NCAA but if a task force recommendation comes to fruition, the subcommittee would be dissolved. 
I guess it only makes sense that while the NCAA is busy exploiting amateur athletes it should be highly protective of who the bowls attach themselves to for the sake of maximizing profits generated by the players. I mean, what upstanding group would want to jeopardize the brand by having a Marlboro, Bud Light or Cialis logo anywhere near those innocent kids?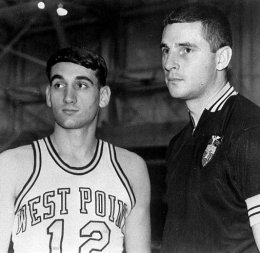 CHAMPION. LEGEND. CHAIR TOSSING CRAZY PERSON. AUTHOR. During a recent interview with the South Bend Tribune, everyone's favorite grumpy grandpa, the legendary Bobby Knight, disclosed that he's writing a book called The Power of Negative Thinking. 
Clearly an expert on the topic, Knight explains where he's coming from:
I've always thought the things that we look upon negatively are extremely important. Like the word 'no.' I think the word 'no' is the most important word in the English language. I think people learning to say no keep themselves out of a lot more trouble than those that don't.
I buy that logic. But then he lost me a little when slamming "worn-out positive clichés people use instead of working out something":
'Well, we'll be a lot fresher after a night's sleep.' Well, you might be dumber after a night's sleep too. And then there's, 'Susie, come here and let Mommy kiss that scratch.' Well, she better have iodine on her tongue if it's going to do any good. So we try to take things like that and show so many times we put our faith in some cliché that has nothing to do with our discovering the origin of the problem or what's necessary to overcome the problem or correct the problem.
How do you not love that crazed bundle of philosophical awesomeness? Long live the General. 
BATTLE OF THE TEXT-ES. What a day for the text message. First, Baylor was placed on three years probation for various violations within their mens and womens basketball teams including 738 impermissible texts to recruits. 
The NCAA decided mens coach Scott Drew failed to monitor the Bears program, earning him a two conference game suspension in addition to recruiting restrictions while Lady Bears coach Kim Mulkey faces her own recruiting restrictions as punishment for impermissible contact with Britney Griner in advance of her arrival in Waco. 
Later in the evening, Bobby Petrino's cell phone records were released showing more than 4,300 texts and 300 phone calls over a seven month span to his biker babe and staffer, 25 year old mistress Jessica Dorrell. Somewhere, Kelvin Sampson is impressed. 
The records also indicate the two exchanged video files. This is the point where you pause and pray any released video is something received by Petrino as opposed to sent. None of us need to see Petrino follow in the footstep of Leg Oden, Sean Salibury, Brett Favre et al. 
KIBBLES AND BITS. Twelve CFB games to avoid this fall... The real Ohio is selling their Sweet 16 chairs... 2012 Spring Football Game TV & Online Schedule... Baseball Bucks beat OU in first meeting in 18 years... Man, "CHiPs" was my show back in the day... Falcons to honor gravel that shredded Petrino's face.