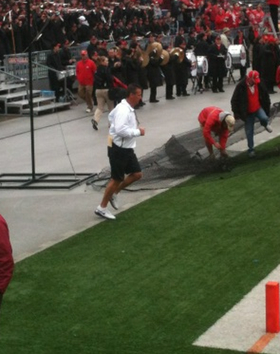 | | | | | | |
| --- | --- | --- | --- | --- | --- |
| SCARLET | 10 | 3 | 0 | 7 | 20 |
| GRAY | 0 | 7 | 0 | 7 | 14 |
81,112 fans turned out on an overcast afternoon to take in Urban Frank Meyer's first spring game as head coach of the Buckeyes and judging by the roars in the crowd and the reaction on Twitter, fans came away impressed with the new up-temp offense being deployed this season.
Often going no-huddle, Braxton Miller finished 24/31 for 258 yards on the day, looking much more comfortable and delivering crisp passes in the pocket and on the run to lead Scarlet to a 20-14 victory over Gray. Freshman wide receiver Michael Thomas, wearing the 83 made famous by Terry Glenn, was Miller's top target on the day, hauling in a staggering 12 receptions for 131 yards.
To put Thomas' performance into perspective, three Buckeyes tied for the team lead with 14 receptions for all of 2011. While it's easy to get carried away with breakout spring game performances (Bam Childress and Taurian Washington come to mind), Ohio State needs playmakers on the edge and Urban won't hesitate to play the best man for the job, regardless of experience or how long he's been in school. After the game, Meyer listed Thomas as one of the top two options at wide receiver, along with Corey Brown (who finished with 7 catches for 90 yards himself).
Scarlet wasted little time putting points on the board, with Carlos Hyde punching it in from the five after Miller led the team down the field going 4/4 for 51 yards, operating exclusively out of the shotgun.
Kenny Guiton took the field next for Gray and although the drive would lead to a punt, Guiton played the entire game for Gray, locking down his position as Miller's top backup heading into fall camp. He finished 16/24 for 185 yards, including a nice 28-yard catch and run for a score to Devin Smith in the second quarter. Like Miller, Guiton did suffer an interception on the day, with his coming with Gray driving inside the Scarlet 20 in the waning minutes. Safety Christian Bryant stepped in front of a poor throw and essentially iced things for Scarlet.
Aside from the newfangled offense, there were a few other new elements brought to the spring game, most notably Drew Basil lining up for additional field goal work after connecting on a 41-yarder to put Scarlet up 10-0 in the first quarter. Meyer had the field goal unit line up for successive attempts of increasing distance with Basil going 4-7 in the mid-game special teams expo. He connected from the aforementioned 41, 45, 45 and 53, had one blocked from 45 (by Adam Bellamy) and missed two from 58, the second of which barely came up short. It was a cool interlude and showcased Meyer's spontaneity and love of cranking up the pressure on his players.
The intensity and competition he's bringing to the program was perhaps best displayed by the Oklahoma Drill conducted at midfield before the start of the scrimmage, the highlight of which was an encounter between quarterbacks Braxton Miller and Kenny Guiton. Guiton seemed to get the better of Miller in a drill both have little experience conducting. While seeing the two quarterbacks going at it was a treat, watching secondary coach Kerry Coombs going bananas was worth the price of admission to the Shoe alone.
Miller and Thomas were easily the two most impressive players on the offensive side of the ball, but several other Buckeyes turned in strong performances.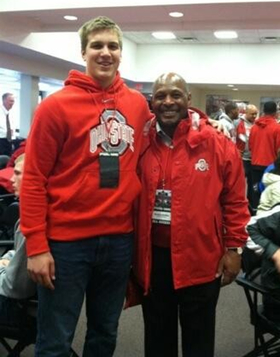 Tight end Nick Vannett took full advantage of being a #1 tight end and hauled in 3 passes for 36 yards. On Scarlet's late drive to take the lead back, Miller seemed to go to Vannett often. Devin Smith finished with 2 catches for 40 yards, including the 28 yard touchdown from Guiton.
While Carlos Hyde and Rod Smith both ran hard (each finished with a touchdown run), freshman running back Bri'onte Dunn looked really impressive in his first public showing as a Buckeye, especially showing good hands on receptions out of the backfield. On one swing pass, he put a nifty move on linebacker Ryan Shazier to secure a few more yards on the play. Shazier being who he is, has burned that play into memory and will surely avenge it later this fall.
Speaking of Shazier, he was everywhere on the day, delivering big hits and tackling in space. You can tell he's benefiting from the extra 20 pounds he's added to his frame, highlighted by his stop of Dunn for a loss of one on a crucial late 4th-and-2 play for Gray. Shazier also delivered a couple of bone-crunching hits on Gray receivers. First, on a hit on Vannett that was whistled for -- I think the official ruling was "too nasty" -- and then later on a hammering blow to Corey Brown. It's going to be a fun year if you're a Ryan Shazier fan, which includes everyone in America and most of Central Asia.
With John Simon on the sidelines most of the day to prevent player decapitations, Adam Bellamy turned in a solid performance, notching a couple of sacks and the aforementioned field goal block. Bellamy really started coming on late last season and played what may have been his best game in the Gator Bowl, so it's nice to see him continuing to become a force.
Surprisingly, Chris Carter, who started spring ball as an offensive lineman, but later moved to the defensive line, turned in a stellar performance, including sacks on back-to-back plays in the second half. Going into this game, I didn't expect much from Carter as a DL, but if he keeps playing like he did Saturday, he could become a pleasant surprise this fall, providing depth to an already deep and talented unit.
Michael Bennett needs to have his name mentioned as well. He had a solid afternoon, forcing pressure on several plays and will be looked to as a key contributor later this year.
It was tough to get a read on the secondary. Bryant had a key interception late and delivered some nice hits, but the nature of the tempo of the offense and the crossing patterns employed, really stressed their ability to cover in space. Speaking of the crossing patterns, how refreshing were those to see? It seemed as if everything was either a dump-off or a bomb in the last year of the Bollman era, so it's nice to see the middle of the field getting some work.
Among the players that did not participate due to injury were: Curtis Grant, Jordan Hall, Jeff Heuerman, Storm Klein, Josh Perry and Johnathan Hankins. Pre-existing conditions accounted for many of these absences, though Hall and Hankins sitting out were surprising. Following the scrimmage, Meyer said Hall had a sprained foot and was held out as a precaution while Hankins had his knee scoped yesterday, but should be fine.
In the end, it was great to see Buckeye football again and this time without any of the negativity that clouded the 2011 season. Though Gray will lament the walk back to the Woody Hayes Athletic Center and the community service project they must perform in Buckeye Grove on Friday, today was a great day. Ending the game with Carmen Ohio was a nice touch by Meyer to continue a pretty awesome tradition that Tressel started and until we all meet again for Friday Night Lights in July, it's not a bad image to hold in your head.