If you punished yourself with a weekend of Berman (or were smart about it and switched to the NFL Network), you witnessed four Buckeyes selected in the latest installment of the NFL draft.
Tackle Mike Adams was snatched up in the 2nd round by the Steelers, the Texans took receiver DeVier Posey early in the 3rd, running back Boom Herron went to the Bengals in the 6th and special-teamer Nate Ebner (!!) was taken later in the 6th by New England.
What do the new natives think of the selections?
Pittsburgh fans are by and large high on the Adams pick, baggage and all. Steelers Depot sees Adams becoming part of a dominant line in the Steel City:
Now with the additions of Stanford guard David DeCastro and Ohio State tackle Mike Adams, the Steelers appear to have assembled an offensive line that will be a strength for many years.
Behind the Steel Curtain offers up the standard NFL fan opinion when it comes to amateur violations (Cliff Notes: LOL):
Just my opinion, but if you can sell a Big 10 championship ring for a grand, more power to you. I probably couldn't get a grand for my car, but it's mine. The ring was Adams'. It shouldn't be different.
Houston offensive coordinator Rick Dennison summed up Posey's three game senior season as a mistake:
"He made a mistake," Dennison said. "From the checkups that we all did, starting with (general manager) Rick (Smith) and myself, (wide receivers coach) Larry Kirksey, (head coach) Gary Kubiak, we all checked with whoever we could and felt pretty comfortable that it was a mistake he made... We thought we had a talent that was comparable to some of the guys that were taken a lot earlier."
Houston Diehards, like much of the Texan fan base, is taking a wait-and-see approach:
I love that Andre Johnson can take Posey under his wing, and had Posey played a full 2011 season, he may have had higher draft stock. He could turn out out to be a steal, or he could be just another guy.
Cincy Jungle, like Bengals fans in general, are absolutely giddy over the "A" their team received from the NFL Network, but the euphoria hasn't skewed their impression of Herron:
Herron will have a tough task of carving out a spot in the Bengals roster. The team's primary back is BenJarvus Green-Ellis and the third-down back is Brian Leonard. Herron will have to fight with Bernard Scott and Cedric Peerman for playing time and, in the end, the team will likely choose between Peerman and Herron.
Patriots fans, like Buckeye fans, are still trying to make sense of the Ebner selection:
For now, Ebner is a complete project who only has a role on special teams. However, very few would question his passion on the field. He looks like a practice squad player who could earn a spot as one of the last 5 on the roster if he beats out other purely special teams players. 
So, yeah, Nate Ebner heard his name called while the top-rated center prospect from the 2008 recruiting class will be trying to earn his way onto the Jaguars as an undrafted free agent.
Not in the fashion I imagined but my prayers were answered and I'm going home!! Jacksonville jaguars!! Can't wait to get to work!

— Michael Brewster (@Brewster50) April 29, 2012
Tackle J.B. Shugarts joins Brewster as an undrafted free agent, signing with the Browns, along with linebacker Andrew Sweat. The three won't have the odds on their side as only 28% of undrafted free agents make teams (though your odds are higher if you sign with Cleveland).
And so ends the run of the often perplexing Brew Crew. When you consider how touted this group once was as high school seniors, it's a pretty damning indictment of Jim Bollman. He signed three of the top offensive linemen in the nation as part of Ohio State's 2008 class and the NFL sees fit to draft just one of them. When you consider that Justin Boren was an all-conference selection as a sophomore in Ann Arbor only to ultimately get passed over in the draft as well, the evidence against Bollman is damning.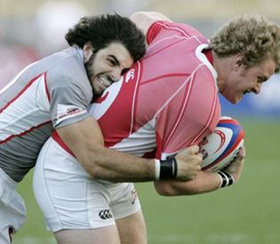 He's no longer our problem, thankfully, so I'm going to focus on the positives. They delivered three BCS bowls -- two of them wins -- and a whole lot of wins during their time in Columbus. I only wish things would have worked out a little better for them in the end.
WELL PLAYED, MAYANS. By now you're well aware of the fact that the first round passed without a Longhorn, Sooner, Hurricane, Seminole, Gator, Buckeye, Wolverine or Nittany Lion selected, but the blue bloods made up for their first night blankings in the later rounds.
In all, 253 players were selected (254 if you count Terrelle Pryor going in the previous summer's supplemental draft) and they came from everywhere:
You wouldn't have expected after the Thursday night, when the SEC placed an astounding nine first round selections to the Big Ten's four, but the two conferences finished one and two with 42 and 41 total picks, respectively. The ACC finished third with 31 selections (three in the first round), the Pac-12 fourth with 28 picks (four first-rounders) and the Big 12 fifth with 25 players drafted (five in the first).
Cincinnati Bearcats fans are making some noise about having a better draft than the Buckeyes, and for one year, at least, they have us. Next year should figure to be a much different story with John Simon, Nathan Williams, Jake Stoneburner, Travis Howard, Etienne Sabino (yeah, I went there) and Garrett Goebel (yeah, I went there, too) all exhausting eligibility and junior Johnathan Hankins a potential early exit.
The state of Ohio sent 17 former prep stars to the NFL via the draft:
Columbus (6): Isaiah Pead (Eastmoor/Cincinnati to St. Louis - 2nd), Mike Adams (Dublin Coffman/Ohio State to Pittsburgh - 2nd), John Hughes (Gahanna/Cincinnati to Cleveland - 3rd), B.J. Cunningham (Westerville South/Michigan State to Miami - 6th), Nate Ebner (Hilliard Davidson/Ohio State to New England - 6th) and Jeremy Ebert (Hilliard Darby/Northwestern to New England - 7th).
Cincinnati (4): Luke Kuechly (St. Xavier/Boston College to Carolina - 1st), Vinny Curry (Harmony Community/Marshall to Philadelphia - 2nd), DeVier Posey (La Salle/Ohio State to Houston - 3rd) and Greg Scruggs (St. Xavier/Louisville to Seattle - 7th).
Cleveland (2): Najee Goode (Benedictine/West Virginia to Tampa Bay - 5th) and Jordan White (North Ridgeville/Western Michigan to New York Jets - 7th).
Dayton (2): Jerel Worthy (Huber Heights Wayne/Michigan State to Green Bay - 2nd) and Zebrie Sanders (Northmont/Florida State to Buffalo - 5th).
Akron (1): Whitney Mercilus (Garfield/Illinois to Houston - 1st).
Lisbon (1): Derek Wolfe (Beaver/Cincinnati to Denver - 2nd)
Warren (1): Boom Herron (Harding/Ohio State to Cincinnati - 6th)
Hello, demographics. As recently as 15 years ago, it would not be uncommon at all to see Cincinnati and Cleveland way out in front with Columbus and suburban schools bringing up the rear.
And while I realize you can't take everyone and that some of these kids were overlooked before going on to develop in college, Ohio State offered just three of the 17 players selected from Ohio. With Urban Meyer's focus on national recruiting, we could be seeing more of this in the future.
TIM TEBOW DISCUSSES OHIO STATE. Six months ago, hearing Tebow talk triggered a gag reflex. My, how times have changed:
"I have to say I'm a fan of Ohio State University."
[via Buckeye House Call]
MATTA AND HIS BENCH. Bob Hunter caught up with former Buckeye hoopster Walter Offutt to discuss the transfer game, which impacts 40 percent of Division I freshman before their sophomore seasons:
"I had to look down the line and see how many years I would be able to show my talent," Offutt said. "It would probably have been just this year, and that would have been my last year. If it had been two, I would have stayed. I have no hard feelings against Coach Matta; he's a great coach. But I had to really think about what's best for me."
In the context of discussing the recent transfers of Jordan Sibert and J.D. Weatherspoon, Hunter implies that Offutt hints that he may have done things differently -- as in seeking a redshirt -- if he were given another chance.
Offutt's career took a few detours with the first stop at Ohio State and then a short stint at Wright State before settling in with the Ohio Bobcats and helping to lead them to a Sweet 16 run in the tournament.
COMMENTING IMPROVEMENTS. We never really did a good enough job of making it easy for you to insert videos into comments, but hopefully that's changed. You'll notice a revamped toolbar in the comment editor, and now you're just one click away from inserting videos from sources like YouTube and Vimeo, among others.
ETC: You see this Gopher, Ridin'... Cornhuskers make a 5 year old's day... Full list of UDFAs from the B1G... Penn State's Bill O'Brien is barnstorming... Russell Wilson's wife got excited... Stay classy, Nike... Faculty parking at Purdue... Drinks were had (Oval Brewing recaps their kickoff event)... Prometheus international launch trailer (featuring Stringer Bell)... Sign me up... Improvised grilling... Nailed it.