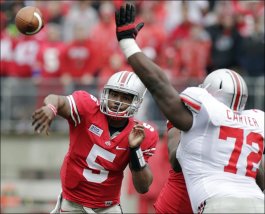 With many getting their first glimpse of the new and improved Ohio State offense, Urban Meyer's troops did not disappoint as the Scarlet team rode the arm of Braxton Miller and the hands of true frosh Michael Thomas on the way to a 20-14 win over the Gray squad in a cold and damp Horseshoe with about 60k of 81k paid in attendance. 
As part of Urban's culture where there is a winner and loser to everything, the Gray squad earned a date with Buckeye Grove where they will get their landscape-on while the Scarlet team basks in the glory of a six point victory. 
Despite a high volume of guys held out due to injury and others maybe not so injured (Simon) the execution, especially offensively, was better than maybe some anticipated. Sure the defense stayed pretty vanilla employing base sets but the offensive was also hampered by the fact Miller and Kenny Guiton were wearing invisible no-contact jerseys. 
All in all, I have to believe coaches, players and fans alike have to feel exceptionally good about what transpired today and what the future holds. With that, let's jump into the first Five Things of 2012...
the new culture
We've seen and heard enough during Urban's short tenure to know things are significantly different compared to the previous regime but how impressive was it to finally see so much of those difference on display yesterday? A few things in particular about UFM's leadership that blew me away included:
Starting the event with the old Hoot and Holler drill was a stroke of genius. Clearly, UFM is hell bent on creating constant intensity on the field and apparently, even in the stands. I guess it shouldn't have been too shocking to see this since practice often starts with the same drill but to pull that out to ignite the fans (and players) was fun to watch. And how about those matchups? Simon vs. Mewhort, Shazier owning Sabino, Stoney vs. Boren, then when you think you've had your fill coach pits Braxton against Kenny G? If Tress were running that drill, he'd wrap Braxton in bubble wrap and ship him to Dayton first (not hatin', just sayin'). Also, that drill alone showed why Coombs was an insanely awesome hire. 
Another move I liked occurred when UFM interrupted the action early in the 2nd quarter to stage a quick pressure FG session. The crowd really got into it and Basil, who we thought might not play, got to get some legit long FG practice in the 'Shoe. Basil made 4/7 connecting from 41, 45, 45 and 53 while getting one blocked (45) and missing two from 58 yards (H/T: Svo-bro-da). Just a subtle little snippet but I really liked how Urban orchestrated the action, even standing right behind the holder for each quick to examine the speed/location of the snaps, the placement and the protection up front. The guy thinks of everything. 
A small nugget but again showing what a thinker he is, I found it interesting that UFM dictated that all the QB's wear a knee brace on their lead leg since that is the one most susceptible to getting injured when stepping into a throw as defenders approach low. 
I also appreciated his willingness to let his star QB play in an effort to develop. Sure, the QB's were heavily protected by the pressure/sack rules but he let Miller run the show for a lot longer than maybe some other coaches would've. 
ISO: Playmakers
Meyer has said all spring that he's still in search of some playmakers. He listed Philly Brown and Jordan Hall as his players closest to earning that status but is still begging for skill players to step up as major homerun threats. 
While he wasn't really involved in any big gainers, Thomas was sensational hauling in 12 passes for 131 yards. It would've been nice to see him chew up more YAC with some broken tackles but there's no question he's got game as Meyer said he and Philly Brown are the top two receivers currently. He did have a nice run after catching a sideline route from Braxton on the 2nd Scarlet possession of the 2nd half. Seems like this kid will see plenty of action come fall. He almost had a spectacular TD catch late as he snared a Miller  throw on the right side of the endzone but came down with his right foot about 10 inches out of bounds. He also had Bradley Roby beat late and Roby was forced to take a PI to avoid a nice gain. At 6'2", 200 lbs, I got a Michael Jenkins vibe from Thomas. I'll take that. 
Philly Brown was the guy Meyer had been praising this spring though I personally am a bit reluctant to believe the hype. Playing with Guiton the Gray unit, Philly came on late and finished with seven catches for 90 yards. Similar to Thomas, I just didn't see the shake I typically think a true game breaking receiver should have especially for his size. I don't mean to imply he doesn't add value, I'm just not sure he'll emerge as a game breaking player this fall. 
One of the few disappoints related to the spring game came, for me, when the draft was held because I really wanted to see Devin Smith on the same team as Miller. Smith didn't make a lot of noise today with Guiton but he did have a nice 28 yard TD catch on a crossing route cutting the Scarlet lead to 10-7. I expect this kid to be one of the top three in receiving yards by the time the horn sounds on the 2012 campaign but the WR corps seems so wide open it's hard to gauge what will happen. 
Chris Fields had some grabs and Evan Spencer didn't play due to injury and he's another guy that Meyer has spoken highly of at times. 
All in all, Thomas was the kid who made the strongest impression today but this unit must continue to evolve and is need of some guys creating more separation from the rest of the pack so Miller can work on timing and cohesion to build a trust he could never find last year with so few opportunities. 
braxton continues to grow
Miller is going to be a beast in this offense. 
Finally taking advantage of his strengths, the hybrid offense of UFM and Herman employed an uptempo pace, roving pockets and a short passing game to put Braxton in position to succeed - and that was without the kid being able to use his legs to make defenders look drunj in space. 
Going exclusively no-huddle, Miller was on fire early connecting on seven of his first eight attempts including two decent gainers to Fields. While I'll never profess to being a QB coach (though my credentials might rival Siciliano's) I tried to focus on Miller's lower half and it appeared that he was a little more stable at his base and subsequently more proficient at stepping into his throws. 
He did have a couple poor throws including one to Fields on 3rd and 24 setting up a FG and a 10-0 lead, a high throw on the run over the head of Vannett for an INT and his worst attempt of the day occurred when he tried to force a ball through double coverage near the goal line when he was already late in deciding on that particular receiver. 
Still, there's so much to be excited about as Miller finally looked comfortable running an offense suited to his emerging skill set. He finished 24/31 for 258 yards and one INT. He was also victimized by three drops. 
How dangerous is this kid going to be when he can actually use his legs in addition to his arm? I think all Buckeye fans are foaming at the mouth pondering that question. 
philosophical viagra
I've already touched on a few items UFM has installed that has the players and fanbase feeling frisky but the number one win in nabbing Meyer is the installation of an offense that wants to put pressure on the defense. 
The no-huddle was so quick that it cut down OSU fan/writer tweets by roughly 40% (not verified). Seriously, the offensive tempo was so electric that the two offenses combined to run 27 plays in the 600 seconds of 1st quarter action. Or basically, one play every 22 seconds. 
Schematically, Ross has been training our brains for weeks on what to expect but to physically see all those five wide sets, unique formations and shot gun looks (which we admittedly saw a bunch last year) was fun. Above those developments, what really caught my eye was all the short crossing routes to both receivers and tight ends. Those are the types of plays that create mismatches and get burners in space not to mention keep a defense honest in the middle of the field, hopefully freeing up the deep ball after enough success underneath. 
Vannett, despite some early drops, had a field day in the middle of the defense while Thomas and Fields also found room between the line and linebackers. Miller looked very confident with those throws and didn't telegraph them as to keep the DL from batting down balls. 
Again, I can't wait to see how those plays are enhanced when the attack can also add the wrinkle of Miller's legs. 
don't forget about the bullets
Today was really about continuing the development of what was an abysmal offense a season ago but even while featuring mostly basic sets and playing without Simon, Hankins, C. Grant and Barnett, among others, the Bullets still had their moments. 
Specifically, Ryan Damn Shazier (7 tkls) is on his way to being the breakout player in the conference. He was all over the field and brought wood on more than a few occassions, most notably when he lit up Bri'onte Dunn on 4th and 1 to halt the Gray's first possession of the 2nd half. Two plays earlier, he had pasted Dunn (I think?) in the hole to wow the crowd. 
Adam Bellamy was a factor early on with a sack, a near sack before Miller juked him hard, and a blocked FG during the Basil marathon. I've always liked the kid's motor and he's one of many guys Fickell can rotate up front to wear down opposing offensive lines. 
Roby got beat by Thomas once leading to a PI but he also brought lumber on a few occassions showing again he's the best all-around corner on the team. 
Bottom line, the Bullets may not have grabbed the headlines today but UFM has plenty of confidence this unit will, come fall, be playing at a level miles above what fans were forced to watch a season ago. That's good enough for me.