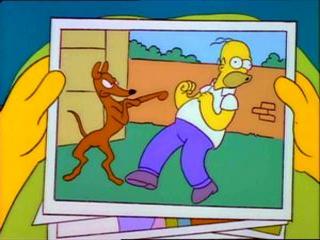 First off, and it can't be said enough, thank you all so much for donating to the Respect the Basement fundraiser. Your donations have enabled us to hire a beat writer and really raise the profile of Eleven Warriors in the blogging world. A beat writer will allow us to bring you the kind of content that we've always dreamed of providing, for free, and hopefully you're just as excited about it as we are.
And speaking of beat writers, on today's Dubcast we bring on the esteemed Bill Rabinowitz from the Columbus Dispatch. Bill's dog Lucy makes a cameo as well, but the real draw here is his insight into the inner workings of Ohio State football, and in this regard Mr. Rabinowitz doesn't disappoint.
Look, I love Jim Tressel, you love Jim Tressel, Bill Rabinowitz probably loves Jim Tressel and would say so if it didn't amount to a conflict of interest. But you've gotta admit, Urban Meyer is like a highly pressurized blast of fresh air into our collective faces, and Bill lets Sarah and I know just what has changed and what we can expect with the team going forward.
Finally, we bring back our popular(?) Ask Us Anything segment, in which you can do just that by either grabbing a hold of us on Twitter (not literally, please don't do that), or by sending us an e-mail at elevendubcast@gmail.com. We're both very smart, attractive individuals who love answering questions, so please send 'em on over!
Also Sarah was dogsitting for a friend, and they make a special guest appearance of their own. VIVA LOS PERROS.
0:00- A very special thank you to all who donated to the Respect the Basement Fundraiser, along with a shoutout to those of you who bet the house on us, went all in, or any other kind of gambling term that would be applicable for people who give sports blogs a lot of money. Sorry in advance for mispronouncing your name.
2:20- We get down to the nitty gritty of the spring game. Lots of things to talk about here, but suffice to say that our impressions range from "oh my God" to "WWWWWUUUHHOLY CRAP"
16:23- Sarah and I are joined by Bill Rabinowitz, who lays down a ton of juicy tidbits and overall just does a great job at taking you inside the mind of someone who covers OSU sports for a living. Really interesting perspective here, especially concerning the adjustments that players made to the reign of Pope Urban the Meyer.
33:57- The return of our Ask Us Anything segment. We unite all peoples within our nation, help a lady pick out a gift for her beau, and settle the "Should I Hate Urban Meyer Because Of A Game That Happened Six Years Ago" debate.
Music for the Dubcast today is Rock The House by the Gorillaz, number two is Springtime by Imani Coppola, and the exit number is The Egg and I from the Cowboy Bebop soundtrack.
And that's it! Pet a dog today.