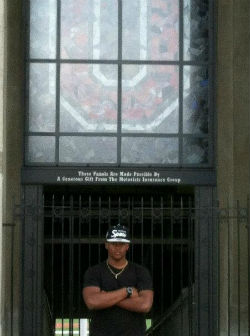 The class of 2013 isn't even half way complete, but Urban Meyer is wasting no time in getting out in front of the class of 2014 and hosted a couple of big time players from the group this past weekend.
One of those players is 6-3/236 linebacker Raekwon McMillian of Liberty County High School in Hinesville, Georgia. The super sophomore had a fantastic season last year, racking up 84 tackles with 16 coming for a loss and making an early name for himself among some of the nation's top football programs.
Naturally, Urban Meyer was one of those coaches who took notice of McMillian and the OSU staff has been recruiting him for the last few months. The early interest lead to a visit this past weekend by McMillian and his high school coach, and that visit resulted in an offer for the Georgia star.
We caught up with Raekwon to hear how his visit to Ohio State went, what he thinks about the offer from the Buckeyes, what else is going on with his recruitment, and more. Join us after the jump to hear about 2014 star and one of this weekend's visitors, Raekwon McMillian.
You just left your visit from Ohio State. Run down how the trip went.
I got in on Sunday night and was on campus at 8 AM Monday morning with my high school coach. We started off the day by going to some of the School of Education buildings where we spoke to the head of the college, checked out some dorms, went to the stadium and on the field, and then came to the Woody Hayes Athletic Center. Once at the Woody we met with the coaches and I sat in some meetings and watched some film. Then I hung out with some of the linebackers and Coach Pantoni for a while before Coach Meyer called me into his office. Coach Meyer let me put on a Buckeye jersey and take some pictures with him and then sat me down and offered me a scholarship before I left.
What was your reaction when Urban Meyer offered you a scholarship? Who else has offered thus far?
It just felt great. It's the biggest offer I have right now, with maybe Georgia being up there as well. In addition to those two schools I have offers from South Carolina, Ole Miss, and Alabama State, but I feel like now that a school like Ohio State has offered other programs will take notice and offer me sooner than they planned.
What did you like best about your trip to Ohio State?
I really liked the facilities and how everything was up to date and state of the art. I really liked the turf fields they have there because we don't see those in the south too often, with most people using natural grass.
What coaches did you get one-one-one time with and what did they say to you?
I spoke to Coach Fickell, Coach Vrabel, Coach Withers, and Coach Meyer. They all told me they really like how I play and that I have great footwork and play at a good pad level.
Obviously you are from the south, but plenty of Georgia guys like Cam Heyward and Bradley Roby have come up north and had success. Will you consider coming to a place like Ohio State up north?
Yes I definitely will and I plan on seriously considering all the schools that offer me, regardless of location. I can definitely see myself at Ohio State after going on the visit today.
What other visits do you have planned?
I will be going to South Carolina tomorrow, but other than that I really have nothing else scheduled. As far as camps/combines go, I will be going to the Nike camp on April 21.
Do you think you will make it back to OSU any time soon?
Yes, I will probably come back to Columbus for a game this coming fall.
When do you plan on making a college decision?
I'll probably make a decision next summer, between my junior and senior year.
HIGHLIGHTS: