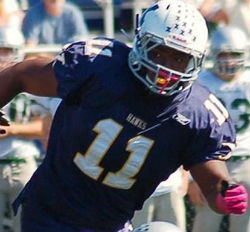 We have already profiled a few prospects that were in attendance for the Ohio State Spring Game last weekend, and now we bring you word from another player who was in the Horseshoe to soak it all in, Westwood (MA) Xaverian Brothers DT Maurice Hurst Jr.
At 6-2/290, Hurst already has the size to be a successful defensive tackle at the college level and has an offer list worthy of one of the nation's best at the position. His list includes the likes of Ohio State, Michigan State, Missouri, Nebraska, Vanderbilt, UNC, Purdue, Virginia, Maryland, and Boston College, among others.
As for rankings, he is listed as a four star and the 18th ranked defensive tackle by 247, a four star and the number 23 defensive tackle by Scout, a three star and the 24th ranked defensive tackle by Rivals, and a three star and the number 34 defensive tackle in the nation by ESPN.
We got the chance to talk with Maurice about his visit to Ohio State, where things stand with his recruitment, when we can expect a decision, and more. Join us after the jump to hear from one of the nation's top defensive tackle prospects, Maurice Hurst Jr.
You were just at OSU for the first time for the Spring Game. How was that experience?
The visit went very well. I really enjoyed my time there and loved the atmosphere of the Spring Game.
What was your favorite part of the visit?
Going on the field and seeing so many people showing support for the players. I also really liked the campus and how it is placed in the city. It was really cool to see everything.
Did you get a chance to speak to the coaches at all?
Yes, I spoke to most of the coaches, but spent most of the time talking with my position coach, Mike Vrabel.
Did the coaches say anything to you about how many defensive linemen they would take?
Yeah, they said they are still looking to add one more tackle. I know they have Joey Bosa now for strong side end and two players who could play inside [Tracy Sprinkle and Billy Price], but they should be taking three players that can be tackles. I should know more about that situation when they talk to my coach on their visit to my school.
When are they coming out to your school?
I believe they will be here early next week. I'm not sure what the situation will end up being because they lost a few scholarships this year and room is tight. They may have switched to recruiting more offensive players now, but I'm not sure.
Cam Williams and Armani Reeves are Massachusetts guys going to Ohio State next year. Have they tried recruiting you at all?
Cam and Armani have told me to go wherever feels like the right fit for me. They have both been in my place before, but from what they were saying I can tell Cam doesn't like Michigan too much [laughs]. he's a loyal Buckeye.
What other visits do you plan on taking?
I will be taking visits to Michigan and Michigan State in the near future and then I am done with visits.
When do you expect to make a college decision?
I would like to make that decision in the next month and a half or so, but it really depends on some situations.
Do any schools stick out to you at this point? Where do the Buckeyes rank on your list?
I would say Ohio State, Michigan, and Virginia are the schools standing out to me right now. Ohio State ranks high on my list, I'm just not sure where things stand with them right now, but I guess I will find out more next week.
What are you looking for in the school of your choice?
I am looking for a school that can give me the best of both worlds in terms of having great academics and a great football program.
HIGHLIGHTS: