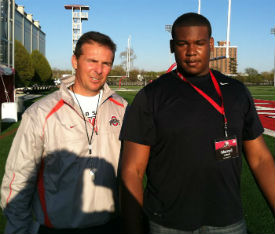 Earlier this week I alluded to some news I came across about one of this past weekend's visitors possibly becoming the Buckeyes' eighth commit in the class of 2013 sooner than most of us thought it would happen.
While I had to sit on that information out of respect to the player and Ohio State, the cat is now out of the bag, and as most of you now know, it is Marcell Lazard of Bloomfield High School in the great state of New Jersey.
Lazard, a 6-6/290 tackle prospect, took the trip to Ohio from the Garden State with his parents to check out OSU for the first time. Coming into the trip he had some impressive offers from top programs in the nation, including Miami (FL), Michigan, West Virginia, Florida, South Carolina, Virginia, and others, despite not being rated as a premier prospect at this time by the recruiting services.
Don't be fooled by those rankings though, as Lazard is an extremely talented player and will only continue to move up, as he was never big on the camp or combine scene. More importantly for Buckeye fans, Urban Meyer, Mark Pantoni, Ed Warinner, and the rest of the staff love him as a prospect and those feelings were reciprocated by the Lazard family after their trip to Columbus this past weekend.
We caught up with Marcell to discuss his visit to Ohio State, what position he projects to at the college level, where things stand with his recruitment, and more. Join us after the jump to catch up with someone who could be a Buckeye in the very near future, Marcell Lazard.
You just got back last night from your trip to Ohio State. Tell us what you did while in Ohio.
We got to Columbus on Saturday afternoon, but didn't go to campus that day. We really just checked out the city and surrounding area, did a little shopping, and relaxed. On Sunday I got to see the campus, which was awesome, and then we watched a spring practice. On Monday we left Columbus to head up to Canton because I wanted to see the Pro Football Hall of Fame, which was also great. Finally, on Tuesday, I toured all the facilities and the stadium, sat in on meetings with players and coaches, and got to talk to Coach Meyer before leaving campus.
What coaches did you get to speak to in addition to Coach Meyer? What did Coach Meyer say to you?
I was in meetings with Coach Warinner and got to spend time with him to see how the offensive line does things at Ohio State. I also hung out with Coach Warinner's GA Kirk Barton and hung out with Coach Pantoni a lot during the day. When I met with Coach Meyer and the other coaches they all told me they really liked the way I play on film and think I am a great player. Coach Meyer told me he was really looking forward to building a relationship with me.
What position on the offensive line did Ohio State say they were recruiting you for? Did they say anything to you about how many linemen they plan to take this year?
They told me they like me as a tackle, either on the right or left side, it doesn't matter. They told me they would be taking three offensive linemen in total for the class of 2013.
What was your favorite part of your visit to OSU?
Usually it's something to do with football when you visit schools, but with Ohio State it wasn't. My favorite part was the campus. It's absolutely beautiful and really sold me on the school.
Now that you're home and have had time to digest your visit, what are your feelings on Ohio State?
It's a beautiful place. I really want to go there and can definitely see myself going there. I may take some time right now to check out some things with the other schools on the top of my list, but in the next two weeks I can definitely see myself committing to Ohio State. It's the place I want to go and my parents felt the same exact way about the school which was great.
Who are the other schools on the top of your list? Is a decision definitely coming before the end of the month?
Miami (FL) and West Virginia are the two schools in my top three a long with Ohio State. I will definitely have a decision before the end of the month and as I mentioned before it could be in the next week or two weeks. Ohio State is my leader by far.
While you were on campus did you get to meet any other recruits or current players?
I got to meet a sophomore linebacker from Georgia, Raekwon McMillian. He was very interested in Ohio State and just from talking to him you could tell he really, really likes it a lot there. I met the offensive linemen that are currently playing for Ohio State and they are all good guys.
Heading into your senior season what do you feel your strengths are? What do you want to work on this summer?
I would say my biggest strength is blocking in pass protection. While my run blocking is a strength as well, that is something I'd like to improve on before next year. I also want to get better at driving people back all the way until the whistle blows.