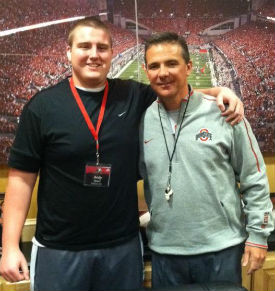 We told you about one outstanding 2014 prospect's visit to Ohio State in our feature with Raekwon McMillian, but now it's time to late a look at the other prospect in that class who visited Columbus last weekend, Andy Bauer.
If Bauer's name sounds familiar to you, it's probably because you heard it when Ezekiel Elliott mentioned that he was going to try and recruit the 6-5/290 lineman from DeSmet High School in their shared hometown of St. Louis, Missouri. Elliott trains at the same facility as Bauer and when he heard the current sophomore was offered by Urban Meyer this past weekend, he told me that the Buckeyes were going after a special player.
If you look at the offer list so far, that is special as well, for anyone, let alone a sophomore. With the OSU offer, Bauer is now up to eight full scholarships from Division I programs, a list that is expected to grow as he takes more visits and gets more exposure this spring and summer,
We got the chance to catch up with Bauer to get the scoop on his visit to Columbus, see how he feels about the Ohio State offer, when we can expect him to make a decision, and more. Join us after the jump to hear more about one of the best offensive linemen in the class of 2014, Andy Bauer.
You were at Ohio State this weekend. What did you do while on your visit to Columbus?
I got in late Friday night so I just went to the hotel upon arriving. Saturday morning I went to the facilities and sat in the offensive line meeting with the o-line and Coach Warinner. After that I went to Coach Meyer's office and talked with him for a while, which is when he offered me. I then went to practice, talked to the team doctor (I'm interested in pre med), and then talked to Coach Marotti in the weight room. After that, I had lunch with Coach Warinner, Coach Coombs and Kirk Barton and after lunch go to see the academic side of the university, toured the campus, and saw the stadium. Finally, I went back to the facilities and talked to Coach Warinner some more before leaving as it was pretty late when I was all done.
What was your favorite part about your trip to OSU?
I didn't really have one part that was my favorite. I loved everything about Ohio State.
Ohio State offered you while you were in Columbus. How did that go down and what was your reaction?
Coach Meyer just called me into his office as I said and we were talking and he told me he was offering me a scholarship. I was really happy and excited to get an offer from Ohio State.
What other offers do you have right now? What schools do you think may be close to offering?
I have eight offers in total right now. They are from Miami (FL), Missouri, Boston College, Arkansas, Michigan, Auburn, Notre Dame, and now Ohio State. There are many other schools showing interest, but I am not sure when they will offer or who to expect the next offer from.
Do you have any early favorites? Where does OSU stand on your list?
I don't right now, but want to narrow down my list soon. I am very interested in Ohio State.
I know it's early but do you have an idea of when you may make a college decision?
I'm not sure exactly, but I would hope sooner rather than later.
What are you looking for in the school of your choice?
I am looking for a school with good academics, strong football tradition, good people to be around, and somewhere I would fit in if I wasn't a football player.
What position are you projecting out to at the college level?
I will play either tackle or guard. I can and am willing to play either based on the needs of the team,
You are only a sophomore yet so much recruiting attention has come your way. How are you handling all of the hype so far?
I take it all as a blessing. I continue to work hard, try to be the best I can be. and not let it go to my head.
Heading into your junior season what are you looking to work on to get better for next year?
I want to get better in all aspects of the game. I will work on my explosiveness, quickness, strength, technique, really everything. I am never complacent with the way I am playing and always want to get better.
HIGHLIGHTS: