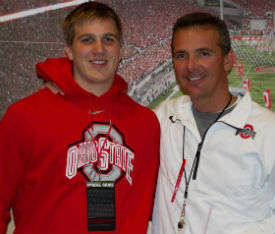 When we spoke with Wyomissing LB Alex Anzalone just a week before the weekend of the Spring Game, it was apparent things were starting to wind down in his recruitment and that a decision could be imminent.
When Anzalone told us later that week he would definitely be coming to the Ohio State Spring Game, his third trip to Columbus in two months, things started to look good for the Buckeyes. While nothing was set in stone publicly that a decision would come by the end of the weekend, Anzalone himself had other plans and went through with giving Ohio State his verbal commitment, becoming the eleventh player to do so in the class of 2013.
In Anzalone the Buckeyes get the play maker at linebacker they have long coveted for this class. Anzalone is capable of playing any of the three linebacker positions at the college level, and as a two-way star at his high school has the athletic ability and speed Urban Meyer loves in his linebackers as they roam sideline to sideline.
We caught up with Alex to discuss how his visit to Ohio State went, what made him pull the trigger, what the plan is now, and more. Join us after the jump to hear about one of the newest members to the Ohio State family, Alex Anzalone.
This trip was a big one for you. Tell us what you did while in Columbus.
We got in Thursday night at around 10:30 PM and left on Sunday at around noon. On Friday we got to spend time in academic meetings, watch the last spring practice, and hang out with a lot of the commits from the 2013 class and signees from the class of 2012. On Saturday it was obviously the Spring Game, which was a really cool experience. It was crazy to see that many people there for a spring game and the Buckeye fans were really crazy. After the game we went back to the Woody (OSU's Woody Hayes Athletic Center) and Mark Pantoni told me Coach Meyer wanted me to come into his office, which is when I committed to him. I then hung out with some of the guys on Saturday night and went home Sunday.
When Coach Meyer pulled you into his office what did he say to you?
He just told me he was glad I came and that there was no pressure to commit and told me if I wasn't ready to wait as long as I needed. I knew it was the right time for me though and wanted to commit so I told him right there that I was going to be a Buckeye.
How did Coach Meyer react when you told him?
He was really happy. He got up and ran out of the room to get Coach Fickell, Coach Vrabel, Coach Pantoni, and some of the other coaches. They were all really pumped up.
Coming in to the weekend did you have an idea you'd be committing or was it a spur of the moment decision?
I definitely knew coming into the trip to Columbus that I was going to commit. 
What position did the coaches say you will play at OSU?
They are leaning towards SAM right now, but Coach Fickell thinks I can play any of the three positions and they'll see how I grow into them over the next couple of years.
Now that you are committed what are the coaches expecting out of you?
Coach Meyer told me it's now time to enter the preparation phase. He wants me to keep working hard so I can be ready when it's time to get to Columbus. Coach Fickell told me to enjoy my senior season and to go out and help my high school win a state title. I'm just going to focus on training and doing everything I can to get better.
I saw you were hanging out with Joey Bosa and Mike Heuerman a lot while you were in Columbus. Are you going to help try to recruit the rest of this class?
I am definitely going to try and do what I can to help fill the rest of this class. Both Joey and Mike were great guys. They are both Florida boys so they weren't used to the weather on Saturday, but we all had a great time together.
What are you going to major in at Ohio State?
I am going to be in the Fisher College of Business as an honors student and do the three and two program to get my MBA. I will be able to come out of college after playing football with a bachelor's degree in business and an MBA.
If you could say one thing to Buckeye Nation what would it be?
Wow, that's a hard question. I would just tell them to get ready!