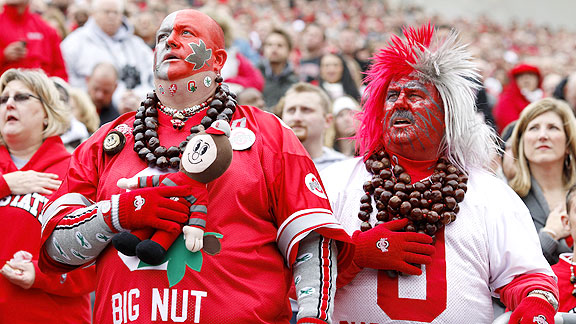 Football monarchies are toppled every single year. Ohio State's rulers tend to reign with enviable longevity, so when there's a regime change it's a pretty big deal.
And as is the case with our kings, ousted Buckeye head coaches typically cease ruling activities permanently once their time is up in Columbus. It's not necessarily the rule of law; that's just the way coaching graveyards like Ohio State operate.
It didn't take long after Urban Meyer's hiring documents were notarized for his predecessor's legacy to begin reshaping itself: Despite a decade-long run on conference championships, Wolverine pelts, a BCS birthright and annual national title contention, there sure seems to be a lot of program elements that require fixing.
That little encapsulation of the Tressel Era conveniently ignores last season's catastrophe that occurred in his absentia. Losing to Michigan and a middling SEC team in a second-tier bowl en route to a sub-.500 campaign was unlike any other year of his reign, which begs the question: Was it all falling apart, or was Tressel just that good at keeping everything together?
His departure seemed to expose the program as an organization that required his presence in order to operate proficiently. Tressel designed it to suit his own preferences and his engineering failed magnificently without him there to keep everything together.
Meyer's hiring then triggered a very predictable sequence of events, all of which are infused with rational optimism: Players are now destined to get faster. Schemes are scheduled to be reupholstered, modernized or accelerated in their execution.
As a result, Ohio State's standard of required athleticism has been elevated. These developments have been readily welcomed, especially because they aren't radical changes that violate sacred Buckeye football traditions (it's not as though Meyer called the Horseshoe "Buckeye Stadium" or jumped into Coop's hot tub to start collecting endorsements at the expense of a heritage he's still trying to understand).
So the answer to the question of whether 2011's demise was because of Tressel's absence or on account of the roster being in decline is being answered through actions: Right or wrong, Meyer is addressing Ohio State football as though the problem was the latter.
If your memory is failing you, here's another reminder about the perception of the Tressel Era: It was a boring, unimaginative process that still somehow won 83%* of its games with him on the sideline. It was a paradox we reluctantly embraced for years.
Meyer runs a much different type of ship, one that - at least from the outset - addresses some of the cosmetic frustrations that fans had with Tressel.
There's an obviously greater emphasis on team speed. Meyer doesn't have a stubborn, lazy and permanently-tenured crony keeping the offensive line mediocre. He hired an actual QB coach instead of a convenient puppet through whom he could (effectively) micromanage.
Even the way he communicates to the media and releases information is jarring; Meyer actually gives updates and responds to questions with meaningful answers. Tressel responded to even the most primitive questions in lengthy, meandering circles.
Shiny New Toy syndrome transcends the tangible gifts of winning on the field. It's occurring right now at Ohio State, where conference championships and BCS wins are both expected and already customary.
This is what's known as the honeymoon. In this category of monarchy rule, the inaugural ball lasts the entire offseason.
The most recent and comparable ivory tower reupholstering occurred in Ann Arbor when Rich Rodriguez arrived at Michigan to sell and run the program the same way that he did at West Virginia.
As convenient as it might be to try and create a parallel here (ooh, shiny spread offenses!) there isn't nearly as much overlap as has been suggested, except with regard to player development.
Rodriguez was never a cultural fit for Michigan. He was rejected from the outset and overly contributed to his own undoing, primarily through his hiring and retention of Greg Robinson, who commandeered historically awful defenses.
To see the real similarity between the WHAC in 2012 and Schembechler Hall in 2008, look no further than that rational optimism that infected the Michigan fan base unaffected by the cultural mismatch between Rodriguez and Ann Arbor: Strength and conditioning. Recall the once-feared boogeyman and Rodriguez henchman Mike Barwis.
Barwis was the man who would bring a new attitude to Michigan football, which had grown complacent and overly satisfied with its position in college football's aristocracy. His methods would address the caricature of big, slow Big Ten football players.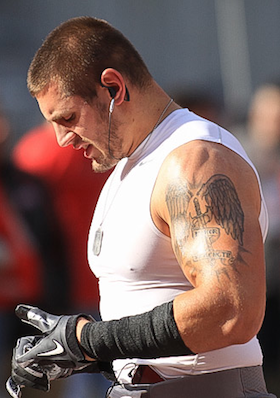 His hiring coincided with already-scheduled and long-overdue upgrades to Michigan's facilities. The historiography that took place here was the nature of Lloyd Carr's recruiting efforts in the twilight of his tenure. His apathy would be coming home to roost just in time to welcome picnic table Rodriguez to the land of white tablecloths.
The Wolverines lost Ryan Mallett, their quarterback of the future (and a classically-trained academic scholar) as collateral damage to the incoming offensive scheme ill-fitting of his abilities. With no suitable replacement or experienced backup Rodriguez' success was in peril before a single game had been played.
But Barwis still succeeded in transforming Michigan football players into faster receivers, leaner lineman, higher jumpers and quicker sprinters. While that was obscured to some degree by the failings of the staff, the rational exuberance over Barwis' hiring combined with facility upgrades was with merit. 
That's where Ohio State football is right now. Mickey Marotti is transforming Ohio State's football players with a combination of diet and exercise "never before seen" around the WHAC. In lieu of actual football games, the biggest winner in any new coaching staff is the strength and conditioning coach.
How unprecedented is this kind of strength and conditioning porn in a new regime? It's not. It's practically required.
Marotti left Florida to come to Ohio State. Florida won't skip a beat hyping the guy it hired to replace him. Penn State players are already talking up their new S&C program post-Paterno.
And get ready for Kansas to add strength and conditioning superiority to its decided schematic advantage under Charlie Weis, whose ample chassis immediately comes to mind when you hear "strength and conditioning."
Arizona State? Check. Sun Devil fans have been griping about their S&C program for years. Literally anyone new would have been welcomed as a savior.
Back when Coop arrived in Columbus he publicly addressed his roster's "too many slow white guys." When Tressel replaced Cooper as well as handsomely-compensated Dave Kennedy with his own guy. And now Marotti replaces Eric Lichter.
And the fans rejoice, because new must also mean improved - just as Meyer is destined to outperform Tressel's 83% winning percentage. That's his baseline for failure. Don't think for a second he won't be reminded of that.
The state in which Tressel left things and the exuberance around Meyer's expected and perceived upgrades are mutually exclusive. Tressel obviously did things his way with great success. If you think Meyer is any different at a macro level then I'd like to refer you to what happened to Florida immediately following his departure.
It begs the question: Was it all falling apart, or was Meyer just that good at keeping everything together?
As long as he sticks around to commandeer what he is now re-engineering, Ohio State should be okay, which in part means we'll never learn just how bad things really were. And it's probably okay that we never find out, since Ohio State's rulers tend to reign with enviable longevity anyway.
Let this inaugural ball continue in earnest. Long live the king.