Happy Thursday everyone, and welcome to your morning Skull Session! Basketballmas is at long last upon us! Gather your family around the ol' tv box and begin the next three weeks of the rest of your life, staring dead-eyed into space as a plucky 9 seed led by an obnoxiously talented point guard shoots their way into the Elite 8, destroying your bracket in the process! Face existential quandaries as you come to realize that your alma mater's continued winning puts your ability to win 50 bucks in the office pool in jeopardy! Cruse angrily as Raftery and Lundquist mouth marble their way through what could have been a fun game to watch if not for their general buffoonery! And above all, plead with the ghost of Greg Oden's knee for an entertaining championship game for once!
Throughout the day we'll have info and other stories about OSU's matchup with the Loyola Greyhounds (tonight at 9:50 on TNT, allowing you to watch Community but forcing you to miss Archer, to say nothing of the near certain neglect your health, job, and family will suffer as a result), so this morning I'd like to paint with a little broader brush while still providing that juicy NCAA b-ball info.
BUT NOT QUITE YET Everybody loves Jimmy Patsos, coach of Loyola Maryland, and now you can count Thad Matta as one of his supporters because Jimmy P has gone and blown his gameplan for OSU because, well, screw it, that's why:
Jimmy Patsos' Loyola (Md.) team is a 15th seed and a decided underdog, yet he had no problem Wednesday giving away a good portion of his game plan when he spoke to the media. Why not, he reasoned. Second-seeded Ohio State, which will face the Greyhounds today at about 9:50 p.m., probably already knows it.

"We will try and press" the Buckeyes, Loyola's eighth-year coach said, "not as much to wear them down, but probably to speed the game up. We need the game to go fast."
Patsos also mentions that his team has "little chance of winning the game," but I'm guessing that won't prevent the dude from his usual histrionics by the scorer's table. Which is fortunate, because that's likely to be the most enjoyment any Loyola fan gets from the game.
IN COOLER HEAD COACH NEWS The name Shaka Smart has been thrown around quite a bit recently as the most likely replacement for Bruce Weber at Illinois, and not without reason. Smart has been a head coach at Viginia Commonwealth for three years, his only three years as a head coach, and in that time he's led them to an overall 83-27 record and a Final Four appearance last season. A Kenyon grad (seriously), he's 34 and in high demand. A high profile but safe job like Illinois would be an excellent spot for the dude, and Jon Greenberg from ESPN agrees.
Also, as an article in the Washington Post last March pointed out, Shaka Smart is just generally cool as hell.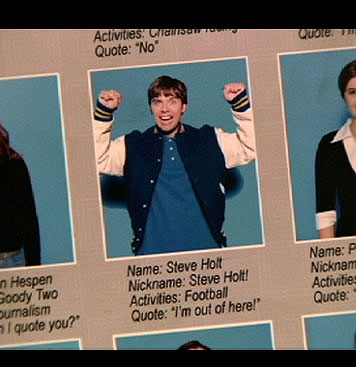 COME HERE, LEMME SEE THOSE KNEES If you are a part of the gambling community trying to determine what debilitating injuries might effect your picks, SI's Rob Dauster has you covered with a snappy breakdown of the major boo boos suffered by the contenders in the NCAA tourney. Verdell Jones from Indiana and Branden Dawson for Sparty are out, which definitely hurts the B1G overall as it makes it that much harder for those teams to advance. Dawson's loss in particular is rough; he provided some very good minutes for that team, and though it isn't a game changer on the level of a Fab Melo, depth is going to catch up with Izzo and company.
Of course, the worst tragedy is STEVE HOLT!! not being able to add his infectious enthusiasm to Saint Mary's. GOB wept.
THROW CAUTION TO THE GENTLE BREEZE Seth Davis over at SI.com wrote up a nice little collection of his thoughts about the tourney, and in this link I do want to emphasize that it does contain some real insight and valuable information. On the other hand...
I had people ask me on Twitter if I really believed what I said when I picked South Dakota State to beat Baylor on the CBS Selection Show, or if I was just trying to stir the pot by taking a chance. The answer is yes to both. ...

So if they play their best, Missouri will beat Marquette in the Sweet Sixteen. So what will happen? How am I supposed to know? I'm guessing just like you. ...

Ohio State doesn't strike me as a team that's going to lose a game it shouldn't, but it also doesn't strike me as a team that's going to win a game it shouldn't. ...

What the heck, take a chance!
YEAH! What the heck! Roll them bones, it's not like I have my sense of self worth or my mortgage on the line or anything. Yee haw let er rip pew pew pew! I mean, look, I assume that Seth Davis generally knows what he's talking about, but going on the internet and typing the equivalent of "aw shucks you guys, i'm just a raggedy ol hobo, you can't expect me to know everything!" may not be the kind of power move you wanna make right before the tourney.
BASKETBALL BROS If you live anywhere near the Dayton area, your afternoon commute was probably even more of a terrifying hellscape than it normally is, as not only were the NCAA play-in games going on in your town, but you had not one, but TWO heads of state chillin and watchin some hoops. Obama seems to be a legit basketball nut, as evidenced by his apparently genuinely enthusiastic attempts to explain the game to British PM David Cameron, who for his part seemed pretty engaged and excited about the whole event in this video. Bonus: OSU's own Clark Kellogg pulling double duty, interviewing both Obama and Cameron and appearing more relaxed and in his element than two of the most powerful people in the world. Leslie Stahl on line one, buddy.
LET'S GET THIS PARTY STARTED The SI.com staff picks for the tourney, along with some dudes from crappy reality tv shows... Dan Wetzel wouldn't stop tweeting this video yesterday... Jon Bois presents the 36 Worst Airballed NBA Free Throws In History... Jim Heacock talks retirement with 97.1 the Fan... Ain't no party like a Cheesecake Factory party cause a Cheesecake Factory party don't stop... Mo Isom got cut from LSU's squad, vows revenge (not really)... On location with The Hobbit