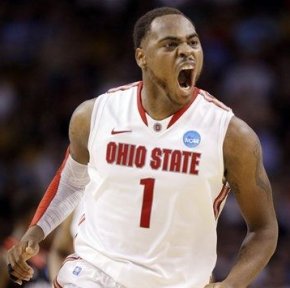 Oho State used a combined 49 points and 18 rips from Deshaun Thomas (26 pts, 7 reb) and Jared Sullinger (23 pts, 11reb) and used runs of 15-4, 14-5 and 26-7 to send the Cincinnati Bearcats back to Kentucky in an 81-66 victory tonight in Boston. 
Aaron Craft was once again a difference maker with 11 points, five assists, four rebounds and six steals and Lenzelle Smith Jr. continued his emergence with 15 points (10 in 2H) and five boards in 35 sensational minutes. 
Thomas was in flat out beast mode in the opening 20 minutes scoring 20 points on 8/12 shooting as he effectively found holes in the UC zone at the elbows, short corners and beyond the arc while Sullinger added 10 points and nine boards as Ohio State built a 37-25 lead at the break. 
The Buckeye D also came to play early as they held the Bearcats to just three field goals in their final 21 possessions of the opening half. 
The game started a bit ominous as UC scored the first five points but the Buckeyes responded with a 15-4 spurt to lead 15-11 at the 12:11 mark behind eight points from Thomas. Moments later, up 21-17, Thomas keyed a 14-5 spurt with seven points off an elbow jumper, a putback and a trey pushing the lead to 35-22. 
The Buckeyes attacked UC's 2-2-1 pressure and 2-3 zone with crisp ball movement allowing them to assist on nine of the 14 FG's in the 1st half against just four turnovers. Meanwhile, Craft locked up Cashmere Wright holding him to seven points on 2/6 from the floor while Sullinger held Yancy Gates to two points on 1/3 shooting in 11 foul plagued minutes. 
A heavy dose of celebratory smack talk almost went out the window however as little Micky Cronin's troops stormed out of the locker room using a 27-8 run over the first eight and half minutes to take a 52-48 lead with 11:34 left in regulation. 
The run saw the Buckeyes shoot just 5/13 with five turnovers while the Bearcats were busy draining 11/14 shots (79%) including 4/6 beyond the arc.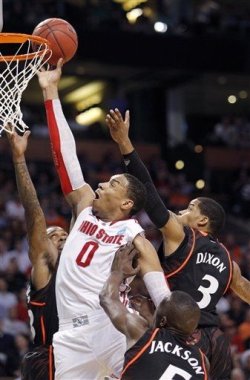 The stunning turn of events put the Buckeyes on shaky ground but to their credit, Matta's squad went on a dominating 26-7 blitz over the next 10 minutes to seize a commanding 74-59 lead with just 86 ticks remaining in Cincinnati's season. 
The knockout punch saw the Buckeyes revert back to sick ball movement leading to balanced scoring as Craft (9 pts), Sully (7) Smith (5) and Thomas (4) took turns putting the biscuit in the basket. Craft was particularly nasty as he picked up a steal and fed Smith for a triple giving the Bucks a 58-53 lead and seconds later splashed a triple out of a timeout giving OSU a 61-53 edge with 7:04 left. 
The decisive burst was done mostly without William Buford as he picked up his 4th foul at the 9:16 mark and OSU already on a 7-1 streak. Buford was mostly awful with four points on 1/8 with four turnovers though he did pick up five boards and three steals plus a big three pointer cutting UC's lead to 49-48 at 11:50 shortly before the Buckeyes finally woke up and put the Bearcats' season to sleep. 
For the game, OSU shot 48% with Thomas (10/17), Sullinger (7/13) and Smith (6/7) carrying the load and won the glass 35-28 while the defense scored 20 points off 18 UC turnovers. Sullinger was money in the lane holding Gates to seven points on 3/7 from the floor. 
Wright led UC with 18 points and Sean Kilpatrick added 15 in a losing effort. 
With Cronin using a small lineup and Buford in foul trouble, Shannon Scott played 16 minutes and to his credit he didn't kill the cause shooting close to his season average at 25% (1/4) with three assists against just one turnover. 
The win pits the Buckeyes against Syracuse this Saturday at 7:05 with a trip to the Final Four on the line. 'Cuse squeaked by Wisconsin 64-63.