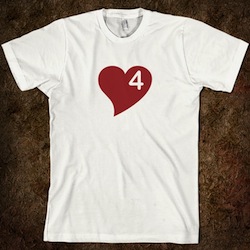 On Saturday, when Ohio State dispatched Gonzaga in the second round of the NCAA Tournament, fans were left with familiar feeling. For the third straight season, the Buckeyes punched their ticket to the Sweet Sixteen.
Unfortunately, those first two celebrations were short-lived. Both squads turned around and took one on the chin in their next matchup.
In order to prove correct the adage about the third time being a charm, this year's team will have to beat one of the three other in-state schools still left in the tournament1. If talent alone determines the winner, Ohio State will handle Cincinnati and move on to the Elite Eight for the first time since 2007.
However, if we know one thing about the 2011-12 version of the Scarlet and Gray, it's that they can play maddeningly inconsistent basketball. Following most of their losses, chemistry seemed to be the issue as players lamented the lack of teamwork and the poor quality of their practices. 
Perhaps more than Jon Diebler's three-point shooting prowess, what fans have longed for this season is the veteran leadership that he, Dallas Lauderdale and especially David Lighty brought to last year's Buckeyes.
Although William Buford is the lone senior, he's never been seen as a vocal guy who will get in his teammates' faces, Lighty-style, if need be. And while he hit the game-winner against Michigan State in the regular season finale, he is defined more by his streakiness than anything else.
Jared Sullinger, who may not be the be-all, end-all player that Evan Turner was for Ohio State two years ago, is still a star, albeit one that hasn't dominated as much as many expected. He's also easily prone to showing a lot of frustration out on the court.
Deshaun Thomas, with a career-high 31 points against Loyola, has scored in double figures for 11 straight games and is dangerous if anyone tries to get between him and his offensive rebounds. Despite his aptitude for taking over games as of late, this is his first year as a main contributor to the team. 
Up until Saturday, it seemed like no one was captaining the HMS Buckeye this season. With a little under 8 minutes left in the first half against Gonzaga, Lenzelle Smith Jr. whipped the ball past a wide-open Aaron Craft and right into the stands. It was Ohio State's seventh turnover to that point. Gonzaga had just taken its biggest lead, 27-20. Jared Sullinger was on the bench with two fouls. The time had come for someone to right the ship. 
Then, with one simple gesture, Craft waved his hand and instructed Smith to calm down, and it was like he was speaking to the rest of his teammates and to every Scarlet and Gray-bleeding fan watching.
In that second, it became crystal clear: whether born or made, Ohio State now had a leader.
The Buckeyes closed out the half on a 19-10 run, triggered by an old-fashioned three-point play from Craft, to take a 39-37 lead. They did not commit another turnover in those eight minutes while they forced five from the Bulldogs.
Aaron Craft finished the game with 17 points on 7/9 shooting and added 10 assists, 3 rebounds, and 3 steals. It was his first career double-double. He also shut down Gonzaga's leading scorer, Kevin Pangos, who was just 3/13 from the floor.
As expected of any team who is still alive at this point in the season, Craft was hardly alone in his production. Sullinger, who was excellent in crunch time, and Thomas, who pulled down a game-high seven boards, each came away with 18 points.
Yet, it was Craft who Thomas bestowed that intangible description once given to Turner and Lighty: "He's the heart and soul of the team."
By now, everyone knows who Craft is. He's the Academic All-American who can rattle off Pi to 60 digits and solve a Rubik's Cube in barely over a minute. 
He's the scrappy, pesky, gritty2 Big Ten Defensive Player of the Year that provokes opponents such as Michigan State's Keith Appling to illustrate that going up against him is, "kind of like having a pest under you for 40 minutes of the game."
He's the one who will take delight in knocking an opponent off his game, but he's also the first one to help him up if he literally knocks him down. 
He's the kind of player who earns Thad Matta's trust, and one that receives praise from other coaches. Tom Izzo, who has a national championship and over 400 career wins to his name, referred to Craft as, "the best on-the-ball defender that I've ever seen."
With 88 steals so far, Craft now owns the school record for the most in a season. He'll dive on the floor and in the stands whether he can make an awe-inspiring play or if it's merely a futile attempt at one. Either way, fans will swoon and then pay homage to their favorite point guard by clapping their hands or fist-pumping in pride3, because they appreciate someone whose motor doesn't quit and who is never satisfied with anything less than his best effort.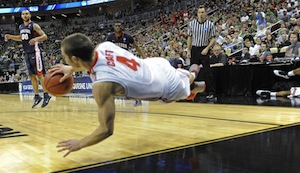 What Craft had been missing is the label, "offensive threat." Gonzaga coach Mark Few admitted, "We just decided that he needed to score and devoted our attention to some other people who have been proven scorers", and the sophomore made them pay for that game plan. 
Since the 56-51 loss to Michigan a month ago, in which he recorded a 1/6 from the floor performance, Craft has stepped up his offense. In the last nine contests, he's made over 60% (37/61) of his field goal tries while averaging over 10 points per game. During that stretch, he's scored in multiple ways, whether from outside, hitting a pull-up jumper, or driving to the basket. 
Besides Ohio State losing to Michigan, that dark February night in Ann Arbor produced another unusual result when freshman Trey Burke got the better of Craft and put up 17 points, including the bucket that sealed the win for the Wolverines.
That motivated the OSU PG to pore over game film before the two rivals met again in the Big Ten Tournament. Out for revenge, Craft harassed Burke, who coughed up the ball eight times and converted just one of his 11 shot attempts.
That would not be the last time he'd be inspired to raise his game. After the sloppy 19-point win in the first round that saw the Buckeyes commit 18 turnovers, including five from Craft himself, he not only helped gather the players for a meeting to talk out their problems, but the floor general then turned in his best performance of the season two days later.  
It's that combination—a player who can step up on and off the court, both by example and with words—that makes the best kind of leader. If his team needs him to lock down an opponent or put the ball through the hoop, Craft is willing to work his hardest. As relayed by Matta, he "can go all day."
Craft is not the only Buckeye capable of leadership, and now that we're in the single elimination portion of the season, if they want to advance, he can't be the only one who guides this team.  
Sullinger is often seen cheering on his teammates and can put this squad on this back during important stretches of a game. Buford and Thomas have also demonstrated that they can make key shots in tight contests. 
But in a year when Ohio State basketball has been known most for their enigmatic nature, what they've needed is a constant4, and it looks like they've finally found him.
Although Buford will graduate and Sullinger and Thomas could have their sights set on the NBA once the season is done, the good news for Ohio State fans is that Aaron Craft will be around for two more years, ready to lead the way.
1 Because it cannot be reiterated enough, the state of Ohio made history with that accomplishment. 
2 Or whatever white BB player adjective you prefer. 
3 How annoying would he be if he suited up for another team? Luckily, he doesn't and we can enjoy his tenacity, which is another white BB player adjective.