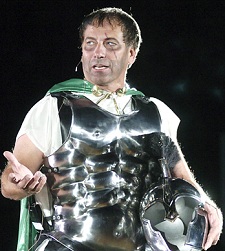 There is a sense of familiarity in this preview that I'm writing today. Is it because Ohio State is aiming for their third straight Big Ten Tournament title? No, actually it's because today the Buckeyes are once again taking on the Spartans of Michigan State on a Sunday and once again there are title implications. I previewed this exact match-up one week ago, and also previewed it for a Saturday night tilt back on Feb. 11, and so the outlines should be etched in stone by now.
Yesterday OSU dispatched the erstwhile B1G co-champion Michigan Wolverines in rather dominating fashion, pounding the boards and owning the paint on their way to a 77-55 victory. Meanwhile, the Spartans took care of their end of business by clubbing the Badgers of Wisconsin over the head 65-52 in the first game of the day.
The implications of this game go beyond mere conference hardware. With Syracuse, Duke, and Kansas losing in their respective conference tournaments, the list of teams to get #1 seeds in the NCAA tournament has become a bit more crowded. The winner of today's game will hold bragging rights as the best team in the nation's best conference, and will have an excellent argument to join Kentucky et al on that elite list when the selection show begins to reveal the much anticipated NCAA dance card.
| # | Name | YR | HT/WT | PTS | REB | ASST | P | # | Name | YR | HT/WT | PTS | REB | ASST |
| --- | --- | --- | --- | --- | --- | --- | --- | --- | --- | --- | --- | --- | --- | --- |
| 4 | A. Craft | SO | 6-1/190 | 8.7 | 3.1 | 4.6 | G | 11 | K. Appling | SO | 6-1/190 | 11.5 | 3.0 | 3.9 |
| 32 | L. Smith Jr. | SO | 6-4/205 | 6.1 | 4.5 | 2.1 | G | 30 | B. Wood | SR | 6-2/190 | 8.3 | 3.0 | 2.0 |
| 44 | W. Buford | SR | 6-6/220 | 15.0 | 4.9 | 3.0 | F | 13 | A. Thornton | SR | 6-5/205 | 5.0 | 3.4 | 1.2 |
| 1 | D. Thomas | SO | 6-7/225 | 15.3 | 5.0 | 0.9 | F | 23 | D. Green | SR | 6-7/230 | 16.3 | 10.3 | 3.6 |
| 0 | J. Sullinger | SO | 6-9/265 | 17.3 | 9.4 | 1.2 | C | 5 | A. Payne | SO | 6-10/240 | 7.0 | 4.1 | 0.3 |
Opponent
At this point in the season, and having played twice already, the two teams are very familiar with each other. Still, Tom Izzo gives the Spartans an advantage in any match-up because of how well he prepares a team to play. He is also a master motivator, using stunts like the one pictured above to fire up his team. He'll need all the advantages he can get to stop a red-hot OSU squad that is on a mission at the moment. 
One player who will not be available for the Spartans this time around is freshman forward Branden Dawson, who has just undergone knee surgery to repair a torn ACL suffered in the game last Sunday. Dawson was MSU's 3rd leading scorer and their 2nd leading rebounder, as well as being a decent defender. They will compensate for this loss by moving 6'5" guard Austin Thornton down to forward and starting 6'2" senior guard Brandon Wood.
Wood is usually the guy who comes off the bench to give the Spartans some scoring spark. He gives them some extra outside-shooting and ball-handling to go with his senior leadership. Wood is not much of a drive-to-the-hoop guy in a half-court set, but he's deadly in the transition game, especially when he pulls up and shoots from distance. He kept the Spartans' attack going last week with several timely baskets on transition opportunities. Whether the loss of Dawson hurts MSU's usually stout rebounding presence remains to be seen. 
Draymond Green's contributions to Michigan State's season have been well-documented. But equally important to the team's chances today will be the contributions of Keith Appling. Appling is the spark that lights the fire in MSU's offense, and when he is getting to the hoop at will or popping it from outside, it opens up opportunities for the rest of the team. Sparty cannot afford for him to be bottled up by Aaron Craft today.
MSU's defense is stifling and they give up points almost as reluctantly as Ohio State does. Green and sophomore center Adreian Payne clog up the middle, forcing teams to try to beat them from the perimeter. Payne is not much of an offensive threat, but he can be lethal if you allow him to pound the offensive glass and ram home missed shots. Also, his back-up Derrick Nix can provide some points off the bench. Nix averages almost 8 points a game, but he has come on of late, scoring 11 against the Buckeyes and 9 in each of the first two B1G tournament games. 
Buckeye Breakdown:
Ohio State is in prime position to earn a #1 seed in the Big Dance due to their recent resurgence. After the February swoon, many pundits and observers of the game had written them off as an elite team and were debating whether the Buckeyes would get a 2 or a 3 seed. Now that they are running on all cylinders, and while other supposedly-elite teams are stumbling, it's time to seize the day and "become who you were born to be".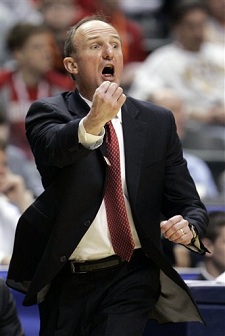 One Buckeye who seems to be seizing the tournament by the neck is Deshaun Thomas. The sophomore forward has averaged 22 points in the tourney thus far and has shot a sizzling 19/28 from the field. The renewed emphasis on getting the ball inside has benefitted Thomas and he has been murder on his opponents. 
What I have noticed in general in the two B1G tournament games is how OSU has emphasized quickly moving the ball inside. By comparison, it seemed that the Buckeye guards were hesitating to get it to the big men earlier and that extra second or two that they used allowed the defense to get in position and led to many charge calls on Sully in the paint. Now it looks like right off the ball screen Sully is rolling into the post and the guards are whipping the ball inside quickly before the defense is prepared. This has led to many more good looks and far fewer charge calls.
I've also noticed quite a bit more activity on defense. Sullinger is actually hedging on ball screens now and forcing opposing guards to make a decision on how to attack. He still gets lazy and hangs back from time to time, but in general I see him being more active and forcing double-team traps much more often. This was evident last night whenever Trey Burke tried to move past a ball screen; he was immediately trapped between Sully and Craft and forced to back out and re-start the offense.
Finally, Ohio State has been more patient with the offense in these last two games and it has led to many more open looks for the shooters. It's amazing how your shooting percentage from distance goes up when you can just stand there and compose your shot for a second or two before any defender runs out at you. As a result, this statistic for OSU has improved a bit for the season and now all 5 starters are above 35% shooting from beyond the arc. This could be huge in the NCAA's.
Etc
The Buckeyes have won two of three conference tournament meetings with the Spartans, winning the last matchup 82-70 in the 2009 semifinals (see picture). They've also won four of the last five meetings overall.
With the win over Michigan yesterday, the Buckeyes improved to 19-8 in Big Ten tournament play, including wins in eight-consecutive outings, a record win streak for any league school. 
Once again CBS will have the game today with Jim Nantz doing play-by-play and Buckeye legend Clark Kellogg providing commentary. Presumably, Steve Kerr will also be around for extra (superfluous) commentary like he was for the game yesterday.