Bring on the Bearcats.
Almost fifty years to the day since the last time the two schools met in the NCAA Tournament, Ohio State will play Cincinnati1 and the loser will go home. Verne Lundquist and Bill Raftery will call the game, scheduled to tipoff at approximately 9:45pm Thursday at Boston's TD Garden.
#6 Cincinnati punched its ticket to the Sweet 16 after dispatching #3 Florida State 62-56 last night in Nashville. Junior guard Sean Kilpatrick led the Bearcats with 18 points, while senior guard Dion Dixon chipped in 15. Big man Yancy Gates finished with 10 points and five rebounds.
For many, bringing up Cincinnati will trigger memories of Yancy Gates clocking dudes in early December. The brawl that prematurely ended the Crosstown Shootout, handing Xavier a 76-53 victory, led to the suspensions of four players on each team. Cincinnati suspended Gates, junior Cheikh Mbodj and freshman Octavius Ellis six games each and freshman Ge'Lawn Guyn for one game.
At 5-3 with the other two losses to Marshall and Presbyterian (!!), Mick Cronin's club was staring at a lost season, but Cincinnati responded, winning 10 of their next 11 games. They would put another streak together toward the end of the season, going 9-2 ahead of the NCAA tourney which included a close loss to Louisville in the Big East Tournament championship.
Now 27-10, the Bearcats and their Hypercolor unis are one away from reaching the Elite 8 for the first time since 1996, when Bob Huggins' second-seeded team lost to fifth-seeded Mississippi State 73-63.
Meanwhile, the Buckeyes are making their third-straight trip to the Sweet 16, matching a run of three-straight trips during the 1960, 1961 and 1962 seasons. Incidentally, after winning the 1960 national championship, Ohio State would go on to lose the next two championship games to the Bearcats. The loss in 1961 was particularly painful as an undefeated and defending national champion Ohio State team that featured future pros Jerry Lucas and John Havlicek was upset by the Bearcats in overtime.
Despite being two of the bigger names nationally in college basketball and being separated by a mere 120-mile stretch of I-71, the two teams have met just once since the 1962 championship game, in a 72-50 laugher2 for the Greg Oden-led Buckeyes at the 2006 Wooden Tradition in Indianapolis.
In only his third game as a Buckeye, Oden finished with 14 points, 11 rebounds and five blocks in just 27 minutes of action.
Afterward, first-year coach Mick Cronin was asked about the two schools not playing each other:
"I'm not going to beat a dead horse," Cronin said. "From everything that's been said the last few days, it's pretty clear they're not interested in it. They caught us when we were down. I got a contract after coach (Bob) Huggins got fired and it was obvious we were going to be in a depleted state. I left it in my AD's hands to make overtures, but I'm not going to beat a dead horse with it. Cincinnati basketball has had great tradition and it's been quite successful since 1962, so if they don't want to play us, why would they elect to schedule the game at this point? I know coach (Tony) Yates, coach (Ed) Badger and coach Huggins made overtures for years. I made mine. If they don't want to play us, fine."
Thad Matta fired back when he was asked the same question:
"I don't know," Matta said. "I don't even know who scheduled the game. I think the Wooden Tradition called us and said do you have an interest in playing Cincinnati on CBS? I think they jumped at it just like we did. This was good for us to bring Michael (Conley Jr.) and Greg (Oden) home. Nobody was feeling sorry for me when I got to Ohio State, were they?"
So, why have the two schools met just once in the past 50 years? While there likely isn't a good answer to this question or even one reason we can point to, there's no denying the animosity between the two basketball programs since the clashes in the early 1960s.
For a good part of this span, Ohio State did not believe the two schools recruited on a level playing field. The recruitment of Damon Flint in 1993 -- which Cronin was involved in -- provided further bad blood and then there's a case to be made that the administrators in Columbus were still a bit butthurt from the back-to-back championship game losses, even after all of these years.
The real losers in all of this are the fans. While we can hope for an annual series between the two teams, we'll have to make do with random high stakes matchups like Thursday night for the time being.
8-0hio. For the first time in tournament history, one state has placed four teams in the Sweet 16. That state is the great state of Ohio3.
Thanks to a series of upsets and stellar play, Ohio State, Xavier, Cincinnati and Ohio are all still alive meaning Ohioans will be walking with a swagger not seen since Neil Armstrong took one giant leap for mankind.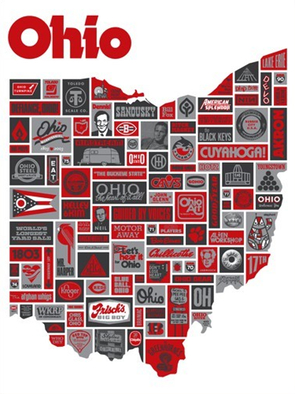 Friday may have been the greatest opening round day (again, refusing to call it "round two") in NCAA Tournament history. Prior to this year, only four 15 seeds had ever beaten two seeds in the tourney, but Friday gave us two more. Norfolk State got things going by upending Missouri 86-84 and then Lehigh was all like "CHALLENGE ACCEPTED" before knocking Duke out 75-70.
As fun as those upsets were, they had nothing on Ohio bouncing the Wolverines 65-60.
That's it. You all were witness to the single-most karmic event possible. For months now, we've had to listen to Michigan football coach Brady Hoke and then later basketball coach John Beilein and athletic director Dave Brandon refer to the Buckeyes as "Ohio", but while they were focusing on the wrong Ohio, the real Ohio crept up and punched them in the mouth.
At first, it was only slightly irritating to hear Hoke refer to Ohio State as "Ohio", but after Bobcats coach Jim Groce called the practice "disrespectful" it became something a little more real. Then, when Hoke admitted that he started using the term as a 10 year-old to troll all of his friends that were Buckeye fans, it all made sense.
No longer will I listen to fans of Michigan University4 try to explain the slight away. It's not because it's what the old scoreboards at Ohio Stadium used to say, although they did. It's not because it's what TBDBITL scripts out at halftime, because it is. It's because Brady Hoke is simply trolling and trolls have a way of looking dumb in the end.
Like when a 13 seed featuring a former Ohio State player and assistant coach ends your basketball team's seasons early. Bonus: The son of one of your rival's all-time greats played a hand in it. You know, just for good measure.
So please, do keep calling Ohio State "Ohio", Mr. Hoke.
BEE-ONE-GEE! BEE-ONE-GEE! As you'd expect from Kenpom's top-rated conference, the Big Ten placed four teams in the Sweet 16: Ohio State, Indiana, Michigan State and Wisconsin. Purdue was two possessions5 from knocking Kansas out of the tournament, but alas, Purdue.
If the Boilermakers could have held on -- and they should have -- the league would have five teams still in play and a shiny 10-1 record in the tournament with the lone loss being Michigan University's first rounder against the Bobcats. So, basically perfect.
The Big East matches the Big Ten with four teams in the Sweet 16, though with three additional bids to work with, so the edge goes to the B1G with its shiny 9-2 record.
The tally:
Four teams alive: Big Ten, Big East
Two teams: ACC, SEC, Big 12
One team: MAC, Atlantic 10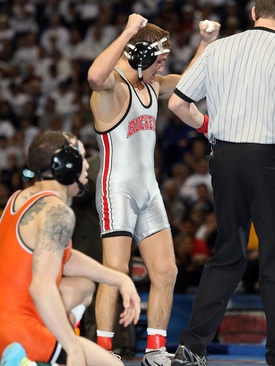 STIEBER, SYNCHRONIZED SWIMMING CAPTURE CHAMPIONSHIPS. Tom Ryan is slowly putting together a juggernaut with the Ohio State wrestling team, but a lot of his talent is young talent. Over the weekend, one of those youngsters cashed in with an NCAA championship.
Logan Stieber, a redshirt freshman from Monroeville, captured the NCAA championship at 133 pounds, upsetting defending national champion Jordan Oliver of Oklahoma State 4-3 Saturday night in St. Louis.
Stieber, the two seed in his weight class, avenged a 7-3 defeat to Oliver at the National Duals in February to finish his first full season as a Buckeye at 33-2.
How good was Oliver? He was 53-1 with pins in 60 percent of his matches (that's like scoring touchdowns on 60% of your rushing attempts) heading into Saturday night's championship.
Big Ten teams finished in four of the top five positions, including eventual champion Penn State. If the Buckeyes are to grow into a dominant program, they will have their hands full with the Nittany Lions for years to come. Penn State finished with 143 team points on the way to capturing their second-straight team title. To put that point total into perspective, Iowa's 107.5 points -- good enough for third place -- would have been enough to win the team championship in two of the previous three seasons.
Penn State's top wrestler, David Taylor from St. Paris Graham High in Ohio is not only one of the two best wrestlers at the collegiate level, but he's also the only man to defeat Stieber in high school when the two met at the prestigious Ironman Tournament when Stieber was a freshman and Taylor was a sophomore.
Stieber would go on to finish his prep career with a 184-1 record and four state titles. Here's hoping he can repeat that feat as a Buckeye.
In somewhat related news, the synchronized swimming team captured its 28th title over the weekend at the Stephen C. O'Connell Center Natatorium in Gainesville, Florida. While synchronized swimming doesn't bring in the money that football and basketball do and you'd be hard-pressed to find the championship on television, this is an important sport from an Olympics perspective. You can never have enough gold medals tied to your school. 
ANOTHER EARLY EXIT FOR JIM FOSTER'S TEAM. A lot of fans were upset when the Lady Buckeyes were awarded an eight seed for the NCAA Tournament. After all, this was a team that had finished the Big Ten schedule at 25-6.
Well, it looks like the selection committee was on to something as the Buckeyes were sent packing 70-65 by 9th-seeded Florida yesterday in the opening round of the tournament.
Head coach Jim Foster has taken every one of his 10 teams to the NCAA Tournament, often as a top four seed, but he has very little to show for it. He's just 10-10 at the tournament and has never even reached the Elite 8, again, despite being a one seed once and a two seed three times.
ETC: Scoonie Penn has joined Twitter... Craig Sager's tie won the internet... This guy is haunting my dreams, but it's miles better than Pitbull... Clowning on Pitino... In Friday's Skull Session, I made a topless Spurrier reference. He definitely reads the blog... A sure sign that St. Patrick's Day is going to be epic... Speaking of St. Patty's, Walgreens was so close to nailing it... Cruiser dashcam footage from last week's stabbing in downtown Columbus... Multitasking... Have some pride, man.
1 Meet the frienemies for this week: Bearcats Blog (@bearcatsblog) and Down the Drive (@downthedrive).
2 If you clicked this link, congratulations. You got a chance to see what a basketball recap looked like when this site was less than four months old.
3 Brady Hoke has absolutely no idea what's going on right now.
4 Embrace this.
5 How did Hummel not even touch the ball in any of Purdue's last three possessions? For 39 minutes, Matt Painter put on a coaching clinic for Kansas' Bill Self, but he threw it all away at the end.