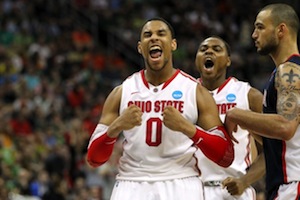 The NCAA Peacekeepers would probably frown upon my usage of the word "professional" in regards to one of their "student-athletes", but my limited writing talents leave me without a better word to describe Jared Sullinger. There are others I could use -- bossman, for one -- but they don't encapsulate Ohio State's man in the middle entirely. 
My adoration for Sullinger's game started long before he dropped 23 points and 11 rebounds on Cincinnati's skulls last night in Boston. Hell, it started before he said he'd be coming back to try to win a national title after last year's Sweet 16 loss to Kentucky. Call it the "Having Satch Sullinger In Your Gene Pool" Principle, but I've always respected the way Sullinger goes about applying his game on the court.
Nobody will ever accuse me of liking college basketball, but from what I've seen of Ohio State's games this year, Sullinger hasn't been protected by the refs like he should be, which isn't surprising since college referring has traditionally been wretched. (Imagine if college refs were capable of faking competence for large swaths of the game, much like NBA refs do. Sullinger might average 20 free throws a game.)
I've heard it speculated Sullinger is playing through an injury this year. (He's averaging 17 points and 9 rebounds a game.) I have no clue about any of that, but it wouldn't surprise me because Jared Sullinger is a professional. He clocks in and goes to work. That's it.
This summer, NBA Lottery teams will pass over Jared Sullinger in the 2012 draft. That will be entirely acceptable, because Jared Sullinger won't be the best professional prospect in the 2012 NBA draft. Rather quickly, however, the names above Jared Sullinger's on that list will come off the board. I have no doubt somebody will mistakenly pass over Sullinger. Will it be for this year's version of Stromile Swift, who was unironically taken as the second pick in the 2000 NBA draft? I don't have those kind of answers yet. 
Jonathan Givony, the curator of the venerable DraftExpress.com, noted last night, NBA teams will have many reasons not to draft Jared Sullinger, and they'll all be wrong. Will he ever be the best player on NBA championship-winning team? Unless he grows seven inches, I don't think he ever will be. What I do think he will be, however, is a key-cog on a team capable of winning multiple championships.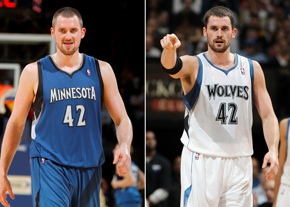 Does he still have some weight to lose? Sure, but look what an NBA regimen did to Kevin Love. Is he slow? Maybe, but his game isn't built on speed. His face-up game has improved this year, and his range is only going to expand as he grows stronger. The same handicaps Sullinger faced on a college basketball court will be more magnified on an NBA one, but I think Sullinger has the skill and the work-ethic to adapt as he always has done.
How isn't he, at worst, a fancier version of DeJuan Blair? And that dude didn't have any ACLs coming out of college (and still doesn't). Every team in the NBA passed on DeJuan until Gregg Popovich -- who knows a few things about building winning teams -- plucked him with a second round draft pick.
After winning the 2009 NBA championship, the Los Angeles Lakers basically traded their budding swingman, Trevor Ariza, for Ron Artest. Ariza, who provided numerous sparks en route to the title, has fallen into anonymity since being shipped out of Hollywood. (Artest, conversely, clinched the 2010 NBA title for the Lakers with this shot.) In the NBA, a lot of time it's about the right situation for guys.
In the right situation, Sullinger could be special. I'd love to see somebody like the Cavaliers take him in this year's draft. Playing with somebody like Kyrie Irving would only help him look better; and with the longer, more athletic Tristan Thompson at his back, I think Sullinger could be allowed to step outside and expand his offensive game. (It's something he'll have to do, and by all inclinations will do, to adapt in the NBA.)
DeShaun Thomas is the latest flavor for Buckeyes' faithful, and a large contingent of fans will always believe Aaron Craft walks on water, but in a season of such highs and lows, Sullinger has toiled away consistently. As the anchor of the country's best statistical defense, this season could have imploded like planets bereft of their sun if he had secured his NBA riches last year. 
Unless a national title is delivered to their doorsteps in the form of a $15.99 t-shirt they bought off Etsy, I'm sure some fans will always feel Jared Sullinger underachieved at Ohio State. (Imagine if Anthony Davis' unibrow gobbles up Sullinger's soul in the national title game? Oh, how the joyous naysayers will creep out from the woodwork then.)
He has fought off injury questions and shitty refeering, even being so much as spit on by opposing fans at one point; and Jared Sullinger has weathered the storm like the rock he is. NBA teams would be wise to examine the prospects they take over Jared Sullinger.