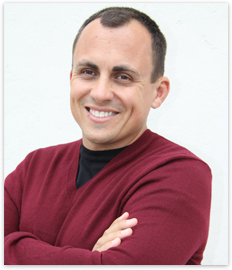 On November 6, 2007, legendary former coach John Wooden spoke to 600 UCLA student-athletes. In attendance was Kevin Love, a former starlet of Ben Howland's 2007-2008 basketball team. From this scene, Sports Illustrated's George Dohrmann launched a meandering 1,600 words about his latest investigative findings.  
The last time George Dohrmann dropped a vat of word-acid on a program, it involved anonymously-sourced stories about fixed raffles in the 1980's. (That's the price of exposing crime-bosses like Jim Tressel, nobody is willing to put a name to their snitching.) Now, I was under the impression Reality had done a thorough job of teaching Sports Illustrated the perils of over-hyped "exposés"; yet as best as I can tell, the only lesson SI took was to make its yellow journalism less blatant on its cover.
There is nothing special about this report. It's just 1,600 words chopped into four sections for page views plastered onto a website which looks like it was coded by two AOL developers on a ketamine bender in 2003. (For the record, Sports Illustrated, the internet doesn't work like a magazine. It doesn't have pages which require flipping. Have some shame.)  
As he did with the piece on Jim Tressel, Dohrmann swung for the fences with this "special report". Unfortunately for Dohrmann, like the piece on Tressel, this one reeks of being written in his mind before he ever stepped foot on his subject's campus.
Since this article was dead on arrival, let's start where Dohrmann does, with John Wooden. The Wizard of Westwood has been dead since 2010 and hasn't coached UCLA since 1975. Wooden won 10 of the school's 11 basketball championships. Ben Howland, as Dohrmann spins it, is negligent in his duty to UCLA's glorious history, the same history erected stone by stone by an amicable white guy over 37 years ago. 
SPECIAL REPORT FROM MY MIND: John Wooden couldn't even live up to John Wooden's legacy in this day and age. The first tournament John Wooden's UCLA won was in 1963, and it featured 25 teams. The last tournament won was in 1975, a 32-team banger. Within those 12 years, Wooden had 7 consecutive years of Lew Alcindor and Bill Walton. (Wooden knew the power of having a dominant center: Bill Russell shit on Wooden's UCLA team in the 1956 tournament, a 25-team affair.) 
Pardon me for getting all Jason Whitlock/Bill Simmons/White Guy on you, but it's as the 21st century revolutionary Slim Charles once said, "The game the same, it just got more fierce." I wonder if the systematic payment some UCLA stars received under Wooden could be so easily swept under the rug, especially after Reggie Bush and OJ Mayo torpedoed that private school across town? I wonder if Wooden's Aesop-like "Pyramid of Life" would have been enough to keep his stars from claiming their riches in the more-established-in-the-present NBA? I think even Wooden's wanna-be acolytes would admit Wooden's recruiting/talent advantage would suffer, since more schools are now competitive in basketball. Of course, this all comes before asking, could Wooden have navigated a 68 (eventually 128) team field 10 times in 12 years? I doubt it.
I know Wooden's first kiss was his wife, and this somehow makes him a real-life Wizard in the eyes of the fawning media, but I think Wooden was the right man in the right place in history. Nobody will ever be John Wooden, so why must Wooden's sterling image be used to indict an obviously mediocre coach? Because they worked the same job, 35 years apart? Why do you think Bob Knight has such disdain for Kentucky's current rendition? They're the apotheosis of what an incorrigble Scrooge like Bob Knight has come to hate about today's game; the same game which passed him by as if he were a woman waiving a handkerchief to her serviceman husband's train as it gently rolled by her platform.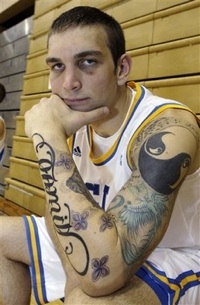 Which brings us back to George Dohrmann's article on how Ben Howland lost control of a hyperbolized legacy Howland himself never had any hand in making. Here's what Dohrmann's piece is really about: an obtuse coach being shitty at his job. I guess the current Pac-12 basketball standings aren't as juicy as the route Sports Illustrated chose to take with this story. It undoubtedly isn't enough to fill four pages. 
Ben Howland, as the story notes, is a walking reservoir of basketball knowledge, yet seems to be victim of pedantic fits-of-rage which generally spurn arbitrary punishment and disciplinary tactics. In other words, he's just like every knowledgeable coach in America who may be swimming in waters their skills can't handle, Howland's just of the asshole variety. 
To further demonstrate just how shitty of a coach Howland is, a guy named "Reeves Nelson" is brought into the mix. Again, Sports Illustrated could have printed the picture to the left to illustrate Nelson's knucklehead image. Instead, Dohrmann gave a national, anonymous platform to the teammates of a guy who nearly crippled everybody on the team in the practice. Can the word "investigation" be degraded any further? Reeves' use comes to an end with a woman who named her child "Reeves" lamenting how Ben Howland's disciplinary system screwed her idiot son. This is done without even a hint of irony.
Dohrmann also raises the alarm on talented underclassmen doing drugs. Teenagers doing ecstasy at a rave is bone-chilling stuff, to be sure. Here, I will give him his investigative kudos, because it's not like an affluent sportswriter would know a necromancer who could reanimate John Wooden's corpse in order to see how the Wizard kept his talented underclassmen from doing drugs. 
On November 14, 2009, the Milwaukee Bucks' rookie point guard, Brandon Jennings, dropped 55 points on the defensively-hapless Golden State Warriors, a career high. A month later he had this to say:
I feel like it's a curse because of the 55. It's almost a curse. Now that I've scored 55, everybody expects me to go out there and score big numbers every night. I'm just trying to find my way. Not every night is going to be easy.
In May of 2000, as George Dohrmann will be the first to tell you, George Dohrmann won the Pulitzer Prize for his writing exposing academic fraud at the University of Minnesota. On March 1, 2012, it's almost as if George Dohrmann is wondering around college campuses in search of his first trophy to put on his mahogany fireplace mantle in a spot he already has designated. So, the next time he puts on his $24.99 Dick Tracy hat, I hope somebody has told him the game is the same, it just got more fierce.