It wasn't always pretty, but the Buckeyes have a date in the round of 32, thanks to a career night from Deshaun Thomas.
His 31 points, which included a scorching 13-straight midway through the second half, were the 4th-most by a Buckeye in a tournament opener and his 12 rebounds made him the first Big Ten player to have a 30/10 game in the tournament since Juwan Howard did so all the way back in 19941.
Thomas' production was needed as big man Jared Sullinger had an uncharacteristically cold night, going 4-14 from the floor for 12 points, although he did pull down 11 boards. Something just seemed off with Sullinger all night, but Matta indicated things would be fine by Saturday when the Buckeyes take on #7 Gonzaga at 2:45pm.
"I'm not worried about him. Walking down [to the press conference], he knows there are things he can do and will do. Without a doubt, he'll be ready to go Saturday."
While Matta does not appear to be worried about Sullinger, he did bring up something that's plagued the team for much of the season: their tendency to make runs and then relax after building a lead. That approach cost the Buckeyes dearly against Wisconsin last month at the Schott and we saw it again last night against the Greyhounds.
Luckily, Loyola's eagerness to foul -- the Greyhounds had three players with four fouls each just two minutes into the second half -- and Ohio State's ability to cash in at the line to the tune of 81% (21-26), helped keep the game out of reach2.
Greyhound coach, the colorful Jimmy Patsos, took the loss in stride.
"I said press, but don't foul. We were fouling," he said. "Their friends probably Twittered them and told them not to listen to Coach Patsos."
AARON, MEET KEVIN. KEVIN, MEET AARON. Prior to today, Thad Matta's team played in four late-starting games in the previous seven days, with a travel schedule that reads: Columbus to Chicago Indianapolis, back to Columbus, pause for a day and then off to Pittsburgh. Oh, the players also had to take final exams.
Let's hope they get the rest they need today because they'll face a hot-shooting Gonzaga team that likes to run Saturday at approximately 2:45pm.
The #7 Bulldogs absolutely annihilated #10 West Virginia 77-54, holding the Mountaineers to 33% shooting from the field. Meanwhile, Gonzaga shot 56% from the floor including a blistering 53% (9-17) from downtown. Every time West Virginia looked like they might chip into Gonzaga's lead, hot shooting from Mark Few's team would plant a sour expression on Bob Huggins' face3.
Pacing Gonzaga was freshman guard Kevin Pangos, who finished with 13 points on 5-7 shooting, including 2-4 from downtown. Pangos also finished with five assists to just one turnover, so you can imagine that Aaron Craft fell asleep watching film on the electric guard.
This will be Ohio State's first-ever meeting with Gonzaga (the Bulldogs are 2-3 against the Big Ten in the tourney) and it should be a good one as both teams have athletes and enjoy a quick pace if it presents itself. Matta seems to be looking forward to it, saying Gonzaga will present a challenge.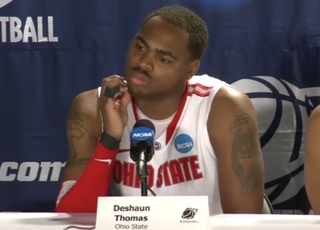 "They're playing as well as any team I've seen all year," said the coach, who's not necessarily one to go Bob Knight and publicly drool over an opponent as a means of motivating his own team (see also: Holtz, Lou).
The TNT crew was so impressed with Gonzaga's performance that they actually posed the question of who would win between a #2 seed and a #7 seed with both teams playing their best. Charles Barkley went a step further and called a win for the Bulldogs over the Buckeyes. This was great for a few minutes because Barkley != college basketball analyst, but then I was reminded of Barkley calling Kentucky over Ohio State last year and then I was like "DAMN YOU, BARKLEY."
GOOD THING THE BIG EAST GOT NINE BIDS. Although we're just a year removed from UCONN winning it all, the dirty little secret of the last half decade of NCAA Tournament action is that the Big East is chronically overrated.
Two years ago the conference sent eight teams to the tourney and six of them were bounced in the first two rounds. #3 Georgetown, #6 Notre Dame, #6 Marquette and #9 Louisville didn't manage to win a game, while #2 Villanova and #3 Pittsburgh were knocked out of the second round4.
Last year, the conference sent a record 11 teams to the tournament, but only two survived to the Sweet 16. Those two teams finished 9th and 11th in the Big East regular season.
With nine teams dancing in 2012, Thursday's action did little to reverse this trend as the league went 3-2. I already discussed the mugging West Virginia took at the hands of Gonzaga and defending champion UCONN fell to #8 Iowa State 77-64, with Jeremy Lamb's blown dunk at the buzzer encapsulating the 2011-12 Huskie campaign.
Hand it to #3 Marquette for handling business against #14 BYU, but #4 Louisville earned a close 69-62 win over #13 Davidson and #1 Syracuse, playing without Fab Melo, survived a 72-65 scare from #16 UNC Asheville, thanks in large part to some friendly officiating.
Keep all of this in mind when you're worrying about Gonzaga.
B-1-G! B-1-G! B-1-G!. Three of the Big Ten's six seeds were in action Thursday with all three earning comfortable victories to advance to the second round.
Aside from Ohio State's win over Loyola, #4 Indiana hammered #13 New Mexico State 79-66 in a game in which freshman big man Cody Zeller tied the Big Ten NCAA Tournament record with six (!!) steals and #4 Wisconsin pretty much just Wisconsin'd #13 Montana 73-49 behind Jordan Taylor's 17 points and six assists.
Three games. Three wins. Average margin of victory: 18.7 points.
The SEC also went undefeated on Thursday (2-0), so we may want to hold off on that chant for a bit.
On the overall excitement scale, the opening day didn't deliver with just two of the 16 games featuring final margins of five points or less. If Gus Johnson isn't back and calling the 2013 tournament, we're going to have a problem.
HOW'S YOUR BRACKET? YEAH, MINE, TOO. Matthew and his mattlaff bracket is currently tied with six others for the lead in the 11W Tournament Challenge, having called 15 of 16 games correctly.
The winner will get a signed copy of Sports Illustrated with Evan Turner on the cover and you can help us keep the good stuff coming by contributing to our fundraiser. There is not one, but two pushes/challenges taking place right now, with Alex spearheading a movement to get every visitor to give $1 today and reader buckeyefanatic generously agreeing to chip-in $100 for each Ohio State tournament win.
Many, many thank yous to everyone that has already donated. While it's looking like we won't hit our goal, we believe we'll still be close enough to hire a beat writer (we'll just have to cut back on some travel), so every little bit between now and 4/1 helps.
DIVERSIONS: Bowl predictions in March? Okay... Muschamp picked up a new ride... Famous Football Songs of the Southwest Conference... The SEC is hosting a "Beach Fest", which can only mean one thing: OMG, Spurrier shirtless... Tip times for all of Saturday's games... The B1G still dominates wrestling... Because he's Jack Nicholson and you're not... John Glenn's wingman... Wish more Amazon reviews were this helpful.
1 Amazingly, that game is still in the books as it occurred during a season that wasn't ultimately set on fire by Ed Martin.
2 The 46 to 23 rebounding advantage didn't hurt either. Nor did Willie Bu's two late bombs that delighted everyone with Ohio State -18.
3 I know he has baggage, but in a weird way, I like Huggy Bear. As such, Huggins angry and glaring from the bench is one of the best things ever.
4 Play-in games or not, it will be a long time until I start calling the round of 64 the second round.