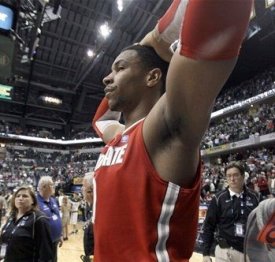 In what had to be the most hotly contested B1G tournament championship game in history, Ohio State simply couldn't put the biscuit in the basket down the stretch resulting in a 68-64 loss at the hands of the Michigan State Spartans. 
A win would've vaulted them a #1 seed in the Dance, instead they'll settle for a #2 seed in the East Region. 
They will face Loyola on Thursday in Pittsburgh. On Sunday, they'll play the winner of Gonzaga / West Virginia. 
After a Jared Sullinger bucket cut the deficit to 64-62 with 3:26 remaining, the Buckeyes went on to miss seven straight shots - three of would've given them the lead - and ultimately missed eight of their final nine FGA's plus the front end of a one-and-one to seal the deal. 
Draymond Green delivered the dagger via a three pointer pushing the Sparty lead to 67-62 with 1:32 left as Deshaun Thomas failed to get a hand up. 
The Buckeyes scored just eight points over the final 10 minutes as they resorted to a one dimensional offense, pounding down to Sully more often than not which bogged down the attack at times. Looking frustrated by this approach, Thomas, Lenzelle Smith and William Buford each took questionable shots based on possession situations.
Sullinger led the Buckeyes with 18 points, 14 in the 2nd half, on 7/19 shooting with nine boards but missed his last three shots in crunch time plus the front end of the one and one. 
All five starters reached double figures as Thomas and Smith scored 11 apiece while Aaron Craft and Buford added 10 each. 
Craft also pulled down eight boards and dished out four assists. 
After a strong first half in which he shot 4/9 for 10 points, Buford fell apart in the final 20 minutes going 0/3 with two turnovers.
The game was an absolute war, especially early as the teams traded proverbial punches. There were 16 lead changes and five ties though OSU lost the lead for good on a Brandon Wood triple making it 53-52 Sparty with 12: 52 to play. 
Wood's trey was part of a 10-0 run that saw the Buckeyes go from up seven at 52-45 to down three at 55-52 with 11:38 to play. The run was even more painful as it came with Green on the bench after getting knocked woozy under the Buckeye basket. 
Wood led the green and white with 21 points including 4/8 from distance with Green adding 12 points and nine boards. 
The Buckeyes shot just 40% for the game including a dismal 4/17 from deep (24%) while Sparty hit 48% on the night. 
Michigan State turned 10 Buckeye turnovers into 14 points, giving them a +8 in the critical category. 
The first half was complete madness. 
Up 18-17 with 8:22 left in the half, Sullinger picked up his 2nd foul via a Mike Kitts whistle and Sparty responded with an 8-2 run to take a 27-24 lead at 3:55. The mini runs would continue as WB and Smith scored five straight to OSU in front 29-27 before MSU used a 7-0 spurt to jump back in front 34-29. Ohio State would then score the final three points of the half closing the gap to 34-32. 
Following a Craft layup, Tom Izzo was T'd up and Buford hit one of two FT's to round out the scoring. The intense half featured 12 lead changes and a high volume of chirping and floor burns.