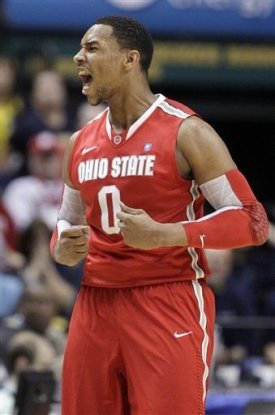 Again looking like a completely different team in Indianapolis than what we saw for a large chunk of February, Ohio State jumped on Michigan early and never looked back in a 77-55 victory to earn a spot in the conference tournament championship game tomorrow afternoon against Michigan State.
The win improved the Buckeyes to 16-3 in the last 19 matchups with That Confidence Booster Up North and was their 8th straight W in conference tournament action.
Jared Sullinger and Deshaun Thomas flat out dominated the Michigan front line. Sullinger poured in 24 points in just 27 minutes on 9/14 shooting while Thomas got loose for 22 points on 10/15 from the field.
William Buford had 10 points and Aaron Craft chipped in six points, four dimes and three steals while demolishing Trey Burke. In the PG matchup everyone wanted to see again, Craft limited Burke to five points on 1/11 shooting with eight turnovers. Burke's first bucket was a meaningless one that cut Ohio State's lead to 58-38 with just under seven minutes left in regulation.
The Buckeyes shot 49% from the floor and outscored Michigan 40-24 in the paint. 
At the other end, Michigan was busy hitting just 31% from the field including a 4/25 effort (16%) from distance.
Burke's backcourt mate, Tim Hardaway Jr., was held to 13 points on 3/10 shooting meaning the two big guns for UM combined to miss 17 of 21 FGA's.
The win propels Buford to his 4th conference tournament championship game, a feat no other conference player has ever accomplished.
Overwhelming Michigan early, the Buckeyes raced out to a 16-3 lead as they hit eight of their first 13 shots while holding the maize and blue to 1/10 from the floor with three turnovers.
Sullinger attacked Jordan Morgan hitting four of his first six shots for eight points during the run and Deshaun Thomas added six points on 3/5 shooting. Showing the same crisp ball movement they flashed against Purdue, the Buckeyes consistently had wide open looks from high percentage spots on the floor.
Meanwhile, the perimeter defense was dialed in as Craft and company fought exceptionally well over high ball screens. The relentless effort out top kept Michigan scoreless for an early 8:16 stretch.
A Stu Douglass triple cut OSU's lead to 21-12 at the 6:59 mark but the Buckeyes answered with a 9-2 spurt featuring a feathery tip-in and a patented spin move from Sully complemented by a triple and an under control spinning lay in from Buford pushing the margin to 30-14 good guys with 4:09 left in the half.
When the dust finally settled on the Buckeye blitzkrieg they were up 34-21 at intermission thanks to holding Michigan to 28% on 7/25 from the floor. The perimeter defense can't be overstated as Burke was held to 0/4 shooting with three turnovers while Tim Hardaway Jr. hit just 1/4. Even better, the D helped hold Michigan to 1/13 (8%) from downtown in the opening 20 minutes.
At the offensive end, Sullinger (16 pts, 8/10 FG) and Thomas (8 pts, 4/7 FG) dominated the action combining to outscore the Wolverines by themselves. In fact, Sully had more FG's than UM as they headed to the locker room. 
The 2nd half was simply more of the same as "Ohio" opened with a 10-3 spurt pushing the lead to 44-24 with 15:49 left in regulation. Showing mercy, Thad soon began massaging the bench allowing nine Buckeyes to enter the scoring column. 
The bottom line is this group looks like a totally different team than what we saw from mid-late February. They look focused, confident and are generally playing within their individual skill sets. 
A win over Sparty could actually very well earn the Buckeyes the final #1 seed so get ready for a fiercely physical game slated for a 3:30pm tip.