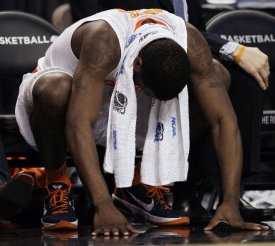 First of all, congratulations to the officials, especially Tom O'Neill, for making a mockery of the sport I love so much. Forty-nine fouls and 67 free throws combined. Well done. 
Tied at 29 to start the 2nd half, Ohio State gave up a quick bucket then went on a game seizing 16-5 run to take a 46-36 lead with 13:45 left and never relinquished it hitting 13/14 free throws down the stretch to clinch a 77-70 victory and a spot in the Final Four. 
Lenzelle Smith was a stone cold killer in the 2nd half with 16 of his 18 points after taking an early shot to the head and Sullinger overcame early foul trouble (7 min 1H) to add 15 of his 19 in the final 20 minutes as the Buckeyes imposed their will on a foul plagued Syracuse squad that too often settled for quick shots. 
After Brandon Triche bombed a triple capped an 8-1 run cutting the OSU lead to 55-54 with 6:46 left, Sullinger scored five straight points and Smith drained a trey giving OSU a 62-55 lead with 3:16 to play. The Orange could get no closer than 70-67 when they were in foul mode and and the Buckeyes just kept stroking free throws. 
The Buckeyes owned the glass 37-22 with Willie Buford (9) and Deshaun Thomas (9) leading the way. Sullinger added seven.
And how bout Amir Williams? Much love to that kid tonight.
Forced into nine first half minutes after Sully and Ravenel had picked up two fouls apiece, Williams gave the Buckeyes three points, four boards and two blocks in an insanely clutch stretch. He did miss three of four free throws and turned it over twice but to be thrown into that situation - hat tip to you kind sir. 
Aaron Craft fouled out with :49 left but was his normal pesky self with five points, four boards and four assists. He was also once again the clear leader on the court ordering players around, shouting encouragement including a well placed, "Amir! Dunk that MF'r". 
Buford had another awful shooting night (3/12) but his nine boards were huge and he played some solid defense along the way. 
The Buckeyes held the 'Cuse 42% shooting but could only muster a 41% outing themselves. 
Ohio State took took 42 trips to the line and hit a so-so 74% to build a 31-20 edge in points from the stripe. 
Triche paced Syracuse with 15 points and Scoop Jardine added 14. 
Matta's squad will face the winner of UNC / Kansas which will be played tomorrow at 5:05. 
What a ride. Congratulations to one hell of a blue collar squad that is coming together at just the right time.