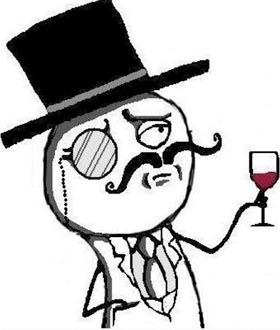 In the summer of 2010, Jim Delany peeled the Big 12 North's most vital asset off its hands: the University of Nebraska. It was the dick-swinging power move we've come to expect from the scion of collegiate athletics. Since then, Delany has remained on the sideline while his adversaries have scrambled around throwing projected bags of money at various universities. 
Sure, there was the four-year scholarship model he sprang on the country hours before National Signing Day. Then there was the about-face on the issue of play-offs. Then a first-of-its-kind "cultural agreement" with the Pac-12. Now, however, it appears Delany may be ready to make another power move on his foes.
It was rumored this week the Big Ten (via pressure from ESPN?) might be eyeing Notre Dame, Rutgers, Maryland and Georgia Tech in a quest to attain 16 teams. According to From the Rumble Seat's report, the Big Ten could offer newcomers a 25-30 million dollar infusion into their athletic programs via broadcasting rights. (I think I've seen this porno before.)
I'm glad the Big Ten is talking expansion again, because if nothing else, it allows me to dig into my bag of tricks, pull out my Hater's Monocle and tackle the issue with the general ignorance it takes to write a Hater's Guide. But before we talk expansion, I'd like to talk about the issue of detraction.
dead weight

Pennsylvania State University - It once took me 13 hours to drive through the state of Pennsylvania. I guess that's PDOT's master plan, slow down everybody trying to high-tail it out of their moribound state? Have you ever been stuck in bumper-to-bumper traffic in rural Pennsylvania? I'm not sure the American government could even torture enemies of the state like that. By the way, I was 12 when this went down and it was actually my mom who was driving. Just know -- I've hated Pennsylvania before it came fashionable to do so.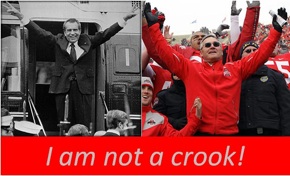 When I fantasized about casting Penn State's gutter-dwelling, cowardly fanbase out of the Big Ten, the only time I thought the Federal Justice Department would be involved included necrophilia charges centering on some sick abuse of Joe Paterno's corpse. (RIP Joe Paterno, who tragically was eaten alive by a pack of wild wasps in 2009.)
Sadly, the Federalés are now sniffing around an alleged cover-up of the Jerry Sandusky incident. I'm sure Penn State's fans/lawyers would argue something like "AW SHUCKS, it's just mere string of unfortunate coincidences over the course of nearly 15 years." I hope the judge shits on them when they do.
The Big Ten should not be associated with anything that is going to come out of this federal investigation into Penn State. Federal prosecutors, especially the one looking into Penn State, aren't known for games. So just know if Penn State catches a case, it's curtains for them. 
If Penn State had any dignity, they would have forfeited the rest of their 2011 season. They didn't. In fact, they hired another football coach and plan on fielding a team in 2012. I hope it doesn't take a Federal incitement to prove how disgusting this is. 
All Penn State players should be given their immediate and unconditional scholarship release and a stuffed Nittany Lion head should be mounted on the wall as a lesson to the next group of people who think "the brand" is more important than systematic child molestation. Trust me, Delany, you won't regret this one.
UNIVERSITY OF IOWA - What is the point of Iowa? Besides being behind the scheme of ethanol? Their basketball team belongs in the 1940's. Their football program has paid Kirk Ferentz MILLIONS OF DOLLARS. This is why I do my part, EVERY DAY, to contribute to global warming. That way, when the climates shift, Iowa won't be able to grow corn and it will become a modern day Dust Bowl. 
THE PROSPECTS

RUTGERS - ​Speaking of giving money to abominations of humanity, did you know Rutgers University once paid Snooki 32,000 dollars to speak at their prestigious university? Given Snooki is probably carrying the fetus of the Antichrist within her already bulbous stomach, I want nothing to do with the entire state of New Jersey, let alone their flagship "university".
What does Rutgers have besides one good year with Ray Rice? If Atlantic City had any balls and they legalized sports gambling, I might be willing to turn a blind eye, but New Jersey basically spawned a holocaust against American culture. Am I supposed to believe people in New York City's market will suddenly be interested in an Indiana-Purdue tilt just because the Big Ten signed fucking Rutgers? Because I won't.
Notre Dame - LOLOLOLOLOLOL. I just banged my head into my keyboard, and that's the sentence my thrashing produced, so that tells you how much a joke the idea of Notre Dame joining the Big Ten is to me. Let those obtuse moralists wallow away as an Independent just like their decaying fanbase and status in history. The fact a private university in Indiana with like 6,000 students has a big of fanbase as it does tells you what a bunch of front-runners people who associate with the program are. Some people like hanging out with front-runners. I don't.
Notre Dame had their chance to join La Midwestito Familia and they declined. It's only a one time offer. Sorry bout'cha, Irish.
And yes, Notre Dame. I've been to your shitty ass "cathedral of football". In fact, I took an official tour with a girl who was thinking of going school there. After eating your shitty, overpriced food in one of your shitty Hogwarts-styled dining halls, I convinced her not to go into financial debt to attend your overrated institution. She went to Stanford and now won't have to deal with a lacquered stick of wood lodged in her anal cavity for the rest of her life. 
I have been alive for 25 years, and Notre Dame seems to only be relevant because a bunch of white people over the age of 35 tell me they used to be mean something back in the day. Whatever. 
Georgia Tech - Hmmmm... that's in Georgia, right? *googles 'Which side of the war was Georgia on?', sees it was a member of the Confederacy, squints* Sorry, Tech. We ain't got no space in this league for losers.
University of Maryland - I was thinking of green-lighting this move, only then because "University of Minnesota" would no longer be the most prestigious "UM" in the conference. Then I realized they serve things like crabcakes in Maryland. Have you ever been to Maryland? That's all it is, a bunch of East Coasters pushing crabcakes and naval history on you. Plus, to get there, you'd have to drive through Pennsylvania. So sorry, Terps, looks like you'll have to keep your usually mediocre, sometimes over-achieving basketball team on the second best coast in America.
FINAL VERDICT

If Delany were to follow the judgments of this guide.... that would leave the Big Ten with.... *hits a few buttons on a T-89 calculator*... ten whole teams in the Big Ten, which would bring us back in line with history and common sense. If the Big Ten is forced to expand, then it might be time to deal with the likes of Minnesota, Northwestern and Purdue. 
The Big Ten should just be that, the Big Ten.