It's that time again and I'm not talking about March Madness. That's right it's time for another edition of the 11W Recruiting Mailbag.
The last time we met to answer your questions, most of the topics were focused around Michigan's hot recruiting start and how Urban Meyer would respond on the trail. While the response hasn't been fully delivered yet, this week we will continue to update you on what the Urbinator is doing to put together one of the nation's top classes in 2013.
In addition, we will also dive into some hoops recruiting as it appears March Madness has gotten the best of some of you and the hard court is on the mind. With William Buford definitely gone and Jared Sullinger and DeShaun Thomas having at least one foot out the door, what will Thad Matta do to replenish a program that has been at the top of the Big Ten since the Buckeyes' head coach arrived in Columbus in 2004?
The answers are here your you, the 11W faithful to read today, so please join us after the jump for the latest and best edition of the 11W Recruiting Mailbag.
Alex, anything new regarding basketball recruiting? With Buford being the only senior, does it make it difficult to extend offers not knowing whether a few more will open up when/if Sullinger and Thomas leave early?
There isn't anything new per se when it comes to basketball recruiting, but the buzz is definitely getting louder that Thad Matta is going to need to land at least one, if not two players in the 2012 recruiting class. It is certainly difficult to extend offers which is why you didn't see a whole bunch of targets for this group of players, but the list is expanding slowly and there have been some new names in the picture. I think at this point Thad needs to assume he is losing Buford and at the very least either Sully or Tank, meaning he will have two scholarships to work with for next season.
I second that I'm in need of a little basketball recruiting knowledge. I know we're going after Tony Parker (C) of Georgia. Is that our only legitimate offer for 2012? Also, can you drop a few names for 2013 basketball recruiting? I'm assuming that will be a little more active of a class.
Tony Parker is definitely the number one target on the board right now and it looks like this one is going to be an OSU, Kansas, Duke, and UCLA battle. I would be surprised if he went somewhere other than any of those four schools and it will be fun to watch how that one plays out. Along with Parker, F Amile Jefferson was the other big target on the board and has a final five of OSU, Duke, North Carolina State, Villanova, and Kentucky. It looks like NC State and Duke have the upper hand here and I do not expect Jefferson to be a Buckeye. A new name on the list is G Amedeo Della Valle who is an Italian native playing for Findlay Prep in Las Vegas. Della Valle could fill the void William Buford is leaving and has a top list of the Buckeyes, Texas A&M, Michigan, Gonzaga, and Arizona. 
As for 2013, F Marc Loving is already committed, but there are a lot of good players in the class with him and Thad Matta may want to bank some scholarships for next year. Players the Bucks have offered include SF Jabari Parker, PF Julius Randle, C BeeJay Anya, SF James Young, PF Malik Price-Martin, and PF Chris Walker. Obviously many more names can enter the fray in the next year, but keep an eye on some of those players.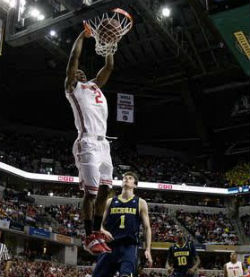 There are rumors that Jordan Sibert and/or JD Weatherspoon could be transferring. Are there any truth to those rumors and if either or both do leave, will we be short on manpower for next year?
I am not sure what Weatherspoon will do, but there are loud rumblings about Sibert. I guess we need to wait and see what happens, but for the sake of this, let's assume both leave, as well as Buford, Thomas, and Sullinger. I think Matta would be fine, even if he doesn't bring a single player into this class, as the roster will still have some depth and Matta's rotation is short any way. With this scenario you have Craft, Smith, Scott, Thompson, Williams, Ravenel, Ross, and McDonald back. Those are eight players who can contribute right there and Matta would be fine with that rotation, although I could easily see a JuCo player or a lower level recruit brought in for some extra depth in case OSU can't reel in one of their higher recruiting targets.
Which football recruits do you feel best about? Who do you see committing before the start of the season?
I would say I feel best about Shelton Gibson, Mike Heuerman and Courtney Love at this point. I think those three, along with potentially guys like Alex Anzalone, Malik Zaire, JT Barrett, Robert Foster, Josh McNeil, Joey Bosa, Ethan Pocic, Colin McGovern, Greg Webb, and a few others could commit to Ohio State or another school before the season starts. Obviously the Spring Game is always a big recruiting day for OSU so look out for the first wave to be about then and the second wave during or right after Friday Night Lights in July.
Last time you told us the difference between committable/non-committable offers, but how exactly does a coach present a non-committable offer without making it seem like they are the Buckeyes' second or third choice?  What do they tell the player and family?
Good question. They recruit the player that has a non-committable offer pretty aggressively and don't make them for a second feel like they are second fiddle. They may say something like "We want you at Ohio State, but want to see all the quarterbacks throw first before we finalize things" or "Hey Johnny we love your talents and feel we can utilize them at Ohio State. We'd love to have you come for a visit and check out our campus and facilities". Both of these things show positive vibes to recruits, but at the same time allow the staff to do some further evaluation or size the recruits up in person and get to know them a little better. There are over 80 offers out there but only 15-20 players will be Buckeyes. In today's world you kind of have to "offer" just to even get on some recruits' radars.
David Perkins tweeted that he ran a 4.2 something in track practice. Do you know what his previous times were and thoughts on what that will mean for him coming in?
I don't know David's previous 40 times, but I do know they were fast, like in the low 4.4's or even 4.3's. He is definitely a stud athlete who could have starred on either side of the ball and has the lateral speed and quickness Urban is looking for in his linebackers. The question for Perkins won't be can his athleticism translate to the college game, but rather can he grasp the mental part of the game and harness those physical abilities into production on the football field.
Why are so many of these Ohio kids committing early to TSUN? I thought Friday Night Lights was suppose to make these kids hold out and compete for spots? Are they feeling neglected or something?
Honestly the name of the game in recruiting today is early offers and in result, early commits. Michigan has built a great class so far and that class does include a lot of Ohio kids, but if you look at things closer there is only one Ohio kid in that class that fits what Urban Meyer is looking for and that is Dymonte Thomas. Deveon Smith is definitely a player Meyer wanted as he is the best back in Ohio, but there are national players higher than him on OSU's board. Jake Butt, Taco Charlton, Jaron Dukes, Mike McCray, and Gareon Conley are all very nice players, but they did not and were not going to get offers from the new staff. People have been worried about what Hoke has been able to do in Ohio, but keep in mind OSU will only take 10-12 kids from the state each year. The other hundred players that will go Division I are up for grabs and it's really the Illinois's, Michigan State's, Wisconsin's, Penn State's, Notre Dame's, etc. that are losing out here to UM, not Ohio State for the most part.
Is there still a chance of landing OT Laremy Tunsil or is he out of the picture?
He's not out of the picture, but I don't think Ohio State will land him. I'll be very surprised if Tunsil leaves the south, let alone the state of Florida. I think Ohio State will be fine though as guys like McGovern, Pocic, and Bivins all have the Bucks high on their list.
Have you heard which region Kerry Coombs will handle as far as his recruiting duties? 
I have not heard for sure but you can bet he will cover Cincinnati, and likely Indiana as well at the very least. Coombs is a stone cold killing recruiter in the 513 and you can expect that to pay dividends for Urban Meyer and the Buckeyes.
How many running backs do you see Urban taking? Do you still see Green as being the most likely candidate to be a Buckeye or has someone else such as Ezekiel Elliot become a stronger possibility?
I think OSU will take two running backs in this year's class. I think Derrick Green is still likely the guy and will fill more of a power role (although he has speed) and then they will bring in a smaller, faster type back to change the pace a bit. 
Alex, which safeties seem like possibilities for the 2013 class? It seems like Thomas was our only main high-profile target, and it seems less and less likely that he could be flipped every day. Will one of Woodard or Burrows move to safety? Will this be a high priority position for recruiting going forward?
The safeties currently on the board right now are Su'a Cravens, Dymonte Thomas (Michigan commit), Vonn Bell, Jayme Thompson (WVU commit), and Leon McQuay III. Thompson, while committed, could get an offer sometime this spring or summer and would definitely be someone to watch, while Cravens is supposed to take an official visit in the fall, Bell is supposed to visit sometime this spring or summer, and McQuay, who visited last fall, may take another visit to Columbus in the near future as well. Any of those players could be Buckeyes, but the picture will be more clear after each of those visits, if they happen. As for Thomas, DO NOT sleep on this one. I don't think it seems less likely day by day that he could be flipped, although UM's strong class certainly doesn't hurt. I think this one will be a Hoke-Meyer battle until the end and he could very well stay with Michigan, but I think the Bucks are more of a player than you think. As for Woodard he is definitely a corner, but I could see Burrows at safety. Finally, safety will may not be a "higher priority" under Meyer, but the quality and type of player he will recruit will be very different than the previous staff.