Bonjour mesdames et messieurs. Now that it's The Day After Mardi Gras Day, I hope everyone is recovering nicely from king cake, glitter shoes, "Indian Red"1, and the basketball team serving a cold dish of revenge once again.
And since hell hath no fury like Ohio State scorned, I suppose I wouldn't mind if they faced off against Michigan in the Big Ten Tournament.
As cathartic as it was to watch this team shoot well and handle their opponent in a way that allowed Matta to clear the bench, it also made me want to scream at them for the times when they underperform. At this point, I think the only predictable element about the Buckeyes is that if you put a Rubik's Cube in front of Aaron Craft, he'll solve it in under a minute.
Then again, last year's squad ran like clockwork, and they didn't make it past the Sweet Sixteen, so you never know what March will bring. Well, except for the return of awesome TV shows.
THE FAST AND THE FURIOUS2. Besides taking on the downward spiraling Illini, what else contributed to OSU's 65% shooting performance, their best since meeting VMI in November? In his postgame interview, Thad Matta told Bob Baptist, "We didn't do anything magical or anything like that. They just went down for us."
Of course, it's not that simple. Matta's bunch also played a more up-tempo game, and he added, "I thought our spacing and, overall, the angles that we wanted for the drives, those types of things were much, much better tonight."
One adjustment he made was substituting Shannon Scott, not Sam Thompson, for Lenzelle Smith Jr. during the first timeout. That move put Craft and Scott on the floor together and kept the contest going at a quick pace. Although the freshman PG missed on all of his five field goal attempts, he did tally four assists, three rebounds, and a steal in his 22 minutes. 
In turn, Matta replaced William Buford with Thompson, which gave the senior more rest than he has been getting during games. Weekday Buford responded with 17 points on 7/9 shooting. He also started for the 126th time, an Ohio State record he currently shares with Jamar Butler and Alex Davis, and one that he will own outright this Sunday against Wisconsin. Hopefully, Weekend Buford, the evil one who shoots 2/12, does not make an appearance on Senior Day. 
 IT'S ALL ABOUT THE GREATER GOOD (THE GREATER GOOD). Speaking of the WB3, he didn't attempt a FG until six and a half minutes into the game last night. Unlike against Michigan, he explained, "I was just trying to pass up good shots for great shots."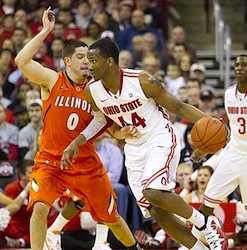 It was that improved shot selection that helped him account for such an efficient offensive performance, and it's what Mike DeCourcy of Sporting News calls "the most vital component of Ohio State's assault on another Big Ten championship and perhaps its first Final Four since 2007."
In some ways, its not a huge surprise that Buford the Good Witch showed up against Illinois. Earlier this week, both Chris and Jason covered his struggles versus ranked teams, something the deflated Illini haven't been for a while now.
However, if after 126 career starts, he finally learned his lesson that forcing shots rather than finding the open man is not the approach to winning, then the rest of the season could be special for the Scarlet and Gray. 
REPLY HAZY, TRY AGAIN. Breaking out the Magic Eight Ball, SI's Luke Winn takes a delightfully analytical look at eight national championship contenders.
While he notes that it's unlikely Ohio State will earn a #1 seed anymore (as they currently cling to a #2 seed), Winn lays out the reasoning for not overlooking the Buckeyes, and as just mentioned, Buford's the key:
But it's worthwhile to keep in mind that they still have the country's most efficient defense -- one that forces turnovers at a high rate, limits opponents to one shot and keeps fouling to a minimum. Jared Sullinger's offense is just as good as it was during his freshman year, and he's become a better all-around defender due to his weight loss. If William Buford heats up again, as should happen, Ohio State will be the scariest No. 2 seed since UCLA's loaded 2006 squad.
The two other Big Ten teams that Winn included were Michigan State and Michigan. Under the guidance of Izzo and senior Draymond Green, the rebounding-proficient Spartans have the tools for a run in March. As for Michigan, they also have a streaker shooter (Tim Hardaway Jr.) whose play could make-or-break the Wolverines, and their current resume bares a strong resemblance to UConn, last year's national title winner. 
Among the rest of the eight were both the usual suspects (Kentucky, Syracuse, North Carolina) and not (New Mexico, Wichita State). Despite their youth, Kentucky appears deserving of their #1 ranking. They had to rely on senior Darius Miller to lead a comeback last night versus Mississippi State, but UK still won 73-64, giving the Wildcats a 27-1 record. That lone loss came on a buzzer beater against Indiana. Unstoppable in late February means little, though, and I can only hope they meet the same tourney fate that they handed last year's #1 team. 
Notably absent from his list were Missouri, Kansas, and Duke. Each has characteristics, like Duke's struggle on defense, that caused Winn to believe they're ripe for getting upset when March Madness rolls around.  
BEST FRIENDS FOREVER (FOR SIX MONTHS). After leaving Tennessee for the younger and prettier USC two years ago, Lane Kiffin is still feeling the Vols' wrath. He has a way of getting under people's skin, as he did with Urban Meyer when he accused the then-Florida coach of cheating to try to land a recruit. Unsurprisingly, that did not go over well. 
Now that both are away from the cesspool that is the SEC, Kiffin told the Atlanta Journal-Constitution that it's water under the bridge:
"Yeah, I'm glad Urban and I are where we are in our relationship. When you're young, you make some mistakes. We've moved forward from that. Who would've guessed we are back at battling each other for recruits even though we're a long ways away? I have tremendous respect for what Urban Meyer does."
I imagine the two bros trade laughs about Brady Hoke's weight, Nick Saban's height, and Bret Bielema's repulsive pick-up lines. Then like frenemies4, they try to subtly one-up each other at all times. 
ONE STEP CLOSER TO KNOWING. Just like they will again today, a group consisting of 11 conference commissioners, Notre Dame AD Jack Swarbrick, two BCS officials, and a BCS lawyer gathered yesterday to confer about a playoff system. Since any changes wouldn't be implemented until 2014, nothing has been decided, but all indications point to a plus-one model taking effect then. 
Still, there's a lot to be discussed before anything is set in stone. Where and when to schedule the semifinals and finals are important issues, though most prefer the championship game to happen closer to New Year's Day, for both school and ratings purposes. How regular bowl games fit into the system is another question that will be debated at these meetings.
A four-team format, rather than one with eight or 16, appears to be in the cards. While that may not be ideal for many playoff proponents, it's at least progress. However, no one should expect a verdict on the matter for at least a few months. 
YOU MIGHT LINK I'M CRAZY. It's the best time of the year for Ohio State wrestlers... Binghamtom finally got a win... The Danny O'Brien case... The full title sequence of Breaking Bad... Have you gotten your "cut it out" fill of the day yet?... Who doesn't miss the 90s?... Maddie the Dog likes to take a stand... The teacher must be a dog person... What happens in the shower.