Good morning Buckeye faithful and welcome to your Tuesday Skull Session.
All the things that could be said about the horrors of the Chardon school shootings have been said already. I am certainly not alone when I write that my thoughts and prayers are with the victims, their families, and the community as a whole.
Ohio State University as a community, all 60,000 students at all levels, and its alumni need to rally around this community. By going to OSU or having any sense of connection with the school, there should be a connection to the state of Ohio and its residents.
For people like me who have known Ohio as home from birth, and to those who have adopted Ohio as a second home through Ohio State, we must never forget what happened yesterday.
I know that the Ohio State community is thinking of all those feeling the effects of the shootings, and I can only hope the healing process begins sooner rather than later for Chardon, Ohio.
WHAT'S HAPPENING TO US? ESPN's Eamonn Brennan wrote an article simply entitled: "What happened to Ohio State?"
Brennan mentions what many have been speculating about this team for a while now: This team has no outside game and William Buford is playing horribly when it matters most. We all know it's clear that the Buckeyes miss John Diebler's touch from behind the arch, but Brennan discusses how chemistry and coaching issues could be playing a role as well in OSU's poor play.
Brennan cites Elevenwarriors' Monday Skull Session when he discusses how Thad Matta was forced to kick his team out of practice last Saturday due to lack of effort. He also goes on to question whether the Buckeyes' lack of upper classmen leadership is a factor for the team.
However, as Brennan points out later on, the team's source of frustration mainly stems from their offensive woes. Yes, it's obvious this team has issues off the court that need to be worked out, but the best solution is for this team is to win and play well. It also wouldn't hurt to focus a little bit more on offense.
Thad Matta has not lost his team and there is still time to turn things around. It seems that people forget that Ohio State is playing in arguably the best conference in college basketball and that they are still one of the best teams in the country. It's better that they are having these problems emerge now before the NCAA tournament so that they still have time to turn things around.
Have faith, Buckeye nation, it's not over yet.
BLAST FROM THE PAST. If there is one Ohio State player I miss more than any other, I think it has to be Ron Lewis. His last second shot to tie Xavier in the NCAA tournament in 2007 still gives me goose bumps to this day.
While he is still remembered amongst true fans of Ohio State, it's hard to keep track of where he is nowadays. Today, Ron Lewis plays for Hapoel Holon in Israel. He is playing the best of any Buckeye overseas, averaging 19.5 points, 4.5 rebounds, and 3.9 assists, according to Brandon Castel of The-Ozone.net.
Just last night, Lewis was rewarded the opportunity to participate in the Lotto league's all-star 2012 three point contest. It appears as though the talented player from years ago is making his mark overseas and is impressing many. Hopefully one day he gets a chance to play in the NBA because I'd love to see such a great Buckeye's hard work rewarded.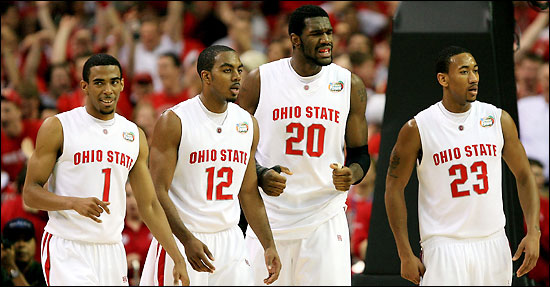 SMALL ARRESTED. Former Ohio State player Ray Small was arrested yesterday evening on a number of charges.
According to police, Small was arrested after being caught in possession of "243 pills believed to be Oxycontin, an undisclosed amount of suspected heroin, some hand-rolled marijuana cigarettes and a loaded 25 caliber pistol."
This isn't Small's first brush with the law as he was also arrested for a misdemeanor of driving on a suspended license in 2007 when he was still with the football program. Small also made headlines by telling The Lantern in an interview about players selling their memorabilia.  "They have a lot (of dirt) on everybody," Small said, "cause everybody was doing it."
Something tells me this recent hit for Small will be much harder to get up from than this one.
BUCKEYE HOOPS. Down goes Ohio State with their recent loss at home to Wisconsin in this week's coaches poll. Ohio State came in at #11 as we near the end of the regular season.
The top five featured #1 Kentucky, #2 Syracuse, #3 Duke, #4 Kansas, and #5 Michigan State. This week, Ohio State will play Northwestern on the road on Wednesday and will cap off the season on Sunday in East Lansing against Michigan State.
This will be a very important week if the Buckeyes hope to gain some momentum before the Big Ten tournament. The Big Ten tournament will begin for OSU on March 8 in Indianapolis.
LOS LINKS. Bo Ryan making me dislike Bo Ryan even more... Samantha Prahalis wins a big honor... What is going on with Davonte Neal... Like NFL like NCAA... Temple all in on the Big East.