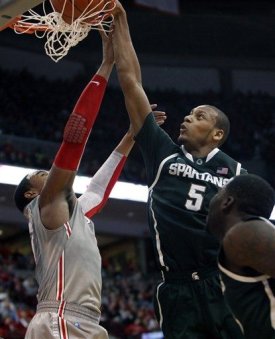 In an MMA fight disguised as a B1G basketball game, Ohio State couldn't overcome cold shooting and a lack of composure as Michigan State used decisive runs in each half to runaway from the Buckeyes 58-48 this afternoon in the Schott. 
Jared Sullinger played arguably his worst game as a Buckeye posting a triple double that read 17 points on 5/15 from the floor with 16 boards along with a carer high 10 turnovers. He failed to control his emotions resulting in continuous frustrated lunges at the basket leading to numerous empty possessions triggering breakouts at the other end of the floor. Even with the 16 rips, Sully was far from effective at the defensive end as Adreian Payne went for 15 points on 6/6 from the field. 
Deshaun Thomas and William Buford were even worse. Thomas was abused by Draymond Green (12 pts, 9 reb), particularly in the 1st half, and scored just eight points himself as he hoisted an array of poor shots making just 2/12 on the night. Buford posted his own 2/12 shooting night (4 pts) with three turnovers in a dreadfully freshman-like 36 minutes of basketball. 
Aaron Craft was the only Buckeye to show up scoring 15 points propped by 8/8 from the stripe with just one turnover in 40 minutes though Keith Appling scored 14 for Sparty in the head to head matchup. 
The Buckeyes shot 26% from the field as the Big Three combined to miss 30 of 39 shots (23%). Sparty hit just 40% on the night but it was more than enough as they hit seven more FG's than OSU and punished them in the paint posting a 30-12 edge. 
The 26% shooting effort was Ohio State's worst at home in 15 seasons. 
In their biggest hole of the night at 41-29 with 15:42 to play, Ohio State went on an 11-3 run capped by back to back buckets from Sully including a pretty twine-tickling 16 foot fadeaway jumper with 6:01 to play.
Thoughts of a comeback were brief however as Sparty closed the game on a 14-8 run to provide the final margin.
It was six minutes of suck to be sure as Ohio State shot 2/10 with three turnovers (Sully 2) while allowing Sparty to hit 3/3 from the field while sending them to the line 10 times - they made eight - to seal the deal. The run started with both Thomas and Buford on the pine. I'm sure some will disagree knowing how bad DT and WB were but when you consider the lack of punch from any reserve on the squad, I don't know how Thad can ever have any two of the Sully, Thomas, Buford, Craft combo on the bench. 
Ohio State made just 14 field goals on the night and shot 2/15 from distance. 
A spin move from Sullinger put OSU up 9-4 at 15:16 of the first half but MSU responded with an 18-5 run to take a 22-14 lead with 7:32 remaining. The Buckeyes went stone cold during the run missing seven straight shots over an eight minute stretch while Green abused Thomas for nine points. Sparty's success in the paint was the story early as Payne and Green recorded the green and white's first 15 points. 
The Bucks closed to 22-19 following a triple from Sully but continued poor interior defense and too much whining to the officials (yes, they were awful) helped MSU close with a 13-6 run to take a 35-25 lead ath intermission as OSU mustered two field goals over the final six minutes.
Sully's frustation was on full display in the opening 20 minutes and Payne took full advantage hitting 5/5 from the field while Sparty turned eight OSU turnovers - five by Sully - into 14 points. 
Ohio State shot 33% in the opening half (7/21) meaning they shot a bricktacular 7/32 in the 2nd (22%). 
While the cold shooting was tough to watch, the complete lack of composure and poor decision making for long stretches was even worse. Teams are allowed to have a bad outing but this felt like it was a level worse than that. 
The loss dropped OSU (21-4) into a tie for first place (9-3) in conference with six regular season games remaining.
Before I go, a quick word on Dan Dakich. I read lots of hate on twitter and in the comments about him and I just don't get it. No question it's a matter of taste when it comes to color commentary but I think he's just about as good as it gets these days. Sometimes I wonder if fans just don't like a guy telling the truth when the truth hurts. I won't say I agree with everything he says but he was on point numerous times today. 
He called out Valentine at least twice for unnecesary theatrics including that ridiculous sideline warning and even went so far as to say Rick Boyages (former OSU coach now in charge of B1G officials) should put a stop to it. He correctly called out Thomas for poor shots and even worse effort on the defensive end as Green tore him up during the 1st half run. He correctly asserted Sully needs to quit bringing the ball down below his waist as he collects himself to go back up, allowing guards to reach in and take the ball. For the haters, I must ask, who would you prefer instead?