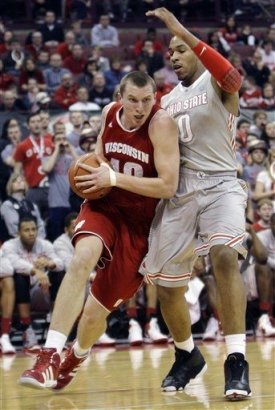 In a game that featured 21 lead changes, the Buckeyes simply couldn't get out of their own way continuously shooting themselves in the foot with turnovers, horrible defensive rotations and pathetic free throw shooting culminating in a final minute choke job and a 63-60 loss to Wisconsin this afternoon on Senior Day in the Schott. 
After Jared Sullinger used a silky low block spin move to give Ohio State a 59-58 lead with :45 left, he inexplicably failed to rotate back over Jared Berggren, who had set a high ball screen for Jordan Taylor, allowing the Wisconsin point guard to find the wide open Berggren for the go-ahead three pointer. Sully never got within eight feet of the shooter putting OSU in a 61-59 hole with :31 to play. 
After Matta called timeout to set up a play, Deshaun Thomas got in on the brainfart act by shooting a double-clutched triple from the top of the key with :16 left forcing the Buckeyes to foul Berggren who promptly did something the Buckeyes couldn't do by burying two free throws essentially ending the game a Wisconsin held a 63-59 lead with :14 left. The Buckeyes got off a few shots before Craft eventually hit a free thow but it was all semantics as the horn finally sounded on a game the Buckeyes gave away. 
Ohio State appeared to take control after a 9-0 run gave them a 50-42 lead with 8:12 to play behind a Sully putback, an and-1 and two free throws from William Buford and a short pull up jumper in the lane from Craft but Wisconsin responded with a 12-3 spurt to take a 54-53 lead with 2:53 left in regulation. Ohio State aided the run with a blown layup from Sully as he suffered a calf injury, another blown layup from Craft on an otherwise strong drive down the middle and a brick followed by a charge from Buford. 
The Buckeyes got off the mat as Thomas hit a tough bunny off a look from Sully as he fell out of bounds to reclaim the lead at 55-54 but Sully again lost Berggren in the lane for an easy dunk and a 56-55 lead. Craft dropped in another layup on the ensuing possession for a 57-56 Buckeye lead but after Ryan Evans botched the front end of a one and one at the other end, Craft immediately returned the favor failing to convert two free throws of his own. Compounding his lack of clutch, Craft unnecessarily fouled Taylor at the other end and Taylor hit both to put Wisky in front 58-57 with 1:03 to play setting up Sully's spin move before the wheels came off in the final 45 seconds. 
Failing to take advantage of being in the bonus with 11:44 left in the game - and in the double bonus over the final six minutes - OSU shot a ridiculous 8/16 from the line in the 2nd half and 10/19 overall (53%). 
Forgetting his poor decision to launch the double clutched three pointer, Thomas was a beast scoring 23 points with seven boards while holding Evans to 5/17 from the floor (10 pts). His efforts almost helped OSU overcome Sullinger's virtual no show of eight points (4/10) and six boards in 33 minutes. Beyond his lack of offensive production, it was his defensive breakdowns that loomed large in defeat. 
Playing his final game in the Schott, Buford had another up and down day with 15 points and nine boards against three turnovers. He did most of his good work in the 1st half registering 10 points and seven boards, teaming with Thomas (13 pts, 6/8 FG) to offset Sullinger's pedestrian four point (2/3), three rebound effort. 
Behind Thomas, the Buckeyes were on fire early hitting 11 of their first 15 shots (73%) but couldn't build a sizeable lead thanks to turnovers and late cold shooting. After a Craft leak out gave OSU a 24-19 lead with 8:12 left in the half, the Buckeyes limped to the locker room tied at 29 thanks to 1/7 shooting with five turnovers. 
Matta actually used the bench a bit in the opening 20 minutes giving Shannon Scott and Sam Thompson a combined 15 minutes but they failed to deliver recording a combined 0 points on 0/3 shooting with four turnovers and no rebounds. For the game, the bench scored one point in 32 minutes. Sweet. Scott was particularly awful with a couple turnovers and four fouls as he failed miserably in trying to stay in front of Taylor. 
Craft scored 13 points on 6/10 shooting with three assists and two turnovers. 
Berggren dominated Sully with 18 points on 6/13 shooting and Taylor added 19 on 6/8 from the floor and 6/7 from the line. 
After shooting 55% in the 1st half, the Buckeyes shot only 41% in the 2nd (11/27) compounded by the noted 8/16 from the stripe. 
The loss gives Michigan State at least a share of the regular season conference title and drops OSU to 11-5 in league play. 
Next up for the Buckeyes, a trip to Evanston to take on Northwestern at 8:30pm Wednesday night.