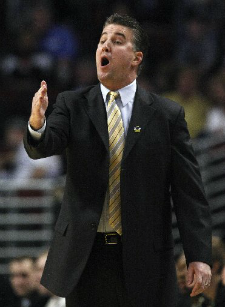 After getting Thad his first win in Madison on Saturday, the Buckeyes sit alone atop the B1G standings, as they welcome in a struggling Purdue team. The Boilers have won just two of their last six, while Ohio State is riding a five game winning streak.
The two schools have split their series in each of the last four seasons, but Ohio State blew the doors off Purdue last year in Columbus, 87-64, as the team shot 55% and six players scored in double digits. Tonight is the lone meeting this year.
If you're a big fan of college hoops (I'm looking at you D.J.), then this week is for you. This game is preceded by #7 Florida at #1 UK, Wednesday has #11 G'Town at #2 Syracuse, #10 Kansas at #6 Baylor and #9 Duke at #5 UNC, leading up to Saturday, when #12 Sparty comes to Columbus and Baylor travels to #4 Mizzou.  
| # | Name | YR | HT/WT | PTS | REB | ASST | P | # | Name | YR | HT/WT | PTS | REB | ASST |
| --- | --- | --- | --- | --- | --- | --- | --- | --- | --- | --- | --- | --- | --- | --- |
| 4 | A. Craft | SO | 6-2/190 | 7.9 | 3.0 | 4.9 | G | 23 | L. Jackson | JR | 5-9/165 | 9.9 | 3.2 | 3.9 |
| 32 | L. Smith, Jr. | SO | 6-4/205 | 6.2 | 4.7 | 2.0 | G | 24 | R. Smith | SR | 6-3/189 | 9.3 | 2.8 | 1.1 |
| 44 | W. Buford | SR | 6-6/220 | 14.9 | 4.7 | 3.2 | F | 0 | T. Johnson | SO | 6-2/207 | 7.4 | 3.2 | 1.7 |
| 1 | D. Thomas | SO | 6-7/225 | 14.7 | 4.4 | 1.0 | F | 21 | D.J. Byrd | JR | 6-5/234 | 6.5 | 1.5 | 0.7 |
| 0 | J. Sullinger | SO | 6-9/265 | 17.4 | 9.1 | 1.0 | C | 4 | R. Hummel | SR | 6-8/215 | 15.2 | 6.2 | 1.8 |
Opponent
This is definitely a different type of season for Matt Painter. Robbie Hummel is still around, but JuJuan Johnson and E'Twan Moore are gone, leaving him with a team that doesn't have too many scorers and their overall team defense is not up to the usual Painter standard.
Purdue comes into the game giving up 68.5 PPG during conference play, which ranks them eighth, while scoring 65.6 PPG themselves. They rank last in the B1G in defensive FG (46.6), defense of the three-ball (39.9) and rebounding margin (-5.4), which is complete opposite of what we've seen over the past four years.
The Boilers still do a great job of taking care of the rock, sitting second in the nation (behind Whisky) in fewest TO's per game, at 9.1, which has been even lower in conference games at 8.4. Purdue has a total of 17 TO's over the last three games.
As a team, the Boilers are shooting 41% from the floor in league games, which is slightly below their season average of 42.9%. They don't fare any better from deep, where their 32.8% in league games has them eighth, though they do make almost seven a game, while their 64.9% from the line has them last.
As you can see, there is really only one scoring threat on this team, so if Ohio State can shut Hummel down tonight, they are going to win the game. Hummel has attempted 313 shots thus far, with the next Boiler, Lewis Jackson at 167. We all know Hummel can torch a team at anytime though, we saw it back in 2010, when he dropped 29 on the Buckeyes in the first half.
However, this year, Hummel is shooting just 39% overall from the floor, 34.4% from deep and hasn't scored more than 17 points in any B1G game. His shooting percentage is the lowest amongst the Purdue regulars and it will be interesting to see if Matta chooses to put Buford or Thomas against him tonight.
Painter has switched his starting lineup around the last couple of games and has no problems going about nine deep, with Kelsey Barlow and Travis Carroll getting most of the time off the bench or even the start. Barlow, a 6'5" JR. has started 19 games this year, dropping in eight PPG, to go along with four boards. Carroll, a 6'9" SO. has earned 11 starts thus far, but only scores about three points and snags three boards per game.
Anthony Johnson and Jacob Lawson, both freshmen, may also get some time, as they combine for just over eight points and almost 5 boards a game.
Painter always seems to have a defensive wrinkle he throws at Ohio State and with no one over 6'9", I can't imagine him trying to play Sully straight up. Don't be surprised is you see a triangle-2 or some type of zone tonight from the Boilers. If they play man, I would imagine they will double Sullinger and take their chances with the Buckeyes hitting the outside shot.
Buckeye Breakdown:
This is a big week for the Buckeyes. They should win tonight and if they can pull out another victory on Saturday, they will have a two game lead with six to play. Thad's squad is coming together on defense, not giving up more than 54 points in any of the last four games. They now lead the conference, allowing just 55.7 PPG in B1G play, while scoring 73.7 PPG.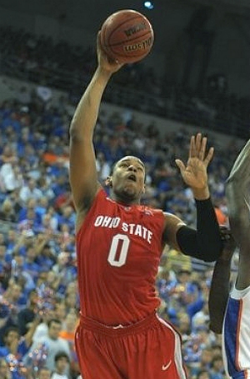 OSU is holding opponents to 37.8% from the floor in conference play, which now leads the league and they haven't allowed a team to hit more than 33% from deep during their five game winning streak. As a team, Ohio State sits .1% behind MSU at 48.3% from the floor and they are holding steady at 33.6% from 3-land, which is slightly better than their overall season average.
There has been some recent improvement at the FT line of late, where the Buckeyes have made over 80% their last two games, hitting 15/18 against Michigan and 13/16 in Madison.
As I mentioned, Painter will throw something at the Buckeyes tonight, but I still think Sullinger continues his hot streak and has a big game. He was named B1G POW for the sixth time, after his 24/10 dub-dub against Wisconsin, which gives him an average of 19/9 over the last three.
This is the time of year we are going to see the benefit of Sully's offseason weight loss. The only knock I still have on Sullinger is his lack of intensity sometimes guarding the high pick and roll. He seems to get lost sometimes or doesn't hedge out hard enough, which has allowed for some easy buckets in the paint. It doesn't happen too often, but as the season winds down, it can't happen at all if OSU is going to make a deep tourney run.
The other scoring option of DeShaun Thomas will be key tonight. If the Boilers are going to double Sullinger, Thomas needs to take advantage of his 6'7" frame and get down on the blocks. Thomas has a knack for finding the ball on the offensive glass, but his game is more smooth if he gets some early buckets in the paint.
I would love to see him use his aggressiveness to draw some early fouls and get to the line. The Tank has had only one game in conference play where he has scored more than 20 points and I don't think there is a player on Purdue's roster that can guard him.
It would be great to see Ohio State come out of the gates like they did last year against the Boilers at home, so Thad can use his bench more tonight. There was little doubt he was going to shorten it against Whisky, but Thompson, Ravenel and Scott all need to get some quality PT tonight. Thompson has just eight points over his last six games, while Shannon Scott has just four over that span. Ravenel has scored, but has played double digit minutes in just two of his last seven games. Plus we haven't seen a J.D. Weatherspoon rim-rattler for weeks now.
Ohio State is simply a better team than Purdue and should be able to take advantage of their height tonight. Purdue can keep it close with some triples or if their defense confuses the Bucks, but once again, there is too much fire power on Thad's squad and that talent should prevail tonight by double digits.
Etc
The Buckeyes are 69-7 over their last 76.
Ohio State is 195-5 when leading with 5:00 to play under Matta, including all 20 times this year.