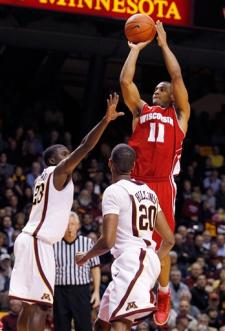 What will it take for Ohio State to win a weekend basketball game? We'll find out as the Buckeyes welcome in the Wisconsin Badgers for the home season finale. After today, OSU will be embarking on road trips to Northwestern and Michigan State to close out the regular season. 
In order to break the bad streak that the Buckeyes have been experiencing on weekend games, I've decided to do things a little differently in this preview. I hereby pledge to not mention some of the things that have been standard fare for the past few weeks. So today I'm not going to mention: 1. Coach Matta's use of the bench (or lack thereof), 2. Jared Sullinger's defense against ball screens (or lack thereof), or 3. William Buford's shooting.
Ohio State leads the all-time series with Wisconsin 83-65, with a dominating 52-21 record in Columbus. The Buckeyes defeated the Badgers at the Kohl Center in Madison back on 2/4 by a score of 58-52. Last season in Columbus, OSU dismantled Wisky in the "Deal with it" game, 93-65, setting multiple 3-point shooting records along the way (14/15 made for 93.3%).
| # | Name | YR | HT/WT | PTS | REB | ASST | P | # | Name | YR | HT/WT | PTS | REB | ASST |
| --- | --- | --- | --- | --- | --- | --- | --- | --- | --- | --- | --- | --- | --- | --- |
| 4 | A. Craft | SO | 6-2/190 | 8.3 | 2.9 | 4.6 | G | 11 | J. Taylor | SR | 6-1/195 | 14.1 | 3.8 | 4.2 |
| 32 | L. Smith Jr. | SO | 6-4/205 | 6.0 | 4.7 | 2.1 | G | 21 | J. Gasser | SO | 6-3/190 | 7.9 | 4.4 | 2.0 |
| 44 | W. Buford | SR | 6-6/220 | 15.1 | 4.8 | 3.0 | F | 5 | R. Evans | JR | 6-6/210 | 10.7 | 6.9 | 1.6 |
| 1 | D. Thomas | SO | 6-7/225 | 14.8 | 4.7 | 0.8 | F | 31 | M. Bruesewitz | JR | 6-6/222 | 6.4 | 5.4 | 1.6 |
| 0 | J. Sullinger | SO | 6-9/265 | 17.2 | 9.0 | 1.0 | C | 40 | J. Berggren | JR | 6-10/235 | 10.3 | 4.9 | 0.6 |
Opponent
Much like last season, Jordan Taylor is still the heart and soul of this Wisconsin team, this season even more after the departure of Jon Leuer. Nevertheless, Taylor's stats are down this season from last year, perhaps due to teams paying him more attention in the absence of Leuer. Taylor is currently scoring 14.1 points per game, down from 18.1 last season, and is shooting only 33.6% from 3-point range, which might explain the drop in points. Last season, he shot an outstanding 42.9% from distance.
Taylor is not the only Badger that is struggling. The team as a whole is shooting a tepid 35.7% from beyond the arc, a fatal flaw for a team without a dominating post player. Still, the team has managed to win 20 games this season, including 9 in the tough B1G. In fact, aside from two bizarre losses to unranked Iowa, UW has lost only 6 games this season and all of them were against ranked teams. 
Wisconsin is currently ranked #15 in the coaches poll (#16 AP), but they are ranked #9 in Sagarin's ratings and #7 in KenPom (Ohio State is #2 in both). So how does a team that is shooting only 42.7% on the season get ranked so highly by the experts? In a word: defense. The Badgers are numero uno in the Big Ten in scoring defense, FG% defense, and 3-point FG% defense. They are also 3rd in the conference in turnover margin and 4th in assist/turnover ratio. 
The Badgers give up an average of only 50.3 points per game, which is 6 points better than the 2nd best defense (Ohio State). How do they do it? Using a very physical style that emphasizes initiating contact early and establishing position with your feet. They tend to attack the low post with low contact and bodying up in order to avoid getting called for fouls. Bo Ryan understands that the refs are looking for contact on the hands/arms mostly, and they tend to ignore body contact on shots, especially down in the paint. 
Wisconsin is also very disciplined on offense, often passing it around so much that they don't shoot until the shot clock is at less than 10 seconds. This patience has two positive effects for their defense: 1. it allows their post players to get set up down low where they can get in good position for offensive rebounds, and 2. it reduces the possibility of transition baskets because the guards are already heading down the court on defense. Thus, teams will play mostly half-court offense against them, and this reduces the opposing team's shooting percentage. 
Buckeye Breakdown:
Because of these factors, most players absolutely hate playing against Wisconsin. But if there's one guy who loves to see the Badgers it's Jared Sullinger. The OSU center is averaging 21.7 points and 10.0 rebounds per game in his three games vs. Wisconsin. Sullinger was a beast in Madison earlier this season, playing all 40 minutes and scoring 24 of OSU's 52 points. The Buckeyes seemed to make a concerted effort to get him the ball in the paint and he made the most of it.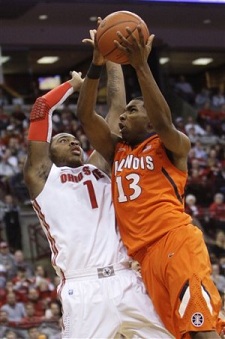 Will Sully see more double-teams this time around? I would bet on it. Michigan State and Michigan showed that the best way to defend OSU's high-percentage offense is to pack it in down low and force the Buckeye perimeter players to beat you. Against the Spartans and the Wolverines, Ohio State's guards and forwards were impatient and too often settled for well-defended shots early in the shot clock. 
One thing that I mentioned in last Saturday's preview was the need to move the ball around better, and it is still the key to success on offense. Tuesday night against Illinois, the Buckeyes were much more patient and it paid off big-time. Granted, the Illini are reeling at the moment, but the kind of shooting we saw from OSU on Tuesday was outstanding regardless of the opponent. The team came out serious in warm-ups (according to analyst Dan Dakich) and got off to a hot start. Something similar today will be a great boost to Ohio State's chances.
Defense will also be important, especially considering how patient Wisconsin always is. Bo Ryan's swing offense emphasizes getting the ball down into the low post, but lacking a great low-post player like they do, the screening action to free up perimeter shots will be their most deadly weapon today. OSU's defenders will have to switch quickly and communicate extremely well or they will be caught up and picked frequently, and this will lead to wide open looks for the likes of Taylor.
Another key will be Deshaun Thomas defending against Mike Bruesewitz. The freckle-faced junior averages only 6.4 points per game and is currently shooting only 40% from the field. But he has scored in double-figures in 2 of his last 3 games against Ohio State, making 3/8 triples in that stretch. Keeping this below-average shooter from contributing anything of substance will go a long way toward shutting down Wisconsin and securing a victory at home today.
Etc
On Thursday it was announced that Aaron Craft had made the Capital One First Team Academic All-American list, the first Buckeye hoopster to do so since Bill Hosket way back in 1968.
Craft is also a semi-finalist for the Bob Cousy Award, which honors the nation's top point guard. The list will be narrowed to 5 finalists by March 1.
The game will be nationally televised on CBS with Tim Brando handling play-by-play and former Duke center Mike Gminski doing analysis.