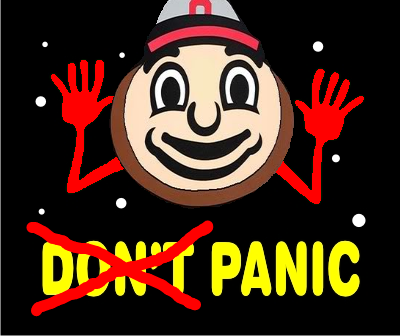 Last month I wrote a story about how the last month of the regular season would be make or break time for the Ohio State men's basketball team; most of my gloom and doom predictions were based on a lack of scoring (a problem that hasn't gone away), but also OSUs inability to win tough games on the road against top 25 teams.
In retrospect, even though it remains a possibility, saying that the Buckeyes could lose "anywhere up to six" games in their last month of play was more than a little hyperbolic. As of now Ohio State is still one of the best teams in the best conference in the nation. What is worrying, however, is that in addition to the concerns that many had about this team a month ago, several new issues have arisen that cast significant doubt as to whether this team is equipped to make any noise in the NCAA tournament.
To make things worse, what was once a surefire #1 seed is now staring down a 3 or even 4 seed depending on the outcome of the end of the regular season and the B1G tourney. An early exit in either that or the NCAAs would be incredibly disappointing for a team that looked like legitimate national title contenders in November and December. Today I'm going to take a look at what seems to be the biggest problems facing Ohio State, and what (if anything) can be done about them.
In last week's Dubcast, Luke and I discussed potential locker room/chemistry issues with the team. I was of the opinion that it was less a chemistry issue and more a leadership issue; Luke was less convinced, and as usual he seems to be the more perceptive of our dynamic duo. Personally I hate trying to read locker room tea leaves when usually the only exposure to team chemistry fans get are the 40 minutes or so per game that we see a few times a week, but this interview that Lenzelle Smith, Jr. gave to Adam Neft on 97.1 The Fan was eye-opening:
It's all pretty interesting, but the most relevant section begins at about 4 minutes in, where Lenzelle talks about how the team is less close than it was last year, and how that can negatively effect the team at times. Intimating that the team isn't playing "for each other" is incredibly discouraging, especially at this point in the season. It signifies a team that is regressing and struggling to deal with both the expectations that were placed upon them and a tougher regular season schedule.
What's even more discouraging is that this interview was conducted on February 17th, a day before the Michigan loss.
This isn't the only sign of dissension in the ranks. Twitter is admittedly the silliest barometer of team attitude or cohesion that one could come up with, and repeated calls from J.D. Weatherspoon for more playing time might not represent the worst possible public temper tantrum possible, but that combined with comments from Sully that the team has looked like "spoiled brats" at times by arguing both with refs and each other is disheartening at best.
The stats play this out. William Buford has been the target of a lot of scorn because of his performances in losses against Michigan and Michigan State (5/24 from the field combined, holy crap), but the truth of the matter is that aside from one great performance by Deshaun Thomas, as a team the Buckeyes have shot very poorly. For instance, in three games against ranked teams this month, Aaron Craft has gone 5/18 from the floor. "No big deal," you might be saying, "Craft is a 4th option at best on offense." And I agree! Which is why it's insane that he's even being looked upon as a source of points.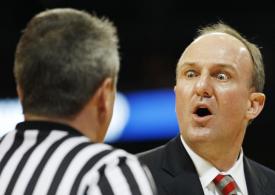 Most of this is attributable to OSU simply not having any perimeter shooters. Jared freaking Sullinger has the best 3 point shooting percentage on the team, and even Lenzelle has a higher percentage than Buford, who's attempted nearly 30 more threes than anybody else. If you had told me four years ago that Jon Diebler would be the missing component holding OSU back, I would've laughed in your face. Now, not so much.
Ohio State is also making only 32.5% of their threes, which ranks a Droopy Dogesque 241st in the country. This wouldn't be a huge problem if the Buckeyes were more consistent about feeding Sully on the inside, but for whatever reason Buford is still taking a higher percentage of shots than anyone else (over 27% of the team's total).
What's most frustrating about all of this is that underneath some very obvious flaws there is still a very talented team here; Ken Pomeroy still has them ranked as the second best team in the country, likely on the strength of his estimation of OSU having a top-ranked defense combined with a very difficult Big Ten schedule. And it should be pointed out that OSU's defense does remain solid. They've allowed 60 points or more in only ten of their games this year, and three of those were in blowout wins against VMI, Duke, and Indiana.
So offense is the issue, and a lot of this has to fall on Thad Matta. Certain elements of his gameplans, like not making sure that Sully is being fed in the paint or allowing guys like Buford and Thomas to rely on brute force poor shot selection, are things that should be easily fixable but clearly haven't yet improved. Spoony, though he's probably 3rd or 4th in terms of bench players who'll see minutes, has a point. Matta is famous for playing with an extremely short bench, but his reluctance to rely on those players for crucial minutes has now created a situation where teams know exactly how to defend OSU 90% of the time. There's no real variance on the court; there's always one consistent inside player (Sully), two perimeter shooters, one of whom might literally be a double agent for the rest of the Big Ten, and two other guys who teams are content to assume won't have an impact offensively. Taking away Sully by double or triple teaming him in the paint and fooling Buford into taking 18 foot shots doesn't work every time, but when it does, it works very well indeed.
I'm not sure how to solve any potential team chemistry issues; that's probably due to a combination of an overall lack of senior leadership and a very young team, and won't be solved overnight. Offensively though, Matta must find ways to get Sully as many touches as possible inside, while also using guys like Amir Williams (6-11) and Sam Thompson (6-7) to extend the court somewhat with their length.
Jared Sullinger is an incredible player, and it's not fun to imagine what this team would've looked like had he not decided to come back for his sophomore season. Still, his NCAA ride will come to a disappointing and early end unless Ohio State begins to address some of the glaring issues facing them, and it starts tonight against Illinois.