Happy Friday everyone, and welcome to your morning Skull Session! I'm back on Skullys for a one week engagement! You may resume your grim sharpening of bayonets and polishing of barrels (not that it will do you any good since in my time away from doing these I have evolved a rock hard carapace and heat vision)!
Apparently the last one of these that I did was 26 weeks ago, and in that time I have honed my considerable talent for making fart jokes and self-deprecating references to people in the Midwest being fat into a finely tuned comedy machine capable of turning the world on its' ear with even more fart jokes and pointed references that very specifically point out the largesse of one Brady Hoke.
Plus, look at all the material I've been given! Nevin Shapiro, JaVale McGee, that one photo of Nick Saban somehow resisting the urge to stand on his toes in the SEC coaches' picture, William Buford's deeply ingrained phobia of Saturdays; I mean really, the sky is the limit. The world has provided for me a virtual cornucopia of subjects to choose from and amuse you with, so sit back and relax as I blow your tiny little brains through the back of your craniums as you read some of the most engrossing and talked-about issues in sports today.
Let's start with women's basketball.
SAMANTHA PRAHALIS IS THE BEST And I mean this literally. Well not literally, I don't really know what literally being the best would entail, since "best" is such an amorphous concept for anything requiring quantitative analysis. But in any case, Sammy P took it upon herself to score 42 points last night in a 81-56 victory against Minnesota at the Schott, setting the OSU women's basketball record for points in a game, last held by Katie Smith. Prahalis has been consistently one of the most exciting women's basketball players in the Big Ten during her four years on the team by way of her passing skills, and it's appropriate that she chose her final home game to put on her biggest show.
After her twin accomplishments of breaking an 18 year old record and surviving the douche-chillingest interview ever, Prahalis is poised to lead OSU to a deep run in March. We'll be watching, because after last night, we've got no choice not to. Thnaks for everything, Sammy.
SPEAKING OF MARCH CBS released their selection of announcers for the men's tournament, and that horrible feeling in the pit of your stomach as you frantically search for the name GUS JOHNSON on the list will not be relieved because in case you forgot, he's with the BTN and Fox now. Instead, CBS decided to punish us for our hubris by pairing up Verne Lundquist and Bill Raftery, who are all but confirmed to be covering Ohio State games because it is an irrefutable fact that the universe hates us. More proof: the excellent Kevin Harlan will be covering games with, uh, Reggie Miller. Yep.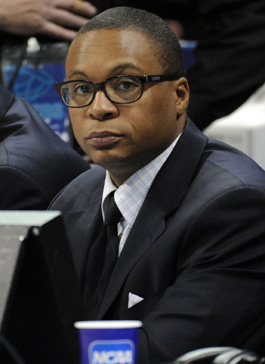 BIG TWO LITTLE TEN The Detroit News seems to be convinced that Ohio State and Michigan are both poised to dominate the Big Ten as they had in years past, mainly due to the strength of their recent recruiting classes. To wit:
"It looks now like the entire Midwest is down to Michigan-Ohio State," Lemming said. "The rivalry is back. (Michigan's) is the best haul in one day I've seen in one weekend in the Midwest."

"If it keeps going this way, Michigan and Ohio State are going to leave everyone in (the Big Ten in) their dust. There doesn't seem like there's anybody who could punch Ohio State and Michigan in the nose. Michigan State is really the only one."
I guess? Look, as much as I believe (and want to believe) that OSU will quickly return to prominence in the Big Ten, one dominant recruiting class doesn't change the fact that Ohio State has some glaring holes on both offense and defense that aren't going to be solved overnight. Same with Michigan, who'll be faced with some serious questions to answer at QB after this season, and also the omnipresent threat of US News and World Report dropping them from the top ten public universities in the US because of the majors that their football players have chooooaaahahah just kidding that isn't relevant in any way at all.
LOOKWELL! In the early 1990's Conan O'Brien and Robert Smigel attempted to resurrect the career of Adam West by creating a single camera show where he plays a washed up TV actor who moonlights as a detective. It was called Lookwell!, it never got past the pilot stage, and it is the greatest thing in the history of mankind. Watch it in it's entirety, now.
KIRK FERENTZ, MASTER THIEF Okay, so, Iowa needed a new Offensive Coordinator after the end of this past season, and incredibly overpaid head coach Kirk Ferentz scoured the globe to find the most brilliant offensive mind that whatever money the University of Iowa had left over after paying for Kirk's solid gold tanning bed could buy.
Then he offered Greg Davis five bucks and a push pop and he said yes. Maybe this is kind of unfair to Davis. After all, he did preside over the offense that ultimately won a National Championship. On the other hand, he also presided over whatever the hell this was supposed to be. "But Johnny," you say, "Davis won the Broyles Award!" Well guess what, I don't even know what that is, and the folks over at Black Heart Gold Pants are similarly unimpressed and sadly unsurprised. They see him as the perfect punching bag to deflect criticism from Ferentz and his herd of genetically modified technicolor Okapi that live on his private nature reserve in Tibet, and they are dead on.
ROUNDING THIRD, HEADING FOR HOME Urkel driving the paint on Reggie Miller and the Fresh Prince... SBN's greatest college recruiting stories of all time... COLLEGE DOG... TCU's stadium addition seems kinda familiar... GO FOR IT JERRY LINN!!... The most incredibly passive aggressive video about sidewalk weeds ever... A salute to a badass. Free Homs.