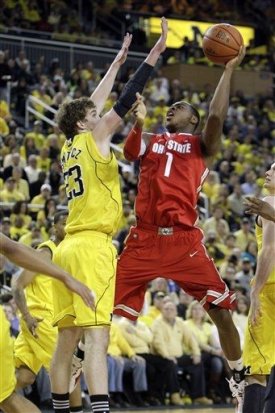 It's about as simple as that, really. 
Trey Burke dominated Aaron Craft in crunch time, William Buford added another No Call, No Show to his attendance ledger and Ohio State again showed no consistent offensive identity as Michigan beat the Buckeyes for the first time in seven tries, 56-51 tonight in Crisler Arena. 
Burke, "the pride of Columbus", according to the PA announcer scored 17 points while holding Craft to four points on 1/6 shooting with a couple turnovers against three assists. Joining Craft in offering nothing offensively, Buford missed nine of 12 shots on the way to six points. 
Deshaun Thomas kept Ohio State in the game pouring in 25 points (8/13 FG) and grabbing a career high 14 rebounds with Jared Sullinger throwing in 14 and eight. 
The Buckeyes never led dropping to 10-4 in the B1G, a half game back of Sparty. 
Though it never really looked like Ohio State would escape with the win, it wasn't until the two minute mark that things totally unraveled. 
After Sully cut the deficit to 52-49 with 2:00 left, Buford committed a foul away from the ball midway through the shot clock giving UM a fresh 35 with 1:44 left. Twenty-four seconds after that, Burke got a step on Craft and sliced down the lane for a tough lay in putting Michigan in front 54-49 with 1:20 to play.
Craft tried to come up with a drive of his own as he got to the rim with Burke on his hip and Jordan Morgan coming from helpside but no foul was called as Burke got him low and Morgan deflected the shot off Craft and out of bounds giving Michigan possession with 1:05 remaining. Could've been a foul but it's hard to expect on the road in this conference. 
Burke would miss the front end of a one and one on the ensuing possession but after two free throws from Craft cut the lead to 54-51 with :43 to play, Burke again blew by Craft off the bounce and hit a soft bank shot over Sullinger with 11.2 left to seal the deal. 
For a guy heralded as the best on ball defender in the country, Ohio State needed Craft to come up with a stop on Burke's two key drives. Their need for Craft to step up defensively is only magnified by what he isn't giving this team offensively. 
With Thomas scoring Ohio State's first 10 points of the 2nd half, Buford was busy triggering Michigan leakouts with ill-advised shots capitalized on by Morgan as he beat Sully down the floor. 
After Thomas splashed a triple pulling OSU to within 47-43, the Buckeyes came up with a stop but after Buford was fouled at the other end, he missed both free throws in what was a comedy of missed opportunities for the Buckeyes. 
The lack of a bench - most notably any scoring punch off the pine - was again a factor in defeat as Ravenel, Scott, Thompson and Williams combined to score zero points on 0/1 shooting in 21 minutes. 
The identity crisis on offense was front and center early as the Buckeyes put up their lowest output in a first half this season with 20 points to trail by five. 
Michigan scored the game's first six points and led 15-8 with 10:26 left in the half thanks to five OSU turnovers attributed to no flow against the zone other than Thomas finding openings from time to time at both elbows.
With Michigan effectively trapping Craft off ball screens, the offense resorted to jacking up threes, going 0/9 for the half. The Buckeyes actually shot a solid 10/17 inside the arc but gave up nine points off turnovers. After Craft picked up his 2nd foul with 4:04 left, the bench was exposed again as Scott struggled mightily to stay with Burke. 
Bottom line, this is a team that is taking on water.
Buford was absolutely awful again against a ranked team. Check out these numbers against the ranked conference squads this year:
2/18 - #19 Michigan: 3/12 FG
2/11 - #12 Michigan State: 2/12 FG
2/4 - #20 Wisconsin: 4/15 FG
1/29 - #22 Michigan: 5/13 FG
1/15 - #8 Indiana: 5/12 FG
12/31 - #15 Indiana: 3/7 FG
TOTAL: 22/71 = 31%
As we've said all along, this team will only go as far as Buford will take it which is beyond scary. Thomas and Sully are going to be there most nights but counting on Buford against legit competition looks like a suckers bet right now. Throw in the fact the PG and starting two guard struggle to contribute points along with a punchless bench and this team could be in trouble if they meet a rangy defensive team in the second round of the Dance. 
Ohio State shot 39% on the night including 3/16 from distance while Michigan shot a more economical 47% from the floor. Nine offensive boards combined from Sully and Thomas helped OSU lead 12-4 in second chance points but Michigan's 17-6 edge in points off turnovers was even more impactful. 
At this point, the Buckeyes (22-5) need a shot of confidence and a visit from Illinois on Tuesday night comes at just the right time. The Illini are a shell of the team that beat OSU back in early January having lost 8 of 9 since Brandon Paul went off including five straight.